Decided to experiment last night with putting cookie dough inside a cupcake. Turned out very well! And I had enough cookie dough left over to make 5 cookies too 🙂 A few of my cakes sunk after cooling, I worked out this is because I chilled the cookie dough (as it was quite "runny" for a dough). However, they still tasted lovely. Next time I would cook the cookie dough for a few minutes before hand so it holds the cake up. In fact my mum has said she has a stiffer cookie dough recipe, so when I next see her I'll get that one and make these again 🙂
You will need:
> Cupcake tray, lined with cases
> Baking tray, lined
Makes 12
Ingredients for the sponge:
> 115g butter
> 115g caster sugar
> 90g self raising flour
> 25g cocoa
> 2 eggs
Ingredients for the cookie dough:
> 125g plain flour
> 70g butter
> 1 egg
> 50g brown sugar
> 50g caster sugar
> 110g chocolate chips/morsels/chopped
> 1/2 tsp bicarbonate of soda
> 1tsp vanilla extract
Ingredients for Oreo Frosting:
> 300g icing sugar
> 150g butter
> 3 packs of mini oreos (this is 16 little ones, big ones, you'd probably need about 8-10)
> Splash of milk
Method:
> Preheat the oven to 180 degrees C
> Make the cookie dough first. Place the butter and sugar in a bowl and beat until light and fluffy.
> Add in the egg and mix in well.
> Add the flour, bicarb and vanilla extract.
> Start off mixing slowly then increase the speed until everything is mixed well.
> Fold in the chocolate. I used an Easter egg broken up into little pieces, it honestly doesn't matter if you use chips or not.
> Place on the baking tray and cook for about 4-5 minutes. We don't want it to be cooked, but just to ensure that it cooks at the same rate as the sponge. Although if you want to do it like me and just put it in uncooked that's fine too as although some cakes sunk the texture was good 🙂
> If cooking, take out of the oven and leave to cool while you make the cake batter.
> Place the sugar and butter in a bowl and beat until light and fluffy.
> Add in the eggs and mix again until well incorporated.
> Add the flour and cocoa and mix until well incorporated.
> With a spoon place a small amount of mixture in each case to form a base to the cake and smooth it out.
> With a teaspoon, add a dollop of cookie dough in the middle of the mixture.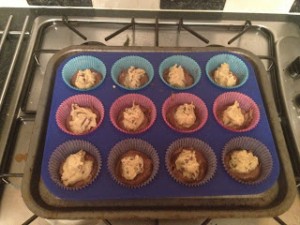 > I used the leftover dough to make some cookies, so placed a dollop on a lined baking tray.
> Back to the cakes, spoon cake mixture over the top of the cookie dough until it's covered.
> Place the cookies in the oven and back for about 12-15 minutes. Place the cakes in the oven as well and bake for about 15-20 minutes or until a skewer comes out of the cake clean, make sure you poke around the edge as otherwise you'll hit the cookie dough.
> When baked, take out and leave to cool completely.
> Here are my cookies as well 🙂
> When the cakes are cool make the frosting.
> Place the sugar and butter in a bowl and beat until fluffy.
> Crush the Oreo's either in a bag with a rolling pin or in a food processor, or using a small hand blender. I used the small hand blender to chop mine up finely.
> Once the buttercream is fluffy and light, add in the Oreo's and mix in by hand until well incorporated. By this time the mixture will probably be quite stiff so I added a splash of milk just so I could pipe the icing.
> Here's a finished one: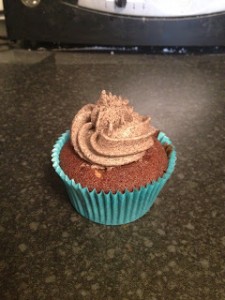 > And here's one cut in half. Enjoy 🙂