A couple of friends and I were talking about shortbread the other day and it got me craving some! I've always liked lemon shortbread so I came up with my own recipe which is sweet enough, but gives a good lemon kick 🙂
You will need:
> Flan tin 19-23cm depending on what you have/how thick you want it
Makes 8 segments
Ingredients:
> 115g butter
> 115g plain flour
> 60g caster sugar (plus extra to dust)
> Finely grated zest of 1 lemon
> About a 1/4 of the juice from a lemon
Method:
> Preheat oven to 150 degrees C and grease the tin with butter.
> Place the butter and sugar in a bowl and beat with a hand mixer until light and fluffy.
> Add in the flour and lemon zest and then stir until the flour is combined with the butter with a wooden spoon. We don't want to bring the dough together yet, it should be lots of little balls at the moment, we'll use our hands to bring it together in a minute.
> Add in the lemon juice and stir again.
> At this stage you should bring the dough together with your hands and make it into a ball.
> Place the dough into the flan tin and then press it into the tin. I then used a spatula very gently to smooth over the fingerprints.
> Using a knife, score the shortbread into 8 pieces, in half then in half again then diagonally in half both ways and poke all over with a fork.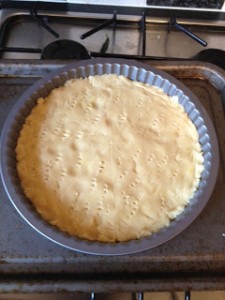 > Bake for 50-55 minutes, until slightly golden, but firm to touch. You can also check a skewer comes out clean.
> Whilst still warm, re-cut the 8 segments and sprinkle caster sugar on top to finish. Remove from the tin and place on a plate to serve.
> Will keep in an airtight container for a few days.