One of my dad's favourite things that I make is this lemon drizzle cake. Very easy to make and so tasty!
You will need:
> Loaf tin
> Stand mixer/hand mixer
> Skewer
Ingredients:
> 175g butter
> 275g caster sugar
> Zest of 2 unwaxed lemons
> 3 eggs
> 225g self raising flour
> 100ml of freshly squeezed lemon juice (For me this was about 1 1/2 lemons)
Method:
> Preheat the oven to 180 degrees C and line a loaf tin.
> Zest the lemon into a bowl and then squeeze 100ml of juice into a separate jug.
> Place the butter and 175g of the sugar into a bowl with the lemon zest. Beat until light and fluffy.
> Place the remaining 100g of sugar in the jug with the lemon juice and stir. Leave this by the oven as it's warm enough to just help the sugar mix with the lemon juice.
> Add in one egg at a time, mixing well in between to stop curdling. Mix until little bubbles appear in the mixture.
> Add in the flour and mix until well combined.
> Pour into the loaf tin and bake in the oven for 45-50 minutes, until risen and golden brown. Poke a skewer in and make sure it comes out clean.
> While the cake is still hot, poke all over with a skewer, then drizzle the lemon syrup all over the cake to soak in.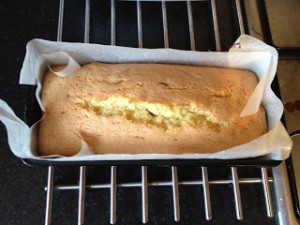 > Leave the cake to cool completely.
> Will keep for a few days in an airtight container.
> Enjoy 🙂