Was looking through my massive file of recipes again and came across this one for a white chocolate cake with raspberries. Looked lovely and certainly smelt very yummy when it was baking!
You will need:
> Brownie pan/square tin about 20x20cm, greased and lined
From BBC Good Food Magazine
Ingredients:
> 200g butter or margarine
> 150g white chocolate, chopped
> 300g light brown sugar
> 3 eggs
> 200g plain flour
> 1/4 tsp salt (if you use unsalted butter, leave out if using marg)
> 1tsp vanilla extract
> 125g raspberries
Method:
> Preheat oven to 180 degrees C and line the tin.
> Place the butter in a saucepan and melt. Continue cooking the butter until it is golden brown and boiling.
> Leave to cool for a few minutes.
> Whilst it's cooling, place the eggs and sugar in a large bowl and beat until thick and creamy.
> Add half the white chocolate to the melted butter and stir until melted.
> Add the flour, vanilla extract, (salt), butter and chocolate syrup to the beaten eggs and mix until well combined.
> Pour into the square tin.
> Scatter the raspberries and the rest of the chocolate on top.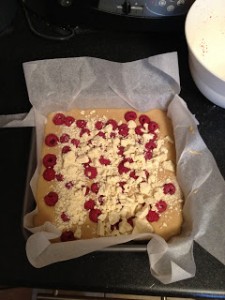 > Bake in the oven for around 50-60 minutes until golden brown and a skewer comes out clean.
> Leave to cool in the tin for about 10 minutes then transfer to a wire cooling rack.
> Slice into squares, and leave to cool completely.
> Will keep in an airtight container for around 4 days.
> Enjoy 🙂