I may not have told you this yet, but I love making bread. Absolutely LOVE it.
The smell is fantastic and it tastes far superior to store bought bread.
Now I have my stand mixer it's also super easy as you just leave it in the mixer for 6-10 minutes! Although, to be honest I must admit I rather enjoy kneading by hand, especially if I'm in a bad mood!
Makes 1 loaf
Ingredients:
> 1/2 cup oats
> 1 cup boiling water
> 1 1/2 tbsp butter or marg
> 1/3 cup brown sugar*
> 1/2 tbsp granulated sugar
> 1 7g packet of yeast
> Pinch of salt
> 1/4 cup warm water
> 2 1/2 cups + 1tbsp Wholemeal flour + extra to dust
Method:
> Turn the oven on to 50-100 degrees C. As soon as it is up to temperature turn it off and leave it to cool. I always find my bread rises much better in a warm, turned off oven.
> In a large bowl, or the bowl of your stand mixer, place the oats, boiling water, butter and brown sugar. Mix until combined and then leave to cool.
> In another bowl, place the yeast, salt, granulated sugar and warm water and leave for 5 minutes, or until it is frothy.
> Add the yeast mixture to the oats.
> Add in the flour and mix for around 6-10 minutes, until the dough no longer sticks to the edges of the bowl. If kneading by hand, knead until the dough is well formed, not sticky and it springs back when you spread it out.
> Oil a large bowl, I usually use olive oil as it gives a lovely crunch and taste to the crust, but for this loaf I used vegetable oil as it doesn't have such a strong taste.
> Place in an oiled bowl and cover with clingfilm. Place in the cooled, but warm oven, and leave to rise for 1 hour.
> During rising time, grease a loaf tin with butter.
> Flour the work surface and place the dough on it. Knock the air out and then form a loaf shape.
> Place in the loaf tin.
> Place a clean tea towel over the bread and leave for 30 minutes to prove.
> Preheat your oven to 180 degrees C.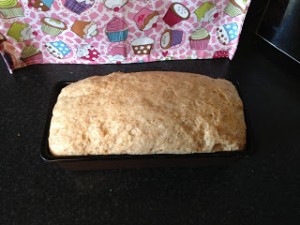 > After 30 minutes, remove the tea towel and then place the loaf in the oven to bake for 30-35 minutes until golden brown. Usually you tell bread is done by knocking on the top and listening for a hollow sound, but this bread was very soft so I just had to press down and poke a skewer through to make sure it was cooked.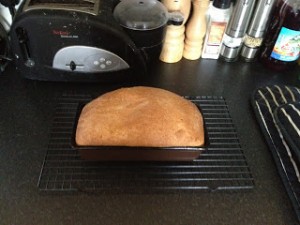 > Leave to cool in the tin for 10 minutes then turn it out and leave to cool on a cooling rack.
> Makes lovely sandwiches or toast!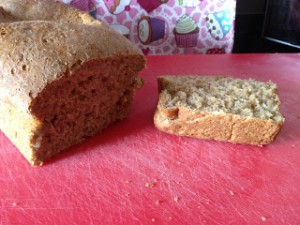 *I added this much sugar, but when I tasted the bread I thought this was too much. It is down to personal preference, I don't like sweet bread at all. It wasn't incredibly sweet, but you could taste a bit of sugar and I prefer a blander bread. Next time I make this, as I loved the texture and the other flavours, I would probably halve the brown sugar amount.