My forgetfulness has struck again. Today it's my kindle I've misplaced. However, we're actually getting to the point where I'm panicking because it's quite an expensive thing to lose 🙁 After vowing I'd never buy a kindle because I love the smell and feel of good old books, I eventually gave in and bought one just before Christmas as my book collection was taking over the house (I believe I still have more at my parents house) and I had an Amazon wishlist of over 200.
Now I have my kindle, I love it. It's brilliant that it can store so much and it's so small. There is a downside to it being small though, it's easy to lose. I won't give up on books completely, I still adore the smell and feel of holding a proper book, but I'm not adding to my collection at the moment. I like how instant it is too, you can decide you want a book, download it and have it on your kindle in about 5 minutes, brilliant.
Before I carry on ransacking my house, I'll blog todays recipe. These cookies are really yummy, I decided to experiment a bit with flavours. I wasn't sure lime and vanilla would work and I also wanted to use up some buttermilk that I had leftover. They turned out great, although a bit anaemic looking, I should have left them in the oven for longer as the buttermilk stops them from drying out.
I used the zest of 2 limes. However, my limes were tiny, tiny (picture to follow later) so if you have large limes then you may only want to use 1 as the recipe calls for 2tsp of lime zest. I did measure this loosely, they were more heaping teaspoons…
You will need:
> Ice cream scoop (for even cookies)
> 2 baking trays, lined
Makes about 16
Ingredients:
> 6tbsp butter
> 1 cup caster sugar
> 1 egg
> 1/3 cup buttermilk
> 1 1/2 cup + 4tbsp plain flour
> 1/2 tsp bicarb
> 2tsp lime zest
> Juice of 1 lime
> 1 1/2tsp vanilla extract
Method:
> Preheat the oven to 180 degrees C and line the baking trays.
> Zest your limes. You need 2tsp of lime zest. For me this was 2 limes because my limes were really small!
> Place the butter, sugar, lime zest and vanilla extract in a bowl and cream together until light and fluffy.
> Add in the buttermilk, egg, flour, bicarb and juice of 1 lime and mix together until well incorporated.
> Using the ice scream scoop and a knife to level it off, place dollops of dough on the baking trays, leaving space between each one as they spread a bit. I always level off the ice cream scoop as you get even sized cookies.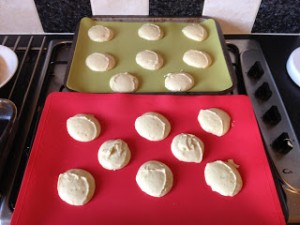 > Place in the oven and bake for 15-20 minutes, until golden brown. I gave in and tasted one warm as I was desperate to see how the flavours went! They are good warm, but alternatively if you can wait then leave them to cool completely.
> Will keep in an airtight container for a few days.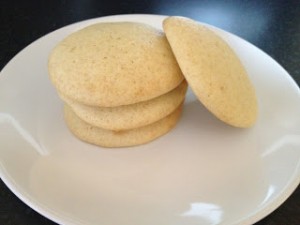 Enjoy 🙂