So Operation "Find My Kindle" is complete, I'm happy to report. I had in fact "tidied it away" in a pile of foamboard and then hidden it on the bed in the spare room. Very clever indeed! My boyfriend found it and I was so happy I may have done a happy dance and thanked him lots and lots!
It means I've finally been able to start 50 Shades of Grey! I've heard lots of people talking about and also read lots of reviews in magazines, so now it's my turn to read it 🙂
We are all shopped out today, been to Costco, TK Maxx and the Chinese Supermarket which have to be some of my favourite shops. I found Milo powder in the Chinese Supermarket so am very happy as I've seen a recipe that includes it.. and it's really nice to drink. I thought you could only get it in America, but apparently not!
Today's recipe is our version of a chicken and potato curry. I can't eat spicy food even though I love the smell, so we have to have a weak curry and then my boyfriend adds his own spice as he loves it!! Super easy to cook, basically just throw in whatever vegetables you want/have with some chicken, potatoes, curry powder and coconut milk!
Serves 4
Ingredients:
> 1tbsp oil – we used olive oil
> 2 potatoes, chopped into small chunks
> 2 chicken breasts
> 2 onions, cut into chunks
> 3 spring onions, chopped
> Handful of plum tomatoes/2 tomatoes, chopped
> 2 garlic cloves, sliced thinly
> Few slices of fresh ginger, big enough so you can see them to take them out before serving
> 2tbsp curry powder (add to taste)
> One 400ml tin of Coconut milk
> Good squeeze of tomato purée
> Salt and Pepper to taste
> Sugar, to taste
> Water, if too thick
Method:
> Cut all of your vegetables and the chicken into chunks.
> In a large saucepan, heat the oil on a medium heat.
> Once hot, add the garlic, ginger, spring onions, tomatoes and onions.
> Soften for a few minutes.
> You'll probably notice there are no tomatoes in the above picture, yup we forgot to put them in until we added the coconut milk in as I was cleaning and the other half was on the phone!
> Add in the chopped potatoes.
> Turn the heat up to high and add in the chicken.
> Add in the curry powder, coat everything and fry off for a few minutes.
> Add the tomato purée.
> Add in the coconut milk. Bring to a boil and season to taste. Turn the heat down to simmer for 40-45 minutes, until the potatoes are cooked through, stirring occasionally and adding in water if it looks too thick for your liking.
> Serve on a bed of rice, or on it's own if you fancy it, we did!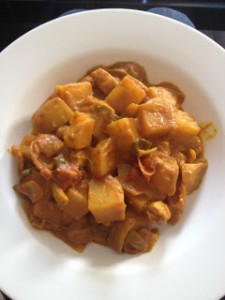 > Enjoy 🙂