I now have a green kitchen! Those of you who know me will know that lime green/any fresh shade of green are my favourite colours. If it were up to me, I'd have lime green everywhere, but since someone else has to live in the house, I have to tone it down a bit 😛
I've actually chosen quite a mature shade of green for the kitchen, IMO. It's quite fresh, but not garish and as the rest of the house is going to be neutral, I think it's fine to have one room with a bit of colour! I've also got lime green splashes throughout the house, vases, curtains etc, but it ties in well with the more neutral colours 🙂
I haven't finished the kitchen, it's only had it's first coat and haven't done the woodwork, but here it is so far: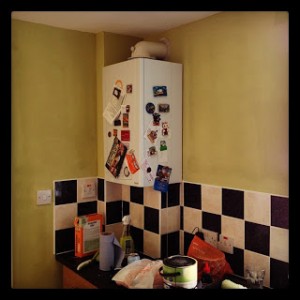 Need to give it another coat tomorrow and then start on the woodwork 🙂
Now onto today's recipe, Chorizo Risotto. Dead simple if you don't have much time to make dinner and really tasty!
Serves 2
Ingredients:
> 1tbsp oil
> 20g butter
> 1 onion
> 1 clove of garlic
> 90g Chorizo
> 150g Arborio Rice
> 1 Chicken Stock Cube
> 500ml water
> Salt and Pepper to taste
Method:
> Chop the onion and garlic finely and the Chorizo into chunks.
> Put the oil and butter in a large saucepan or wok and heat on a medium heat.
> Place the onion and garlic in the saucepan and cook for a few minutes until the onions are soft and translucent.
> Add in the Chorizo and fry off for a few minutes.
> Add in the rice and fry for a few minutes until slightly browned.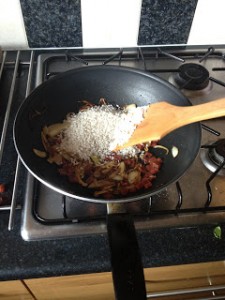 > When the rice is browned off add in the water and stock cube. Bring to a boil and then turn down to simmer.
> Leave to simmer for 20-25 minutes, stirring occasionally. After this time it should be nice and thick and the rice should be soft, but still retain some bite. Add salt and pepper to taste, then serve. We served ours with some Parmesan cheese grated on top 🙂