I first tried Madeleines at college in a French class, our tutor brought them in for us and they were lovely. It's amazing how much joy can be in such a small little cake.
Since then (and that was almost 4 years ago) I've raved about them to my family, but no-one else had tried them so I've been saying I'll make them for ages and finally got round to it, I also got to use the new madeleine tin I got for my birthday 🙂 They're quick and simple and oh so tasty. I made honey ones as I like the flavour it gives, but you can use vanilla extract instead if you want. There are a number of flavours and I plan on making some more soon!
Adapted from Step-by-Step Baking
You will need:
> A madeleine tin if you want them to be authentic, but if not then a small bun tin.
> Pastry brush
> A large metal spoon for folding in the flour and butter.
Makes 12
Ingredients:
> 60g unsalted butter, melted and left to cool + extra to grease tin
> 60g self raising flour + extra to flour tin
> 60g caster sugar
> 2 eggs
> 1 heaped tsp honey
Method:
> Preheat the oven to 180 degrees C.
> Melt a little bit of butter and then, using the pastry brush, grease the madeleine tin. Then take a little flour in your hand and sprinkle it lightly over the greased tin.
> Melt the 60g butter in a saucepan and then leave to cool.
> Put the sugar, eggs and honey into a mixing bowl.
> Whisk/beat for 5 minutes until the mixture is thick, light, fluffy and leaves a trail when you lift out the beaters.
> Sift the flour into a separate bowl.
> Place the flour on the top of the mixture. Pour the butter down the side of the bowl.
> Using the large metal spoon, ensuring you keep as much air in the mixture as possible, fold the flour and butter into the mixture, quickly, but not too fast as you don't want to lose volume.
> Place a spoonful of mixture in each hole of the tin.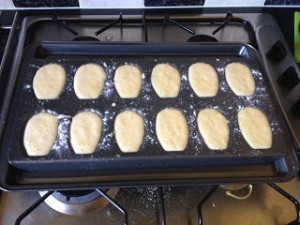 > Bake in the oven for 10 minutes. Remove from the oven, leave to cool in the tin for a few minutes and then transfer them to a wire rack to cool completely.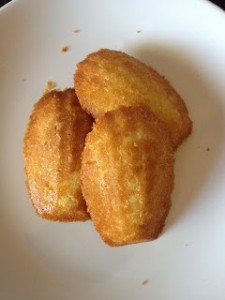 > Will keep in an airtight container for up to 5 days.