A bit like bread, I absolutely love making scones. I like experimenting with different flavours and can't stop eating them! Today's helping is lemon and cranberry. It works so well, you get a really good kick of each flavour when you bite into them.
I may or may not have eaten the whole batch in under a week…
You will need:
> 7cm round cookie cutter
> Rolling pin
> Pastry brush
> Baking tray, lined
> Jug
> Pot with a bit of milk in for glazing
Makes 12-14
Ingredients:
> 450g self-raising flour + extra to dust
> 2tsp baking powder
> Zest of 1 lemon
> 120g butter/marg
> 5tbsp milk (you always end up needing a bit more, but add as you go) + extra to glaze
> 2 eggs
> 200g dried cranberries (I used Craisins)
Method:
> Preheat the oven to 200 degrees C and line the baking tray.
> In a jug, place the milk and eggs, then beat them together briefly. Add in the cranberries and leave to one side.
> Place the flour, baking powder, zest of 1 lemon and butter in a large bowl.
> Rub the mixture together until it looks like breadcrumbs. You can use your fingers, or the beater attachment of your mixer.
> Add the wet ingredients to the dry and, using dough hooks, mix together until a soft dough forms. Add extra milk a splash at a time if required.
> Flour the work surface and turn the dough out. Roll it until it's just under an inch thick, or a bit thicker depending on how big you want your scones, they do rise quite a bit.
> Cut out your scones and place on the baking tray. I managed to get 14.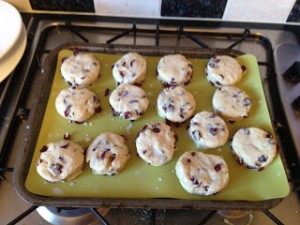 > Using the pastry brush, glaze the scones with milk.
> Place in the oven and bake for 12-15 minutes, until golden brown and risen. For my oven, it's always 12 minutes, but it differs between ovens.
> Take out of the oven and leave to cool completely.
> Will keep in an airtight container for 5 days.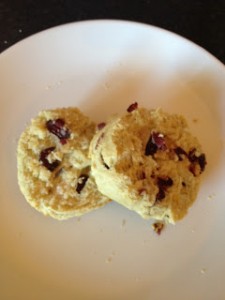 Enjoy! 🙂