Evening, not been feeling well today, but hopefully I'll feel better tomorrow. This recipe is really quick and simple to make and also healthy and tasty 🙂
You will need:
> 2 large saucepans
> colander
Serves 2
Ingredients:
> 200g pasta
> 1tbsp cooking oil (I used olive oil)
> 400g tin of chopped tomatoes
> 1 onion, thinly sliced
> 1 clove of garlic, minced
> salt and pepper to taste
> 1/2tsp Italian Seasoning
> Good squeeze of tomato ketchup (my secret ingredient! Can't eat a meal without it)
> 100g feta cheese
Method:
> Fill a large saucepan with water and salt well. Bring to the boil. Whilst boiling, cut the onion and have everything ready. When the water boils cook the pasta to packet instructions.
> Whilst the pasta is cooking, heat the oil up in another saucepan or wok and then add in the garlic and onion.
> Fry off for a few minutes, until the onions are translucent.
> Add in the chopped tomatoes and Italian seasoning, stir and leave for a few minutes. Season to taste and add the tomato ketchup to taste.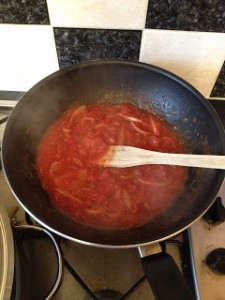 > Leave the sauce to thicken whilst the pasta finishes cooking.
> When the pasta is cooked, drain it and then add it into the sauce. Coat all the pasta in the sauce and ensure everything is piping hot.
> Dish up onto plates and then crumble the feta over each plate. Serve immediately.