As I'm sure you can see, I have a new look (again!?), I don't want to play musical themes, I've chosen this one and I plan on sticking to it now!
I just wanted something simpler and a layout which enabled my header to be bigger, I tried tweaking the HTML on the last layout to make the top bigger to no avail. I then had my boyfriend, who's an IT geek to take a look and he couldn't do it either… So I finally found one where I can have the title make more of an impact 🙂
I also just like that fact it's white, simple and professional looking.
I've also finally created a facebook page! You can find us at www.facebook.com/anniesnoms 🙂
Today's recipe isn't for everyone, to me they taste amazing, but if you don't like overly sweet things then you probably won't like these. Anyway, I loved them and am going to make them again as they were delicious.
You will need:
> 20cm x 20cm tin, lined
> Food processor/mini chopper (or a rolling pin)
> Rubber Spatula, or Wooden Spoon
Adapted from Oxmoor House, August 2011


Ingredients:
Makes 9-12
> 1/2 cup plain flour
> 1 cup crushed digestives
> 1/3 cup brown sugar
> 1/3 cup oats
> 2/3 cup butterscotch pieces
> 1tsp baking powder
> 1tbsp sunflower oil
> 1 1/2 tsp vanilla extract
> 2 egg whites
Method:
> Preheat the oven to 180 degrees C and line the baking tin.
> Using the food processor or mini chopper, chop up the digestives until they resemble fine breadcrumbs. If you don't have a food processor, place them in a food bag and then whack them with a rolling pin 🙂
> Place the flour, digestives, brown sugar, oats, baking powder and butterscotch pieces in a large bowl.
> Give them a little mix with the spatula until incorporated.
> Add the sunflower oil, vanilla and egg whites to the mixture and stir to combine. It will be thick and crumbly and won't come together as a dough.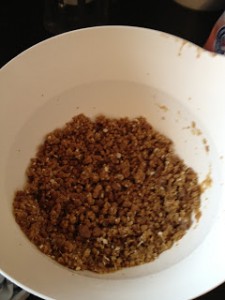 > Place in the lined baking tin and squash down to fill the tin. Make sure it's as flat and level as you can make it.
> Place in the oven and bake for about 18 minutes, it will be slightly bubbling, the butterscotch pieces will have melted and be gooey when done.
> Leave to cool in the tin for 10 minutes, before turning out onto a wire rack to cool completely.
> Once cooled, slice into 9-12 bars and store in an airtight container for up to a week.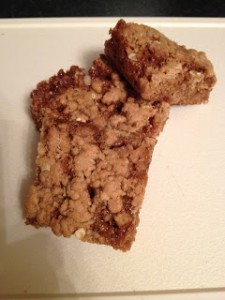 Enjoy 🙂
Entered into Thursday's Treasures over at Recipes For My Boys 🙂 Share the link party love!