I really love plain shortbread, but I decided to add ginger to this one and also because I'm always making cakes for my Dad and brother, and my mum doesn't always want to eat them, so I made her something she'd like!
You will need:
> 18cm/23cm flan dish (depends how thick you want it – I used 18cm & it was nice and thick) or other rounded tin, I like the edging the flan dish gives my shortbread
> Mincer
> Wooden spoon/spatula
Makes 8 segments
Recipe adapted from Sunset November 2003
Ingredients:
> 1 stick (113g) butter + extra to grease
> 1/4 cup + 1tbsp caster sugar
> 1 1/4 cup plain flour
> 2tsp crystallised ginger, minced
> 1/2 tsp ground ginger
> Preheat the oven to 150 degrees C and grease the flan tin, well.
> Place the butter and sugar in a large bowl and beat until light and fluffy.
> Add in the ginger and flour.
> Mix on a low speed until well incorporated. The dough will be very crumbly, this is fine.
> Tip it into the tin and then squash it down with a wooden spoon/spatula until smooth and level.
> Score the shortbread with a sharp knife into 8 segments and place in the oven.
> Bake for 50-55 minutes until firm to touch and lightly browned.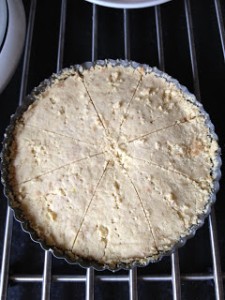 > Leave to cool in the tin for 20 minutes and then take it out of the tin to cool completely on a wire rack. Whilst the shortbread is still warm, cut it fully into the 8 segments.
> Will keep in an airtight container for 4-5 days.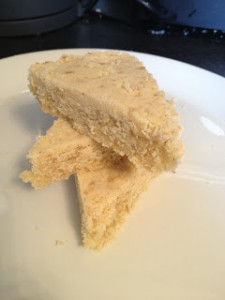 Enjoy 🙂
I've entered this into Thursday's Treasures over at Recipes For My Boys. Share the link party love!