I'm so glad I found this recipe. It has changed my life and it will change yours too! It is the closest damn thing to real KFC at home ever, slightly less salty, but that's a good thing because I usually find after a KFC I need to drink loads as it's so salty.
This really is gooooooood and it's baked!!!
The recipe is from The Wondertwins and it's really simple to do as well. Trust me, make this once and you'll make it again. I've lost count of the amount of times I've made it just since I found this recipe last month.
Print


Ingredients:
> 1tbsp Season-All (available from good supermarkets, it's with all the spices)
> 1/2tsp salt
> 3/4tsp pepper
> 2tsp paprika
> 1 cup plain flour
> milk, to soak chicken
> 2 chicken breasts
Method:
> Cut the chicken breast into strips and place in a bowl of milk to soak for 20-30 minutes. (Note – the pictures only show one chicken breast as the first time we made it we weren't sure how good it would be, I've made it since and it works much better with 2 chicken breasts!!)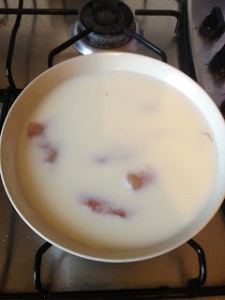 > Place the season-all, salt, pepper, paprika and plain flour in a small bowl and mix together with a wooden spoon until everything is well combined.
> Preheat the oven to 200/210 degrees C.
> Once up to temperature, place a large slice of butter into the baking tin and place in the oven to heat up. Once bubbling, take out of the oven and place on a heat proof mat whilst you coat the chicken.
> One piece at a time, coat the chicken in the seasoning and place in the hot butter. Repeat until all chicken is coated.
> Place in the oven for 10-15 minutes and then turn over all of the chicken pieces.
> Leave in the oven for a further 10-15 minutes until the the chicken is golden brown and cooked through. The chicken should feel firm to the touch, if you're not sure cut a piece in half to double check it's cooked. It should feel like the fleshy, firm piece of your hand under your thumb.
> Serve with rice, fries, wedges, heck eat it on it's own dipped in plenty of ketchup and BBQ sauce! Just stuff your face with it, because it's lush!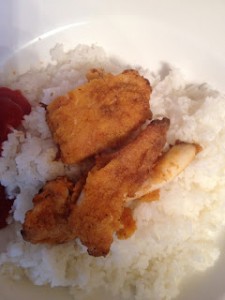 Enjoy 🙂
Entered into Thursday's Treasures over at Recipes For My Boys 🙂 Share the link party love.