Evening, it's been one of those days today, you know the kind of ones – where you should've stayed in bed all day and hidden away from everything and everyone.
By 9am this morning, I had dropped yoghurt all over the floor, spilt milk, almost dropped my camera, almost chopped my finger off and almost flooded the kitchen.
I did successfully manage to make some strawberry scones, but after those disasters and the fact that I knew I had to go and pick up a prescription, I was left fearing for my safety if I set foot outside the door.
I did manage to drive myself to and from the Pharmacy without hurting myself or anyone else and have stayed indoors since. This has given me chance to read some of my new cookbooks and make the onion bread that my other half has been asking for for weeks 🙂
So I'm hoping for a better day tomorrow, I have more baking to do as we're seeing family on Saturday, but back to today's recipe, gorgeously juicy cherry scones.
You will need:
> Rolling pin
> Baking tray, lined
> 6/7cm cookie cutter
Print


Makes 12-14


Ingredients:
> 450g self-raising flour + extra to dust
> 2tsp baking powder
> 120g butter
> 2 eggs
> 5tbsp milk (you'll probably need more) + extra to glaze
> 200g dried cherries
Method:
> Preheat the oven to 200 degrees C and line a baking tray.
> Place the milk and eggs in a jug and whisk together. Add in the dried cherries. Leave to one side.
> Place the flour, baking powder and butter in a large bowl.
> Rub the butter into the flour mixture until it looks like breadcrumbs, or use the beaters of your electric mixer, works a lot quicker.
> Add in the cherry mixture and, using the dough hooks of your mixer, mix until a good dough forms. You may need a bit more milk, add a splash at a time.
> Flour the work top and then turn the dough out. Roll it out until it's about 1/2 an inch to an inch thick and cut out the rounds. I got 14.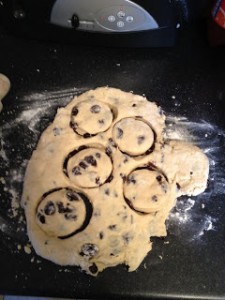 > Glaze the scones with milk.
> Place in the oven and bake for 12-15 minutes, until risen and golden brown.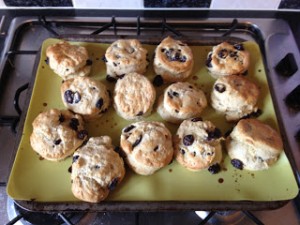 > Leave to cool completely before transferring to an airtight container. Will keep for 4-5 days.
Enjoy 🙂
Entered into Thursday's Treasures over at Recipes For My Boys 🙂 Share the link party love.