I did something yesterday for the first time in an awfully long time. I allowed myself to have a lazy day and not do my 30 minute a day running. For me this was a huge decision and, I think, another step in the right direction, towards me getting better. The sane part of me knew that I was not going to wake up this morning 7 stone heavier, but there was still a part of me, the eating disorder part, that was worried that if I didn't keep up my workout routine then I would wake up fat. It didn't happen, I'm still skinny as a rake, so I guess that every once in a while it's OK not to exercise religiously?
Don't get me wrong, I'm not better, I am still terrified of feeling full and I still, as sick as it sounds, like feeling hungry as I feel it gives me power, but I am taking small steps and as Tesco says: "Every little helps".


My boyfriend, as ever, was super supportive telling me that it was good to have a rest day and reassuring me that I'm not fat, I tweeted (a 140 character) version of my decision and my mum was also supportive telling me I would be fine. I did text her this morning actually to let her know the good news, that I wasn't fat when I woke up this morning…
Jokes aside, this is a big step for me. For the first time since this ED got a hold of me, I didn't feel guilty about sitting on the sofa reading. I didn't feel guilty when I ate dinner and knew I wouldn't be burning some of it off in a couple of hours. That is what plagues me most of the time, the guilt I feel when I eat. Something inside me thinks that as soon as I eat something I will put weight on even though I know it's not possible and that food is good for me.
Anyway, on a lighter note I made my first batch of savoury scones and as Anastasia Steele (Grey) would say "Oh my…" they were AMAZING, light and flaky and yummy all in one bite. I still have an addiction to fruit scones as I do like something sweet in the morning, but I will be making more of these because they are so darn tasty!
You will need:
> Rolling pin
> Baking tray, lined
> 6/7cm round cookie cutter
> Cheese grater
> 2 bowls and a jug
Recipe adapted from A Healthy Jalapeno
Makes about 12
Ingredients:
> 2 cups + 1tbsp, divided, self raising flour + extra to dust
> 2tsp baking powder
> 120g butter
> 2 eggs
> 1/2 cup double cream
> 120g cheddar cheese (I used extra mature as we love cheese)
> 25g fresh chives, chopped finely
> Milk, to glaze
Method:
> Preheat the oven to 200 degrees C and line a baking tray.
> Grate your cheese and chop your chives up real small 🙂
> Place 2 cups of flour, the baking powder and butter in a large bowl.
> Rub together until it resembles fine breadcrumbs. Alternatively use the beaters on your electric hand mixer, these are much faster at the job!
> In a separate bowl place the cheese, chives and the 1tbsp of flour.
> Give it a brief mix together, just until it looks even.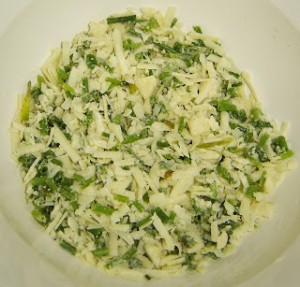 > Place the eggs in a jug and beat them lightly, then add in the double cream and mix.
> Add the cream mixture to the flour mixture and, using dough hooks on your electric mixer, mix until a dough forms.
> Add in the cheese and chives.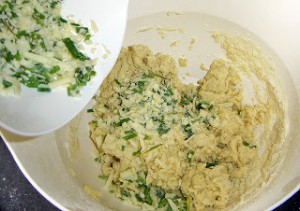 > Mix until well incorporated. Flour your worktop and then turn the dough out. Roll it out until it's about 1/2 an inch thick.
> Cut out your scones and place them on your baking tray. Glaze with milk.
> Bake in the oven for 12-15 minutes until risen and golden brown. Remove from the oven and leave to cool completely before eating, if you can manage it. I did…just.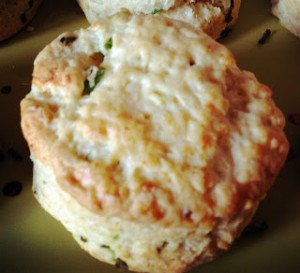 > Serve with butter, philly, on their own, just eat them!! Will keep in an airtight container for up to 4 days, if they last that long.
Enjoy 🙂
Entered into Thursday's Treasures over at Recipes For My Boys 🙂 Share the link party love!