I've had a reply from the new uni! They are still interested in letting me transfer and told me how to do it, unfortunately it means I have to do UCAS again and I hate doing UCAS, it's a pain in the behind. However, I'm encountering problems already *sigh* clearing has started which means I can't add choices to my application, it just goes into a big hole with loads of other applications, but because I am going into year 2 I don't know what I have to do because I don't need to go through clearing I already have a place, so I'm waiting on emails again and hoping. Why can't things just be easy?
It seems like Summer has finally arrived in the UK! Although I won't be going out in the sun as I'm allergic (probably explains the Vitamin D deficiency) and even with SPF50 on I get a horrible rash. So although I'm enjoying it not raining continuously and being able to hang my washing on the line, I'm being an observer of Summer from inside the house 😛
I can't actually stand it when it gets too hot, it's horrible and sticky. I can never sleep and it's awful when you break out in a sweat picking up a spoon… I'm happiest in Spring I think, not too hot and not too cold… 🙂
I'm sure you're all well aware by now that I love something sweet for breakfast. Be it fruit scones, raisin bread or a muffin, I have to be in the right mood to have a savoury breakfast and I rarely am so sweet wins for me.
I wanted to make a healthy muffin that would keep me full til lunch time and when I found this recipe full of oats so knew it would be yummy and filling.
Recipe adapted from Tutti Dolci
Makes 12
Ingredients:
> 1 cup oats
> 1 1/4 cups plain wholemeal flour
> 1tsp baking powder
> 3/4tsp bicarbonate of soda
> 1tsp cinnamon
> 1 cup applesauce
> 1/4 cup milk
> 2tbsp vegetable oil
> 1 egg white
> 1/3 cup light brown sugar
Method:
> Preheat the oven to 180 degrees C and line a standard muffin tin (USA) or cupcake tin (UK) with 12 cases.
> Place the oats, flour, baking powder, bicarb and cinnamon in a large bowl.
> Add the applesauce, milk, oil, egg white and brown sugar on top of the dry ingredients.
> Mix until well combined. It will be a sticky, lumpy mixture. I know, doesn't sound too appetising right now!
> Split the batter between the 12 cupcake cases, I use an ice cream scoop to ensure even distribution :).
> Place in the oven for 15 minutes, until a skewer comes out clean. Remove from tin and place on a wire rack. Leave to cool completely before storing. Will keep in an airtight container for up to 4 days. You can also warm them slightly and put butter on before serving if you like, but I like them plain 🙂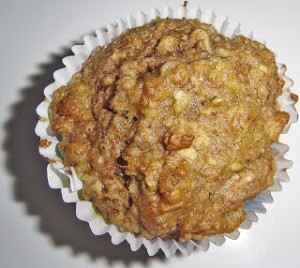 Enjoy 🙂