I am not looking forward to this weekend. My boyfriend is working and weekends are the only time we get to spend proper time together and that's not going to happen this week. I suppose I shouldn't complain, he doesn't normally have to work weekends, but recently he's had to more and when he does it's usually all day and well into the night. Last time he worked a full weekend he didn't get home until about 3am 🙁 I don't sleep well without him so it means I don't get a very good nights sleep either! I usually just nap until he gets home…
I want to go and see my parents, but since I still don't have a job I can't really afford it, although I think I'll see what they're up to and go anyway. I'm not used to being alone all weekend and I get really bored. I find it fine in the week, I quite enjoy pottering round the house cleaning, baking and watching TV, but at weekends I'm used to doing things.
Ah well. I made these cupcakes a few weeks ago and they were really yummy. I love lemons and we always have loads in the house so I decided to make lemon cupcakes with zest and juice and then do a lemon cream cheese frosting so you got a double hit of lemon 🙂
You will need:
> 2 bowls
> Piping bag and large star nozzle (optional)
> Sprinkles (optional)
Makes 12
Ingredients:
For the cupcakes:
> 225g plain flour
> 1 stick (113g) butter
> 200g caster sugar
> 1 egg + 1 egg white
> 1tsp baking powder
> Zest of 1 lemon (my lemons were quite small so about 1 1/2tsp)
> 1tsp lemon juice
> 1 cup sour cream
For the frosting:
> 125g cream cheese (I used philly)
> 50g butter
> 300g icing sugar
> 1tsp lemon zest
> 1tsp lemon juice
Method:
> Preheat oven to 180 degrees C and line a cupcake tin with 12 cases.
> Sieve the flour and baking powder into a medium sized bowl and leave to one side.
> Place the butter, sugar and lemon zest in the bowl of your stand mixer or a large bowl.
> Beat until light and fluffy. Add in the lemon juice, egg and egg white and mix again until smooth.
> Add in the flour.
> Mix until just incorporated.
> Add in the sour cream.
> Beat until well incorporated and nice and smooth. It should be a lovely smooth, glossy consistency.
> Place the batter in the cupcake cases, you'll pretty much fill them to the top, this is fine, this batter doesn't rise too much, but still ends up being lovely and light because of the sour cream.
> Place in the oven and bake for 20-25 minutes, until firm to touch and a skewer comes out clean. They won't be very browned, we're looking for very lightly coloured, this is because of the sour cream too, in case you're not familiar with adding it to cupcakes 🙂
> Take the cakes out of the tin almost immediately and then leave to cool completely on a wire rack.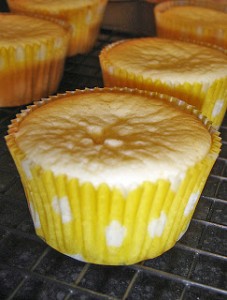 > When the cakes are cooled completely, make the frosting. Place the sugar, butter, cream cheese, lemon juice and zest in a large bowl. Beat until light and fluffy. I always start off with the mixer on minimum so you don't end up with an icing sugar cloud in your kitchen (I do have a guard for my mixer, but digging it out of the cupboard is too much effort!) and then as it combines with the butter I turn the speed up to medium then for the last minute I turn it up to high.
> Fill a piping bag, halfway, then pipe a swirl onto each cupcake. This recipe for frosting makes enough to pipe 12 cupcakes, if you are just spooning the frosting on, you may want to halve the recipe. I finished mine off with some yellow sprinkles to match the cupcake cases 🙂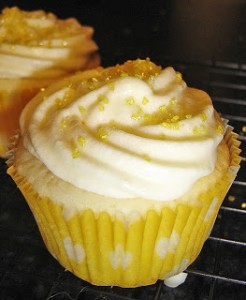 > Because of the frosting, these really need to be kept in the fridge especially as summer seems to have arrived in the UK finally! Cream cheese frosting + heat = a big slidey mess :/ Will keep for up to 3 days.
Enjoy 🙂
Entered into Thursday's Treasures over at Recipes For My Boys 🙂 Share the link party love!