I'm very happy and excitable today. Just when I was losing all hope of ever not having to watch every penny in my bank account, my mum phoned to tell me I had a cheque from the tax man. (She doesn't just open my post BTW, I told her to when she said I had a letter from them :D) I got a tax rebate that I didn't even know I was due!
Working it out now though, since the financial year starts on 1st April, last years rebate would've been for the first half of the year I worked in 2010 and the one I just got would be from April – September last year. It all makes sense now 🙂
It's a bit like winning the lottery as I had no idea! I'm not going to be stupid though, I'm far too mature and money savvy. I'm going to get my car serviced and I've bought some new cookbooks and a book on how to start a cake business, but I'm going to save as much as possible so that I can put it towards starting my cake business 🙂
I was just saying this morning on Facebook that I'm really glad that I'm sensible with money. I know I say I have no money, but that doesn't mean I have £10 in my bank account, it means I have no spending money as I don't want to go below my "buffer zone". I like to know I have money for emergencies. I have my parents to thank for for this. They have always taught me to live within my means, even though I have expensive taste I would much rather save for something until I can afford it than get myself in debt and put it all on credit.
In fact I only got a credit card so that I could build good credit. I pay it off in full every month and plan what money I do have well. I may come across as spoilt sometimes, and I do get what I want, but eventually. I wanted a stand mixer for ages, but I had money towards it for my birthday and saved the rest myself. When I got my car, my parents said they'd match whatever I saved, some people thought I was spoilt because of that, I don't. It gave me an incentive to save. If my parents had said they'd just buy my car then I'd be spoilt, but I worked bloody hard to save up! I have my head well and truly screwed on. There is loads of stuff I want, but if it's between getting some new clothes or filling my car up, I'd fill my car up.
I am super excited to get my new cookbooks though, means I can go mad with my post-it notes again. (You'll understand if you read my last post.)
These buttermilk scones were delicious. The buttermilk made them really light and soft and they had just the right amount of orange flavour. They have zest and juice in them so you get a double hit, but it's not overpowering, they are… beautiful really. It's so satisfying when the other half bites into one and then goes "ahhhhhhh" – when there aren't any words, just a sound of appreciation 🙂
You will need:
> Zester (optional, you can use a grater)
> 6-7cm round cookie cutter
> Rolling pin
Makes 12ish (I got 13)
Ingredients:
> 2 1/4 cups plain flour + extra to dust
> 2tsp baking powder
> 1 tbsp caster sugar
> Zest of 1 orange
> 6tbsp butter
> Juice of 1 1/2 oranges (sorry it's an annoying amount, but it didn't taste right with just one)
> 1/2 cup buttermilk
Method:
> Preheat the oven to 200 degrees C and line a baking tray.
> Place the flour, sugar and zest in a large bowl.
> Add in the butter.
> Place the juice and buttermilk in a jug and mix with a fork.
> Rub the butter into the flour until it looks like breadcrumbs. You can also use the beaters of your hand mixer, I do this it saves a lot of time and messy fingers 🙂
> Add in the buttermilk mixture.
> Using dough hooks, mix until a soft dough is formed.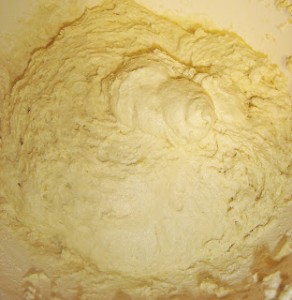 > Turn the dough out onto a floured work surface and roll it out until it's about 1/2 and inch thick. Using your cookie cutter, cut out the scones and then place them on your lined baking tray.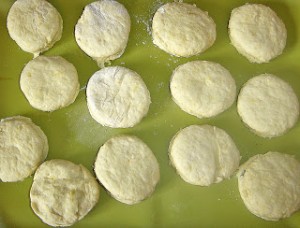 > Place in the oven for 12-15 minutes until risen and golden brown. For me it was exactly 12 minutes.
> Leave to cool completely before storing in an airtight container. Will keep at room temperature for 4-5 days.
> As you know I like scones with chocolate spread and if you put it on these it's like eating a Terry's Chocolate Orange, but you can serve with a bit of butter or just on their own.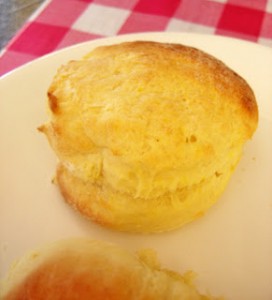 Enjoy 🙂
Entered into Thursday's Treasures over at 
Recipes For My Boys