I have to go to the hospital again later. *sigh*. Supposedly it's to see how I'm getting on with my acupuncture and back problems at the "pain management clinic", but in reality they still haven't given me an acupuncture appointment and he just wants to know what my vitamin d levels are so he can tell me start taking the supplements I'm already taking because my Doctor told me to. When I saw this consultant the first time I went back to report to my Doctor and we were both sat there going "Well it was pretty much pointless, I don't agree with what he's saying". He tried to tell me that all my back problems were due to a vitamin d deficiency. I actually injured my back at work, how does having a vitamin d deficiency have anything to do with me from being a clumsy idiot and slipping 4 discs?
I know a vitamin d deficiency can affect bones, I probably do have weak/soft bones, but that doesn't change the fact I had an injury which is why I was referred in the first place. To be honest I think, probably because I'm only 21, the consultant doesn't believe I'm in that much pain and thinks I'm just a "silly little girl moaning". I think he's a bit of an a**.
Back problems run in my family, so it was pretty much a given that I'd probably have problems, I'm 5ft 11 as well which doesn't help as I also have a curved spine. I always try and maintain good posture as I know this can help, but at the end of the day I'm on bucket loads of drugs and my back hurts every day of my life. They said they didn't want to operate at the moment as it could make it worse and that they wanted to leave it a few years before re-evaluating. That was at my last hospital where I was actually having acupuncture, since I've moved it's been a battle to even get an appointment. My Doctor is really good and does exactly what he says he'll do, but the hospital just seem to be so slow and lazy 🙁
Maybe one day…
Anyway enough ranting, today's recipe for orange and raspberry biscuits is super simple, but tastes amazing.
Makes about 20 depending on your cookie cutter
You will need:
> Rolling pin
> Baking tray, lined
> Cookie cutter (I used a 6cm one)
> Cling film
Adapted from Joy the Baker Cookbook
Ingredients:
> 1 cup + 2tbsp plain flour + extra to dust
> 1 stick (113g) of butter
> 1/3 cup + 2tbsp caster sugar
> 1 egg
> 1/2 cup dried cranberries
> Zest of 1 orange
Method:
> Don't preheat the oven yet, this dough needs to chill.
> Place the butter and sugar in the bowl of your stand mixer or a large bowl.
> Beat until light and fluffy, about 2 minutes. Add in the egg and beat until smooth.
> Add in the flour, cranberries and orange zest.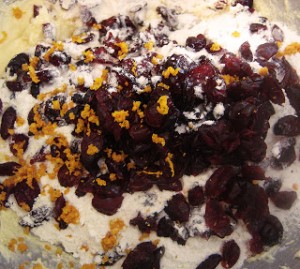 > Mix until well incorporated.
> Place the dough on a piece of cling film. Wrap it up and chill in the fridge for at least 3 hours.
> Once chilled, preheat the oven to 180 degrees C and line your baking tray. Flour the work surface and turn the dough out onto it.
> Roll the dough out until it's about 1cm thick and cut out your biscuits using your chosen cookie cutter.
> Place on your baking sheet. Roll and repeat with remaining dough.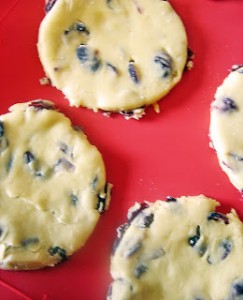 > Place in the oven for 12-15 minutes until very lightly browned around the edges.
> Leave to cool completely before placing in an airtight container. Will keep at room temperature for 4-5 days.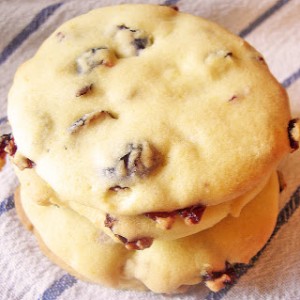 Enjoy 🙂
Entered into Thursday's Treasures over at Recipes For My Boys