I don't have time to be ill.
I have a house to run. I have to clean the house, cook, research materials for model making, spend an age trying to get to grips with AutoCAD in 3D and somehow fit in some time to "do things I enjoy" as I've been told by my Doctor as I'm getting too stressed out. However, my body seems to think differently and I have a sore throat, keep getting headaches and have zero energy.
Uni seem to expect the world. We're making a group model, as in the whole class are making it, but we've been split into groups to work on a specific area of the building.
Well for starters they've given us the most complicated building ever to make and study. It's an absolutely huge car park with the oddest level layout you've ever seen. Level 9 ends up being lower than Level's 7 & 8, go figure…
Secondly, there's some exhibition thing in a couple of weeks and they're desperately rushing us along so that they look good at the exhibition when we show our work. They've given us 2 weeks to build a 1:50 model of a building which is at least 114m long and that nobody can agree on a standard measurement of. Everyone is coming up with different measurements when they measure it on CAD.
Don't even get me started on CAD, it was better yesterday, but last week I felt like crying. I've done a year of CAD at Southampton, but we only did 2D plans and sections, Writtle do it all in 3D. It's literally like a foreign language, I was like "How the heck am I going to do all this while doing the rest of my work????"
Our group has been given the task of Site Managers so we're the ones who have to choose what materials and deadlines etc. We've gone around in circles coming up with different materials, we think we've decided on Balsa wood, but I had to go out last night and look like a right weirdo feeling up all the balsa wood so we can decide on a thickness.
Then the tutors were like how can you choose a material without doing tests? But we were like, we don't have time to test materials as we only have 2 weeks!
The thing is we're going to have to order in the materials, so by the time they arrive we'll probably only have about a week to make it and our group also have to make the ramps, which are actually the most confusing part of the building. We're doing a visit on Monday so we can try and figure out the bloody way they go up and down.
I'm so stressed, drained, frustrated and now I'm ill.
I needed comfort food so I made a really easy, warming and tasty Orzo with sauce. Dinner was ready in about 20 minutes, which is just what I need right now, so go ahead and make it if, like me you're incredibly rushed for time, but still want to make and eat good food 🙂
I have 2 more recipes after this from my old camera and then everything will be from my DSLR, so apologies for the less than perfect images.
Serves 2
Recipe by Annie
Ingredients:
> 200g Orzo
> 1tsp oil for cooking
> 1 garlic glove
> 1 onion
> 1 pepper (I used a green one)
> 1 chicken breast
> 400g tin of chopped tomatoes
> Good squeeze of ketchup
> 1tsp paprika
> Salt and pepper to taste
> Parmesan to garnish (optional)
Method:
> Bring a medium saucepan of salted water to the boil and cook the Orzo according to the packet instructions.
> Chop up your garlic, finely and onion into thin slices.
> Chop your pepper up into small pieces.
> Chop your chicken into 1″ pieces.
> Place the oil in a frying pan or wok and place on a medium heat.
> Once hot, place your garlic, onion and pepper in the pan.
> Fry off for a couple of minutes and then add in the chicken.
> Cook for a further 5 minutes until everything is soft and the chicken is browned.
> Add in the chopped tomatoes and stir to coat everything.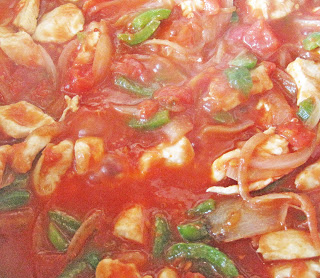 > Add in the paprika and ketchup and season to taste.
> Bring to the boil and then turn down to simmer for 10 minutes, stirring occasionally.
> When the Orzo is cooked, drain the water from it and then add it into the sauce.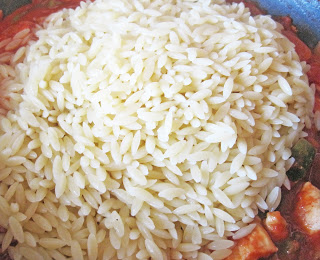 > Mix to coat and cook for a few more minutes to make sure everything is piping hot.
> Serve immediately, grate some parmesan on top and dig in 🙂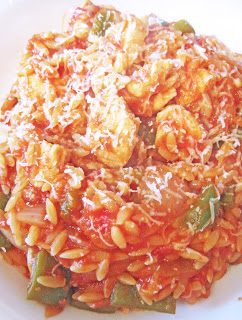 Enjoy 🙂
Entered into Thursday's Treasures at Recipes For My Boys