As I'm sure you're aware, I was really ill recently. I'm pleased to say I'm feeling 99% like myself again, I'm able to exercise and keep meals down, I sometimes have slightly off days, but I'm so much better.
I think it was my body's way of telling me that I needed to slow down, I was being really tough on myself and was so busy I barely had any time to relax. I was totally burnt out. I pushed myself to run for 30 minutes every single day without fail and if I did miss a workout then I would feel guilty if I ate something and think I was going to put on weight.
Being ill and not being able to eat normal meals or exercise made me realise that I'm not going to put on loads of weight. I stayed the same give or take a few kilo's when I was ill and I wasn't doing any exercise.
In a way I think me getting ill was a good thing as I've felt so much better in myself since, I know I still have issues with food and I'm not going to say I no longer have an eating disorder and everything is dandy because it's not, but I definitely have a healthier relationship with food and if I eat a biscuit then I don't feel guilty. I've been running a bit less and I haven't put any weight on, so although I like to run to keep fit and healthy, I'm no longer being so hard on myself. I gave myself Saturday off and sat in front of the TV all day napping and catching up on shows I'd missed in the week, I really needed it to recharge my batteries.
I've become even more interested in food, you'll probably notice an increase in cooking posts in the next few weeks as we've been having new things all the time as I'm constantly searching for recipes and I'm really interested in what I'm making and eating. I've bought some fabulous cookbooks recently and they've been less baking and more cooking which is not my normal choice. I usually go for books full of wonderful cakes, cookies and biscuits. I found a copy of The Fannie Farmer cookbook on Amazon for £2 and when it arrived yesterday I was completely absorbed in it for hours.
It has gone straight to the top of my list of best cookbooks and I'd highly recommend it to anyone, it's a proper old fashioned cookbook, anything and everything you could ever think to cook is in there. We are going to have some amazing dinners from now on and I'm sure I'm going to go back to it time and time again if ever I'm stuck for what to cook.
Don't fret I definitely haven't left the baking! I still love it so much and I'll still be making plenty of sweet treats, I can even eat one of what I make without feeling too bad about myself so all steps in the right direction. I'm thinking a lot more positively which I think is the key, I used to put myself down a lot and now I'm thankful for what I have.
It's making me think that I can win this battle one day and have a completely healthy relationship with food one day.
Anyway, just because I was ill didn't mean I wanted my boyfriend to suffer, so I made him this chicken tikka masala. A slight caution, my boyfriend really likes spicy food, like blow your head off hot and I do not. Since this was just for him, I made it to his tastes, so in the recipe I've listed what I put in this time and then what I would put in for someone who doesn't want to burn all their taste buds off. 🙂
Print 

Recipe by Annie
Serves 2
Ingredients for the marinade:
> 1/2 cup natural yoghurt
> 2tsp lemon juice
> 3/4tsp ground cumin
> 1/2tsp cayenne pepper
> 1/4tsp ground ginger
> Salt and pepper to taste
> 2 chicken breasts
Ingredients for the sauce:
> 1tbsp butter
> 1 garlic clove, minced
> 1/2 tsp ground coriander (I would put in 1/4tsp)
> 3/4tsp cayenne pepper (I would put in 1/4tsp)
> 1/2tsp garam masala
> 1tsp paprika
> 1 1/12tsp ground cumin (I would put in 1/2tsp)
> salt to taste
> 3/4 of a 400g tin of chopped tomatoes, puréed
> 1 cup single cream
Method:
> Place all the marinade ingredients into a small bowl and mix until combined.
> Chop your chicken into 1 inch cubes and place in a ziploc bag.
> Place the marinade into the ziploc bag coat all the chicken with the marinade.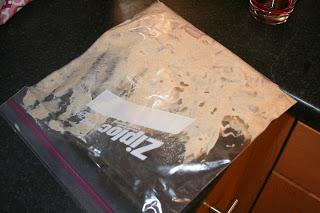 > Place in the fridge to marinade for at least 1 hour.
> In a large saucepan or wok, cook the chicken until tender. Don't add butter at this stage, you need it for cooking the garlic etc.
> Once the chicken is cooked place in a small bowl on top of a kitchen towel.
> You can use the same pan, or use a clean one for the next bit, Melt the butter over a medium heat and add the minced garlic. Sauté for a minute and then add in all the spices.
> Cook the spices for 2 minutes and then add in the puréed tomatoes.
> Mix and then add in the cream.
> Bring to the boil and then turn the heat down to a simmer. Stirring occasionally, simmer for 20-25 minutes until the sauce has thickened.
> Add in the chicken and cook until the chicken is hot through.
> Serve immediately on a bed of rice.
Enjoy 🙂
Entered into What I Ate Wednesday at Peas and Crayons and Thursday's Treasures at Chocolate, Chocolate and More