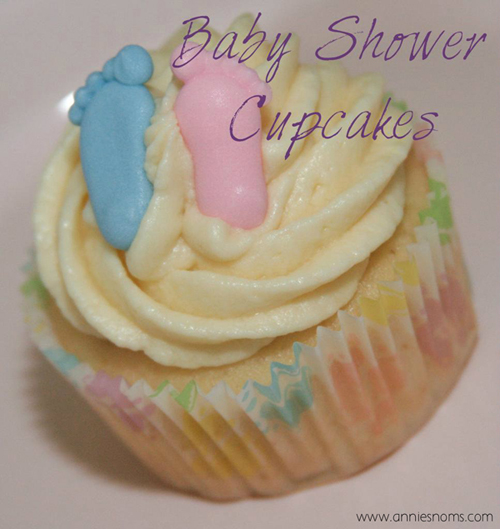 It's the 23rd of November and I can officially say I am ready for Christmas!

My Dad and boyfriend's presents arrived yesterday, they were the last two I was waiting on and now everything is wrapped and ready to go. I've written all of my cards, bought ribbon, made gift tags and I've also bought confectionery bags as I'm making chocolates and fudge for some presents. 

Still haven't given in and made myself mince pies, but the urge is growing by the day, so doubt it'll be much longer before I'm making them.

I saw a really brilliant present idea on pinterest, to fill jars with dry cookie ingredients, write the instructions on a little card and decorate with fabric and ribbon! I think it's adorable and am definitely doing it, I've bought all of my jars and am ready to go! 

Apart from all the Christmas hysteria which has already hit me, I'm feeling fed up with Uni, but nothing new there. Just wonder when I'll get a break, everything has been so bad recently, surely things have to start looking up soon? It just gets me down, the whole student finance thing, which still isn't sorted, although my new application is at least being processed now so maybe I'll have my loan by Christmas. Sometimes I just want to curl up in a ball and ignore the world.

Anyway, a few weeks ago I was invited to a surprise baby shower for one of my friends, Gemma, who I used to work with. I was so excited and decided to make these cute little cupcakes. My friend doesn't know what she's having so I put blue and pink decorations on the cupcakes. I did a really simple yellow buttermilk cake, although I love being experimental with flavours, it's probably not best to take wacky flavours to a party as people might not like them! 

It was a really lovely evening, I miss all my work friends loads and wish I could see them more often, but it was lovely to catch up and have a fun time. I try and see them as much as possible, but it seems whenever I'm invited out either we're going to my parents or they're coming to us! Luckily it was on a Tuesday so I could make it and I've already said that I'm definitely going down at Christmas so not making any plans yet so I can definitely go!
Print

Recipe for the cupcakes adapted from Martha Stewart's Cupcakes
Makes 24

Ingredients for the cupcakes:

> 2 1/4 cups plain flour
> 1 1/2tsp baking powder
> 1 stick + 1tbsp butter (128g)
> 1 cup + 2tbsp caster sugar
> 3 eggs + 1 egg yolk
> 1 cup buttermilk
> 2tsp vanilla

Ingredients for the frosting:

> 250g butter, softened
> 2tsp vanilla
> 600g icing sugar
> Food colouring (optional)
> 2tbsp milk
Method:

> Preheat the oven to 180 degrees C and line 2 cupcake trays, it's fine if you only have one, you can bake them in batches.
> Place the flour and baking powder into a medium sized bowl.
> Leave to one side. Place the sugar and butter into a large bowl, or the bowl of your stand mixer.
> Beat the butter and sugar until light and fluffy, about 2 minutes.
> Add in the eggs and vanilla.
> Mix until well combined and smooth.
> Add in the flour and buttermilk.


> Mix until light and smooth, about 1 minute on medium speed.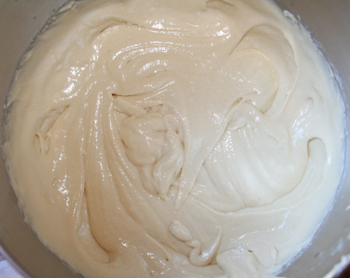 > Divide between the cupcake cases, about 3/4's full.
> Bake in the oven for about 20 minutes, until an inserted skewer comes out clean.
> Take out of tin as soon as possible and transfer to a wire rack to cool completely.
> Once cooled, make the frosting – cream the butter, vanilla and food colouring and then sift in the icing sugar. 
> Mix until light and fluffy, add in the milk and mix until you have the right consistency. You may only need 1tbsp of milk.
> This makes enough frosting to pipe a large swirl on each cupcake, if you are spreading onto the cupcakes, you can halve the recipe.
> Pipe the frosting onto the cupcakes and then garnish with baby feet!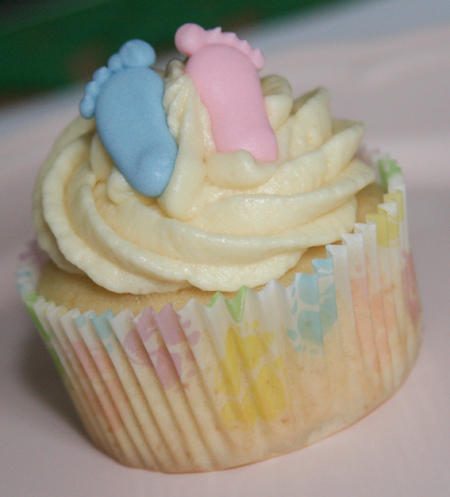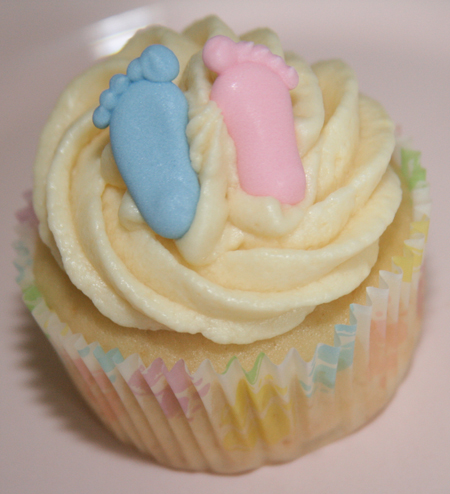 > Will keep in an airtight container in the fridge for up to 3 days. Remove from fridge about 20 minutes before serving unless you like freezing cold cupcakes, which I actually do 🙂

Enjoy 🙂