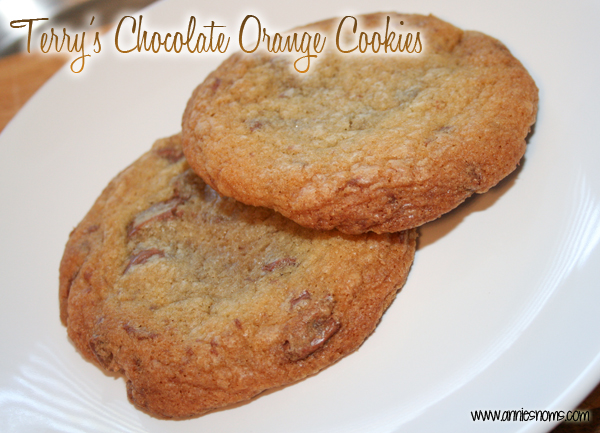 Oh no.
Am I the only one who gets absolutely all consumed by The Sims?
You know I go through these phases, well yesterday I suddenly had the urge to play The Sims. I can go months without playing, but when an urge hits that's it. I must go and play immediately and am then lost in a world where hours fly by without me knowing.
Who steals all the hours in the day?!
Anyway, when I'm looking like a zombie in front of The Sims, I need cookies so I decided to cut up one of my favourite Christmas treats and put it in a cookie.
Every single year, without fail, I get a Terry's Chocolate Orange in my stocking, I simply adore them, intensely orange with smooth chocolate. Yea I'm pretty much in heaven eating one… so putting them in a cookie was like the only logical step because I love cookies and I love Terry's Chocolate Orange's, so marrying the two is pure bliss.
Go make them, you won't regret it.
Right, I'm off to play Sims again…
Makes 20-24 depending on cookie size
Recipe by Annie
Ingredients:
> 228g unsalted butter, softened
> 175g light brown sugar
> 90g caster sugar
> 2 eggs
> 140g plain flour
> 150g bread flour
> 1tsp bicarbonate of soda
> 300g Terry's Chocolate Orange, chopped roughly into chunks. (This is almost 2 Chocolate Orange's)
Method:
> Don't preheat the oven yet, this dough needs to chill.
> Anyone who remembers the adverts from years ago that said "Tap to unwrap" will know that it's impossible to break a Chocolate Orange like that, beat the heck out of it on the worktop and then chop it up into lovely chunks 🙂
> Place the flours, bicarb and chocolate chunks into a medium sized bowl and toss together.
> Leave to one side.
> Place the butter and sugars into a large bowl or the bowl of your stand mixer and beat until light and fluffy, about 2 minutes.
> Add in the eggs and mix until well combined.
> Tip in the dry ingredients.
> Mix slowly until everything is combined into a lovely dough.
> Place the dough in a medium sized bowl.
> Cover the bowl with clingfilm and place in the fridge for at least 6 hours, if possible overnight.
> Once chilled, preheat the oven to 180 degrees C and line two baking trays.
> Using a cookie scoop, place rounds of cookie dough onto the baking trays about 2 inches apart. You may need to bake in batches if you can't fit them all on.
> Place in the oven for 10-12 mins until lightly golden around the edges and slightly underdone in the middle, they'll still be very soft and slightly wobbly in the middle. This is perfect.
> Leave to cool on the trays for two minutes before transferring to a wire rack to cool completely.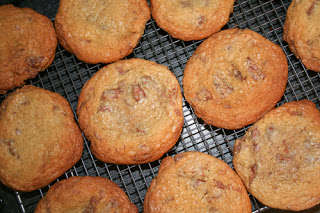 > I ate about 3 whilst they were still warm, but if you can, wait for them to cool completely 🙂 Once cooled, devour them ALL!
> Will keep in an airtight container for up to 4 days.
Enjoy 🙂
Entered into Thursday's Treasures at Recipes For My Boys and Foodie Friends Friday