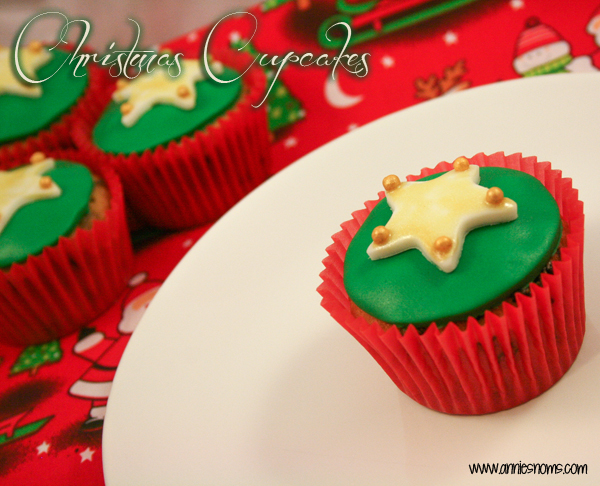 Hi everybody! I hope you had a lovely Christmas. I had a busy day even though it was just us at home! We had chicken this year instead of Turkey, I know it's not traditional, but I just prefer the taste of chicken. Everything else was traditional though!
Roast potatoes are my favourite thing in the world. I could literally just eat a plate of them for lunch and be perfectly content. This year we tossed them in some semolina to make them even crispier and by golly they were good! We always use goose fat and Rooster potatoes as they're naturally fluffy, but the semolina just added that extra little bit!
We didn't leave our dog Poppy out of the festivities either, although she's on a special diet so can't have any treats, we bought her some new toys (one of which I think we'll regret soon as it's got such a loud squeaker!) and she was so excited running around the house playing with them. She tried to rip their heads off, but then she wanted to protect them from us…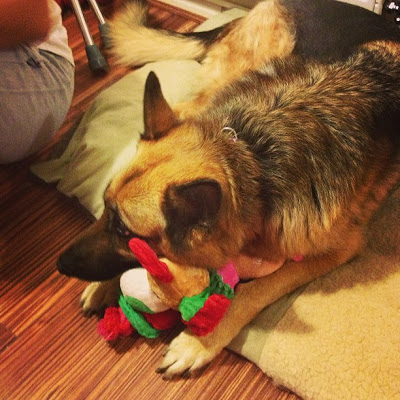 I did really well with gifts this year! I have an amazing family, friends and boyfriend and was truly spoilt! Absolutely everything was to do with baking/cooking! I got loads of new cookbooks, topsy turvy cake pans (which I absolutely cannot WAIT to use!), a doughnut cutter, pop up light box… this picture is some of what I got, but I got more yesterday when we went to visit family.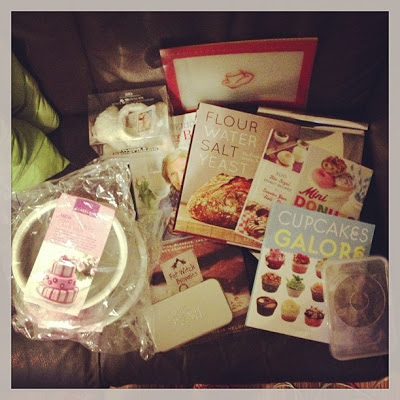 My favourite present though, had to be the one my boyfriend bought me. I've wanted it for ages and can't wait to get in the kitchen and play around with it. He bought me the pasta attachment for my stand mixer which makes 14 DIFFERENT SHAPES OF PASTA. OMG HOW COOL?!?! Sorry for the caps, got a bit excited 🙂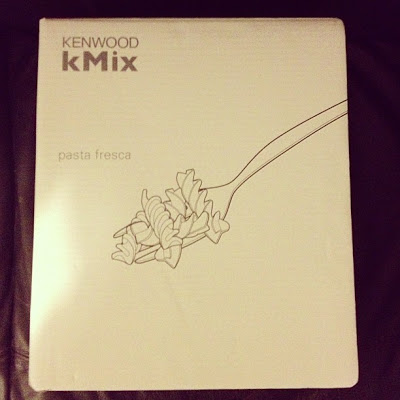 I also got a pop up light box, so hopefully (after I've bought loads more food props) my photo's will be improving even more as our house is stupidly dark all the time! I had fun playing around with it for these cupcakes!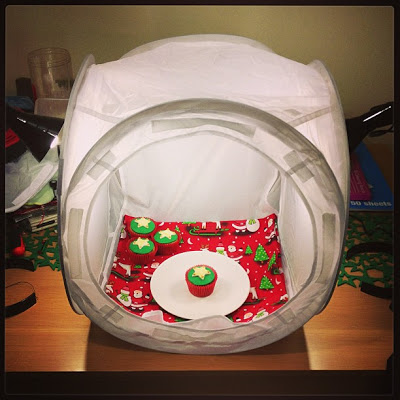 We always stay at home on Christmas day and then go and see family on Boxing Day, this year was no different, so we had a lovely lunch of leftover meats and cheesey mashed potatoes at my parents then went to my grandparents for even more food. I felt ready to burst! Although I haven't even put on 0.1 of a kilo!! Amazed because I thought I ate loads! Managed to stay away from chocolates and desserts though so maybe that's why. Anyway I may have been lucky, but I'm still getting my butt back on the cross trainer today to burn off the extra calories!
I decided to make some Christmas cupcakes with a light fruit cake instead of a traditional dark one. I made one of them last year so thought I'd do something different this year! It's a really simple sponge cake and then I decorated them with fondant and edible glitter – it is Christmas after all!
Makes 12
Recipe for the cupcakes from 
Everyday Easy Cakes and Cupcakes
Ingredients for the cupcakes:
> 175g butter/marg
> 175g light brown sugar
> 3 eggs
> 250g self raising flour
> 2-3 tbsp milk (I needed 2)
> 300g mixed dried fruit (I used 100g raisins, 100g sultanas and 100g currants)
To decorate: (optional)
> Around 200g ready to roll white fondant (or you can buy a green one if you don't want to colour it yourself, you will need a little bit of white for the stars though)
> Yellow and blue gel (if you have them, they're the best you need to little!) food colourings (or buy a green one)
> Round cutter the size of the tops of your cupcakes
> A star/Christmas shaped cutter smaller than the tops of your cupcakes
> Edible glue or royal icing
> Edible Gold pearls
> Edible glitter/lustre
> Small, flat brush
Method:
> Preheat the oven to 180 degrees C and line a cupcake tray.
> Place the butter and sugar in a large bowl or the bowl of your stand mixer and beat until light and fluffy, about 2 minutes.
> Add in the eggs and mix until well combined.
> Add in the flour and milk.
> Mix until well incorporated and smooth, about a minute on med-high speed.
> Add in the dried mixed fruit.
> Fold in the fruit by hand using a spatula or soon.
> Divide the batter between the cupcake cases, about 3/4 full.
> Place in the oven for 20-25 minutes (mine took 22) until an inserted skewer comes out clean.
> Transfer to a wire rack immediately to stop the wrappers peeling away from the cakes.
> Leave to cool completely before decorating.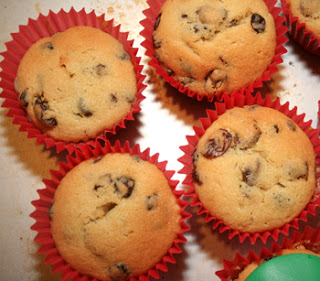 > If you're colouring the fondant yourself then add colouring until you get the desired colour – I went for a dark-ish green, but still quite bright. Leave some fondant leftover to cut out your shapes.
> Roll out until about 1/4 inch thick and then cut 12 rounds.
> With the flat brush, brush the tops of the cupcakes with edible glue/royal icing and then attach the circles.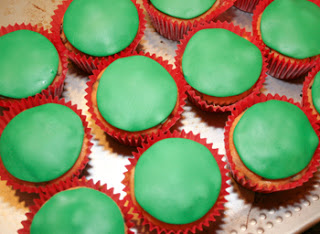 > Roll out the white fondant until 1/4 inch thick and cut out 12 stars/whatever shape you desire.
> Brush the backs of the shapes with edible glue and place in the middle of the green fondant.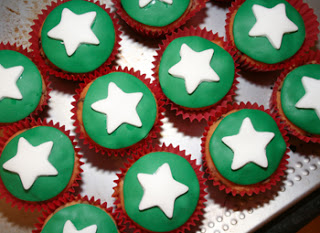 > They look quite pretty just like this, but I decided to use a gold lustre on the stars and stick some edible gold pearls on the points of the stars to make them look even more festive!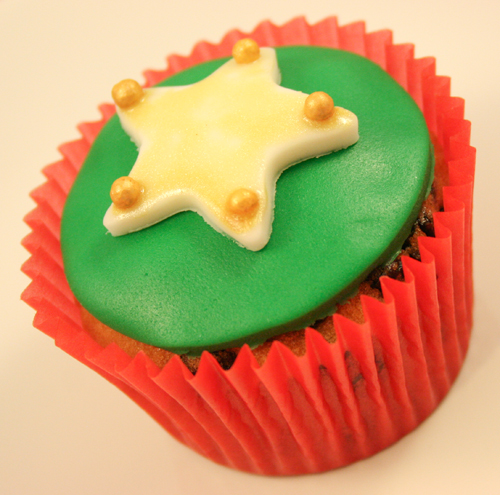 Enjoy 🙂
Entered into Thursday's Treasures at Recipes For My Boys