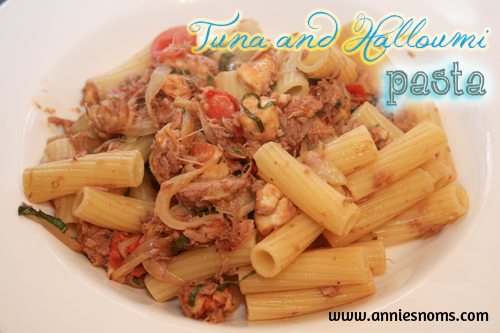 I wasn't too sure I'd like Haloumi. How wrong I was! I can't eat too much of it as it's quite salty, but it's such a delicious cheese! My mum said she loved it so I decided to buy some, she said she can just eat it out of the packet and I like it too, but it is absolutely, mouth wateringly good when you fry it, so it's crisp and golden on the outside, but oozing and melted in the middle.
Woah, I need to stop before I drool… not attractive.
I think once, we were having a leftover dinner, which was a bit of a mix of whatever we could find in the fridge so we ended up with sushi, chips and fried Halloumi… odd, but delicious!
I'm not fussed if things "don't go". If they taste nice then I'll eat them. Mind you, having a blog where I post recipes means I have to eat things that "go together" sometimes!
Since getting my lightbox for Christmas I've been trying to spend more time practising my photography, I haven't had that much time… but my pictures are looking better. However, I know I still have so much more to learn! I think I've only posted two recipes so far that were taken in my lightbox as I'm still getting through a load of recipes I had scheduled to post from last year, but soon I hope you'll see an improvement in my photographs.
I read other food blogs and I'm sometimes gob smacked by their photography, sometimes they are just beautiful and I'm so envious! I think I need to work on the creativity as well because I don't think of things like if there are digestives in a cake, I can crush some digestives up and use them in the background of my picture. I've always been like, "right lets take a picture of the dish", but by using simple props pictures look so much better.
I've started buying more plates and fabrics, usually just tea towels with pretty patterns on to use in my photos.
I've bought a book called Focus On Food Photography for Bloggers
 and I'm looking forward to reading through it. I know that there's a lot to learn and I'm only going to scratch the surface, but I just need to understand things better. I have all the kit, the DSLR, the external flash, the lenses… I just need to learn how to change the aperture and shutter speed properly. Whenever I ask my boyfriend to explain them he confuses me even more as he uses really techy language 🙁
I need him to show me! I read this post on Sally's Baking Addiction and the way she explained shutter speed and aperture made so much more sense to me! I highly recommend you read her post if you want to learn more about taking pictures of food. She has the same problem as me, an incredibly dark home. I'm constantly fighting with the light in my house, it's so gloomy, very rarely I have the sun shining directly onto my dining table for about 20 minutes which is awful as well as it overexposes my pictures!
I've now made a few recipes and taken pictures which are a definite improvement on my current ones and I've also read tutorials on using Lightroom, I know how to use it, but it's just finding out specifics which are really good tools for food photography. I've nearly posted all of my recipes from last year so soon I'll be posting recipes I've made since getting the lightbox. Since I was out of the kitchen for a month doing Uni work, I'm trying to make as much as possible whilst I have the time, so I have recipes to post. Usually I still bake every Friday when I'm at Uni, but when deadlines are coming up I have to prioritise Uni unfortunately 🙁
I'm trying to think it's only 2 more projects then I'm done. I know one project lasts for a year, but I feel better if I say there's only 2 left. Then I can focus 100% on my baking.
Back to Haloumi, more specifically tuna and haloumi; this dish is lovely and light, yet filling because of the pasta. An easy and quick weeknight meal, which doesn't compromise on taste 🙂
Serves 2
Adapted from BBC Food 

Ingredients:
> 200g pasta (I used Rigatoni)
> 1tsp olive oil
> 2 handfuls of cherry tomatoes, halved
> 1 onion, chopped finely
> 1 garlic clove, sliced thinly
> 125g Haloumi cheese, sliced into 1/2 inch cubes
> One 185g tin of Tuna (mine was in spring water)
> A few basil leaves, chopped finely
> salt and pepper to taste (You probably won't need much salt, the Halloumi is salty)
Method:
> Cook the pasta according to packet instructions. Whilst the pasta is cooking heat the oil in a large saucepan or wok over a medium heat.
> Once the oil is hot, place the garlic and onions in and sauté for 2 minutes.
> Add in the tomatoes and toss together. Cook for 5 minutes.
> Add in the Haloumi.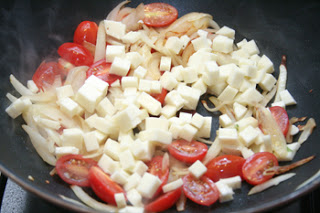 > Mix everything together and cook for 2-3 minutes. Add in the tuna and basil and toss together. Try not to stir too much when you add in the tuna as it will become a bit mashed up. You'll keep nice flakes of tuna if you toss it together.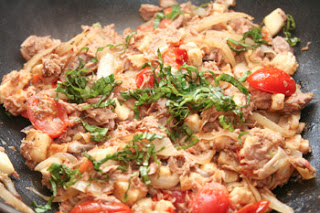 > Once the pasta is cooked, drain it and then add it in to the Haloumi mix.
> Mix together and serve immediately.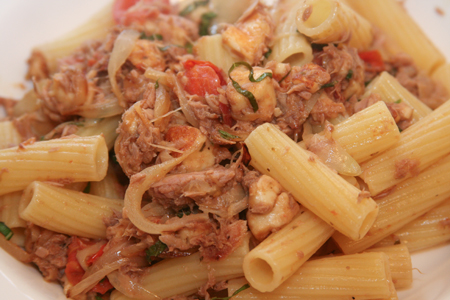 Enjoy 🙂
Entered into What's Cookin' Wednesday at Buns In My Oven, Thursday's Treasures at Recipes For My Boys and Foodie Friends Friday