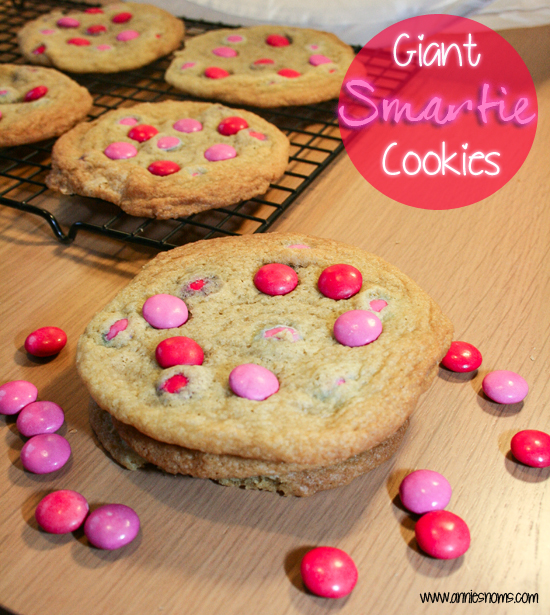 Let's talk about cookies.
I would eat cookies all day, every day if it wasn't for the fact they'd make me very fat.
I have over a thousand cookie recipes, printed ones and whole cookbooks dedicated to them. I love coming up with new flavour combinations, although I still love "classic" cookies.
I've been using this cookie recipe for ages now and it makes the perfect thin, chewy cookies. Before I found my "perfect" recipe I had tried many and none ever turned out quite right. After reading that the recipe had bread flour in I knew I had to try it and they turned out great so that's been my base recipe ever since.
The bread flour really does make a difference, it gives you the chewiest cookies, so if you haven't tried it I'd highly recommend replacing half the flour in your recipe with bread flour.
However, there's a different type of cookie I also love and haven't perfected yet. The really thick, soft ones. To be honest I can't quite make my mind up as to which is my favourite. I would be happy stuffing my face with either. I've been reading Sally's Baking Addiction for ages and she's found the perfect recipe for these thick cookies. The magic ingredient in these is cornflour! I'm making one of her recipes this afternoon and I honestly can't wait to try them once they're baked! Today, I'm going to follow the recipe and get thick, soft cookies. However, next time I'm going to experiment with half bread flour and half plain with the added cornflour! I'm hoping to end up with chewy, thick, soft cookies! A mega-cookie!!
It's also a very sad day today, my old faithful cookie scoop has finally died 🙁
We've had a long relationship, making dozens of delicious cookies, but the mechanism has broken and I have to give in and buy a new one. Since I swear by chilling my cookie dough overnight, my dough is very stiff, which, whilst it makes the best cookies, with less spread, does take its toll on cookie scoops 🙁
Unfortunately I actually needed to use my cookie scoop today… I'm going to have to try and get even cookies with a spoon which, quite frankly, I'm useless at. I always end up with different sized cookies. Wish me luck…
Now, onto these babies. Since it's nearly Valentine's Day, I thought I'd spend ages sorting through tubes of smarties to find all the red and pink ones to make you giant Smartie cookies 🙂
Giant Smartie Cookies
Giant, soft cookies littered with pink and red Smarties!
Ingredients
1

stick (113g) of butter,

softened

60

g

light brown sugar

90

g

caster sugar

1

egg

1/2

tsp

vanilla extract

70

g

plain flour

75

g

bread flour

1/2

tsp

bicarbonate of soda

150

g

smarties

(plus extra to place on top after baking, optional)
Instructions
Place the butter and sugars into a large bowl or the bowl of your stand mixer. Beat on a med-high speed until light and fluffy. Add in the egg and vanilla extract.

Mix until well combined. Sift the flours and bicarb into a medium sized bowl and then add into your wet mixture.

Mix on a low speed until well combined, dough will be stiff.

Place the dough into a medium sized bowl.

Cover the bowl with clingfilm and place in the fridge for 3 hours. Now, I know I said I swear by leaving my cookies dough overnight, but to give these their giant-ness (yes that's now a word) it's best to chill them for 3 hours so they spread a bit more.

Once chilled, line 2 baking trays and preheat the oven to 180 degrees C (350F).

In the UK we can't buy cookie scoops which tell you how many tablespoons they hold, I am pretty sure I have a 3tbsp. Use your cookie scoop and place balls of dough onto your baking trays about 3 inches apart. Flatten the dough balls a little and then press 5-6 smarites onto each cookie. Since these cookies spread, some smarties will end up inside the cookies which actually makes them taste great as they're slightly melted, hence why I said it's a good idea to have extra to place on top once they come out of the oven.

Place the baking trays in the oven for 9-10 minutes, until very lightly golden around the edges and underdone in the middle.

Leave to cool on the baking trays for 2 minutes before transferring to a wire rack to cool completely.

Cookies will keep in an airtight container at room temperature for up to 4 days.
Notes
Recipe adapted from my Chocolate Chunk Cookies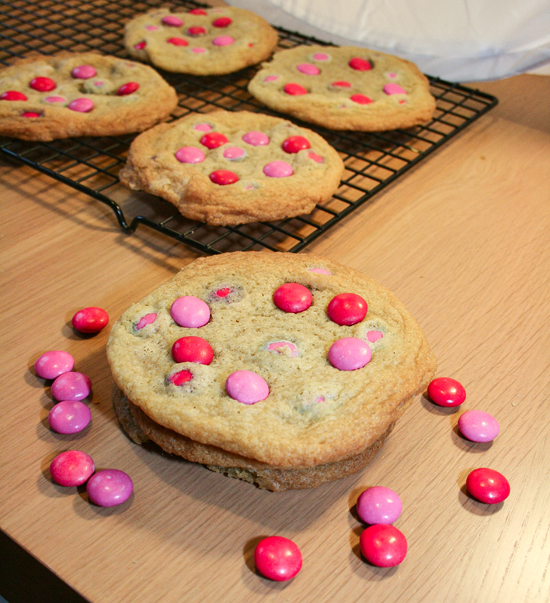 Enjoy 🙂