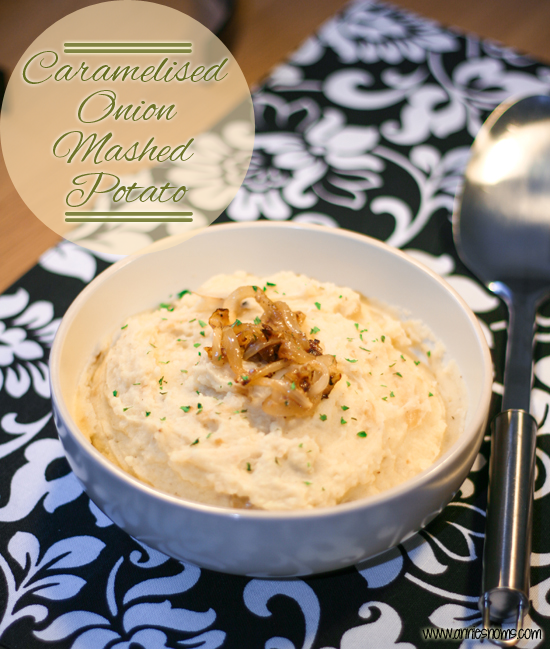 I'm pleased to say that this month marks my first assignment for The Secret Recipe Club!
This month I was assigned Christine's blog Christine's Kitchen Chronicles. I very much enjoyed having a look round her blog and learning more about her – I found out that her family were restaurant entrepreneurs and that "their food was so good, it won awards at the longest culinary festival in the United States"!
Wow! I wish I could taste their food, I really appreciate Chinese cuisine and am getting more and more interested in it now that I live with my boyfriend! In fact, we went to the Asian supermarket yesterday and stocked up on loads of lovely things!
I had a look through all of Christine's recipes and since we had some sausages we needed to use, I decided to make this Caramelised Onion Mashed Potato as we both love mash and I wanted a change from "plain old mash" – and we absolutely love onions!
Christine's recipe was really simple, with puréed onion mixed in with the milk and then actual caramelised onions mixed into the mash as well! It was delicious an we'll definitely be making it again soon!
Caramelised Onion Mashed Potato
Fluffy mashed potato with a hint of caramelised onions.
Ingredients
2

lbs

potatoes,

peeled and chopped into chunks

1

onion,

sliced thinly

2/3

cup

hot milk

3-5

tbsp

butter,

we like buttery mash

salt and pepper to taste

Parsley to garnish,

optional
Instructions
Fill a large saucepan with water and lightly salt. Add in the potatoes and cook until tender, 20-25 minutes.

Whilst the potatoes are cooking, melt 3 tablespoons of butter in a frying pan/wok on a medium heat. Add in the sliced onions.

Cook the onions for about 20 minutes until soft and lovely and brown, stirring occasionally.

Once the potatoes are cooked drain and mash them. (We use a potato ricer and find it much easier!)

Heat the milk up for about 40 seconds and then place in a food processor with half of the onions. Blitz until smooth.

Pour into the pan you cooked the mash in.

Add in the mashed potatoes and stir. At this stage taste and then add in the extra 2 tablespoons of butter if required. Season to taste. Add in the remaining onions (I reserved some to garnish) and mix until combined.

Serve immediately and garnish with some parsley if you'd like.
Notes
Recipe adapted from Christine's Kitchen Chronicles - http://christineskitchenchronicles.blogspot.co.uk/2011/11/caramelized-onion-mashed-potatoes.html#.UhjBWNJtiuK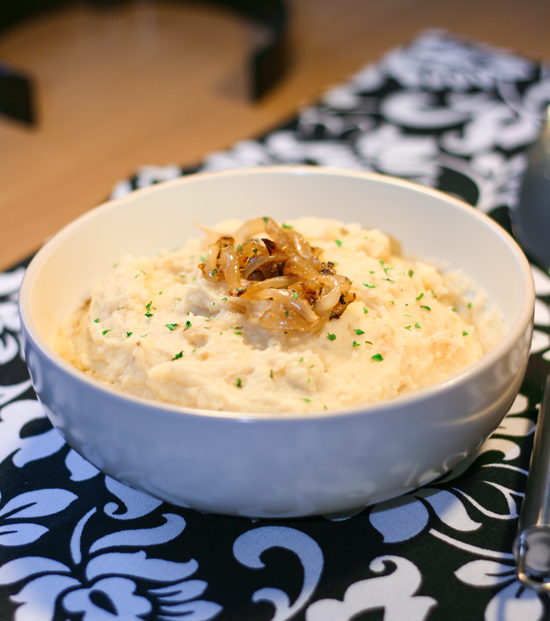 Enjoy 🙂