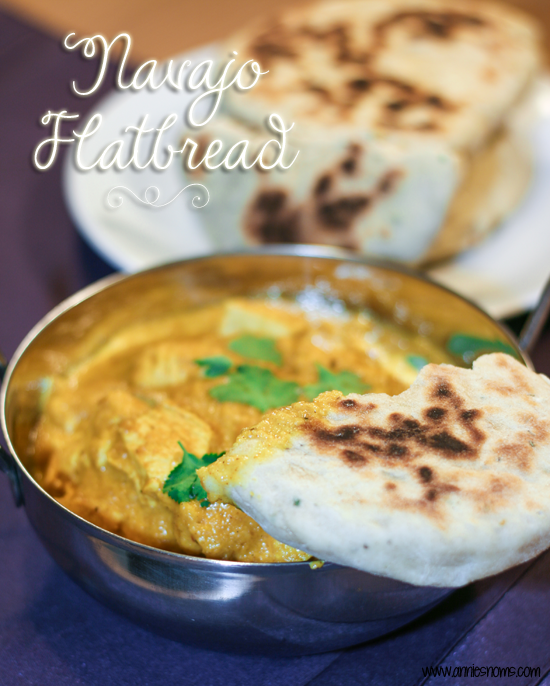 Sarah of All Our Fingers In The Pie was our February 2013 Daring Bakers' host and she challenged us to use our creativity to make our own Crisp Crackers and Flatbreads!
I decided to make something called "Navajo". They are a cross between Indian and Mexican flatbreads and can be eaten at breakfast, lunch or dinner. We decided to serve ours with a curry. This is the recipe fail curry I was telling you about here.
These were meant to be lovely and crisp, but they turned out crisp on the outside and soft in the middle because they rose wayyyyy more than I thought they would!! When I was rolling them out they looked lovely and thin, just like they should have been, but they really puffed up in the pan. They were still delicious though and I'd definitely make them again!
Daring Baker's Challenge: February – Flatbread
Ingredients
300

g

bread flour,

plus extra for dusting

1/4

tsp

salt

1

tbsp

baking powder

1

tsp

dried herbs,

I used parsley and thyme

75

ml

water

3

tbsp

olive oil
Instructions
Place the flour, salt, baking powder and herbs into a medium sized bowl and mix until combined. Make a well in the middle and then add the water and oil into the centre.

Start mixing the dough from the centre, bringing in flour from the outside gradually until a soft dough forms.

Lightly flour your worktop and then turn the dough out. Knead for 5-6 minutes until the dough is soft and not sticky any more. It should be lovely and elastic.

Leave the dough to relax for about 30 minutes.

Once relaxed, split the dough into even balls, they should be 1/2cm thick. As I said, I made mine too thick and made 6, but you'll probably get 10.

Flatten the dough first with a rolling pin and then use your hands to stretch and flatten the dough more.

Preheat the oven to 100 degrees C and line a baking tray.

Heat a non-stick frying pan over a low/medium heat. You'll need to cook in batches. Place 2 flatbreads into the hot pan and cook for about 2 minutes per side, until risen, bubbly and golden. Some parts of your flatbread should have dark patches, this adds to the flavour!

Place cooked flatbreads on your baking tray and into the oven to keep warm whilst you cook the remaining dough.

Once you've cooked all of the flatbreads serve immediately with curry, soup, whatever you fancy!!
Notes
Recipe adapted from JamieOliver.com - http://www.jamieoliver.com/recipes/bread-recipes/navajo-flatbreads
Enjoy 🙂
I link up at these great Link Parties!