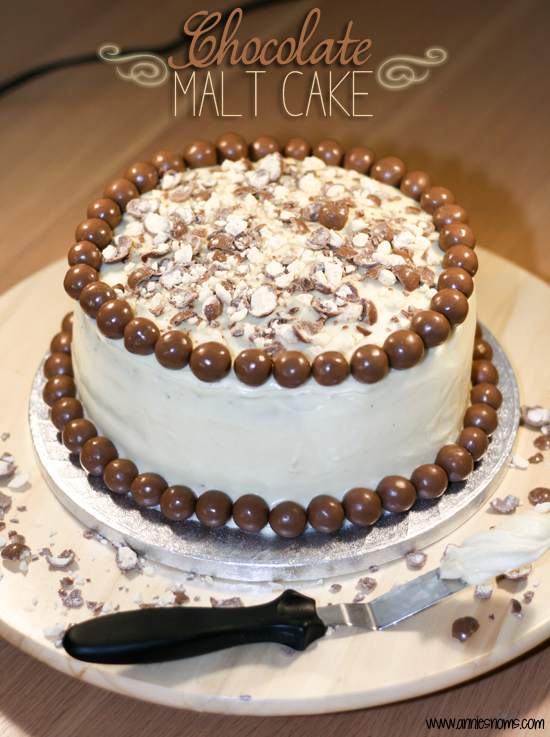 I failed.
I didn't manage to get a picture of the inside of this Chocolate Malt cake as it was my brother's birthday cake and I wasn't there on his birthday.
I took all my kit with me two days before his birthday when I dropped the cake off, but he didn't want to eat it until his birthday, sorry guys!
I've been told that it was delicious though – and to be honest I tasted every single element of the cake and it was amazing – the Horlicks frosting should just be illegal!
Got myself such a bargain in TK Maxx today, God I love that store!!!
A got a Wilton circle cutter for cutting out the perfect sized circle of fondant for cake covering and it was only £4.99!
I have to admit the other ones said £9.99, but I only realised this after I'd picked mine up and looked at the label in the queue!
I love working with fondant, but I'm just useless at rolling it out in a circle, just not happening. It ends up as a wonky rectangle and then when I put it on the cake, I end up with the perfect overhang on one side and about a foot on the other side.
Even when I roll and turn after every roll – I still can't roll it out straight!!
It's my birthday next month and I'm planning on making myself a topsy turvy cake with the pans my parents bought me for Christmas. I'm so excited!
It's not sad at all that I'm making my own cake right?
Instead of the mad cat lady, I'll be the mad cake lady.
There's quite a few elements to this cake, but once it's all together it's worth it, it's simple decoration wise and has fudge sauce, Malteser's between each layer, chocolate and horlicks in, which is just one of the best combinations ever, obviously as Malteser's were invented. Anyway because you only need 2 and 1/2 bags of Malteser's you can eat the other half whilst decorating the cake, win win – there have to be perks to being a baker you know!?
Chocolate Malt Cake
Ingredients
Ingredients for the hot fudge sauce:

30

g

dark chocolate,

I used Green & Blacks

20

g

cocoa powder

100

g

golden syrup

25

g

caster sugar

60

ml

double cream

Ingredients for the cake:

160

g

plain flour

70

g

cocoa powder

1 1/2

tsp

baking powder

120

g

butter,

at room temp

300

g

caster sugar

3

eggs

115

ml

buttermilk,

well shaken

40

ml

vegetable oil

1

tsp

vanilla extract

Ingredients for the frosting:

900

g

icing sugar

150

g

unsalted butter,

at room temperature

300

g

full fat cream cheese,

I used Philly

240

ml

double cream

120

g

Horlick's

(or other malt powder not chocolate malt)

2

and 1/2 sharing size bags of Malteser's,

for decoration
Instructions
Make the hot fudge sauce first. Place the chocolate and cocoa powder into a heatproof bowl and set aside.

Place the golden syrup, sugar and cream into a small saucepan and set over a medium heat. Bring to the boil, stirring continuously and then take off the heat.

Pour the hot cream mixture over the chocolate and whisk until smooth.

Leave the hot fudge sauce to the side whilst you make the cake. Preheat the oven to 170 degrees C and grease and line 3 cake tins.

Sift the flour, cocoa powder and baking powder together in a medium bowl and stir until combined.

Place the butter and sugar into a large bowl or the bowl of your stand mixer and beat until light and fluffy, about 2 minutes on med-high speed.

Add in the eggs.

Mix until the eggs are well combined, about 1 minute.

Place the vanilla extract, buttermilk and oil into a jug and whisk together.

Add 3tbsp of the hot fudge sauce and the buttermilk mixture into the egg and sugar mixture.

Mix until well combined and smooth, under 1 minute on med-high speed.

Add in the dry ingredients and mix until well combined.

Divide the batter between the 3 cake tins. I always spoon it in 1 cake tin at a time so I know there's the same amount in each.

Place in the oven for 25-30 minutes until an inserted skewer comes out clean.

When they come out of the oven poke holes into the cakes and pour the fudge sauce over each cake. If the fudge sauce has become too set, microwave in 10 second increments until runny again.

Leave the cakes to cool in the tins completely.

Once cool, make the frosting. Place the icing sugar, butter and cream cheese into a large bowl or the bowl of your stand mixer.

Mix on a low speed to begin with, so you don't end up with a sugar cloud! Once combined, turn up to med-high speed until light and fluffy.

Place the double cream and Horlick's powder into a medium sized bowl and mix together by hand, it comes together really quickly.

Add the Horlick's mix into the butter and sugar mix.

Mix until light and fluffy, about 1 minute on med-high.

Place 1 and 1/4 bags of Malteser's into a medium sized bowl and crush. I use the end of a rolling pin.

Place a little frosting onto a plate or cake board and then place the first cake layer top facing up onto the frosting. Spoon some frosting onto the cake and spread until smooth and even. Sprinkle about a handful of crushed Malteser's over the frosting.

Place the next layer on top of the frosted cake, top side up. Again, spread frosting over it and sprinkle Malteser's on top.

Place the final layer top side down so you get a nice smooth top. Frost the top of the cake using a small offset spatula and the sides with a long straight spatula.

To ensure a smooth finish, once I've finished frosting, I dip the spatula into a jug of warm water and then glide it over the frosting.

Place Malteser's around the edges of the cake, top and bottom and then sprinkle the remaining crushed Malteser's on top of the cake, et voilà!

Cake will keep in an airtight container in the fridge for 3-4 days.
Notes
Recipe from The Hummingbird Bakery: Home Sweet Home
Enjoy 🙂
I link up at these great Link Parties!