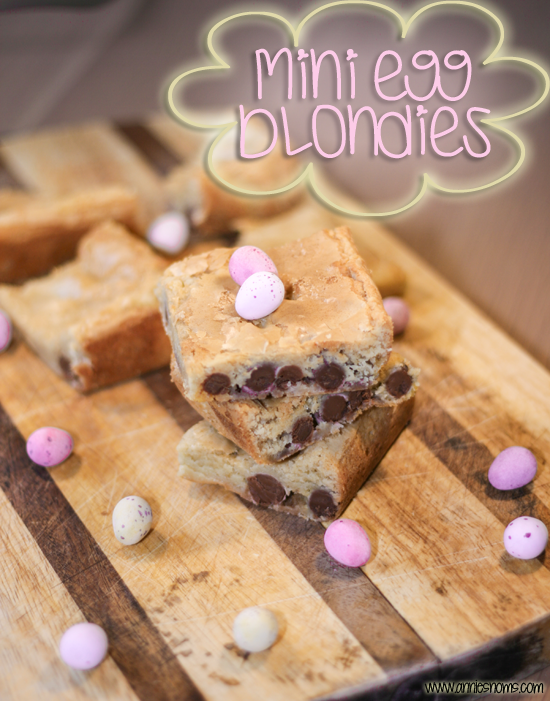 Easter baking is well under way here!
After Mini Egg-gate last year I decided to stock up. Seriously it was like a mini egg raid last year, every shop I went to had none at all!
As soon as they started with the Easter chocolate I bought like 8 bags, then I bought creme eggs, milky bar eggs, milky bar buttons, M&M;'s… Don't judge.
It's not like I eat all of them, I just get creative in the kitchen. My boyfriend and I have come to the conclusion that I am a chocolate hoarder. I have cupboards of chocolate and we also have loads in the spare room as we've run out of room in the kitchen… :O
Whenever we go shopping I'm like "Oooh I can bake cookies with that!"
I do…. eventually. Just takes some time to get through the back log of recipes I've written or seen that I want to make and all the chocolate we have piled up.
Anyway I made Mini Egg Blondies. When I make brownies I want them to be proper brownies, intense and fudgy, not cakey. I decided I wanted the same for these blondies. A lot of blondie recipes start with beating the butter and sugar, but this isn't how I ever start brownies off, they start with melted chocolate and melted butter and so I wrote the recipe myself so I could have melted chocolate and butter in them 🙂
Mini Egg Blondies
Soft and chewy blondies packed with Cadbury Mini Eggs
Ingredients
100

g

good quality white chocolate,

I used Green & Blacks

150

g

unsalted butter

150

g

plain flour

1/2

tsp

baking powder

Pinch of salt

200

g

Cadbury mini eggs

200

g

caster sugar

2

eggs

1

tsp

vanilla extract
Instructions
Preheat the oven to 180 degrees C and grease and line your baking tin.

Break the white chocolate up and place into a heatproof bowl and add in the butter.

Place in the microwave in 20 second increments, stirring between each one until melted. Make sure you mix it well between each heating in the microwave as chocolate can keep its shape, but actually be melted. Alternatively you can set the bowl over a small saucepan of simmering water and stir until melted.

Place the flour, baking powder, salt and mini eggs into a medium bowl and mix. Leave to one side.

Place the caster sugar, eggs and vanilla into a large bowl or the bowl of your stand mixer and mix until light and fluffy, about 1 minute on med-high speed.

Pour in the melted chocolate mix.

Mix until well combined and smooth.

Add in the dry ingredients and mix until well combined and smooth.

Place batter into your lined cake tin and level off with a spoon or spatula.

Place in the oven for 20-25 minutes until slightly puffy and an inserted skewer comes out with a few crumbs on it.

Leave to cool in the tin completely before slicing. Once cooled cut into 9-12 pieces.

Blondies will keep in an airtight container at room temperature for 4 days.
Enjoy 🙂
I link up at these great Link Parties!