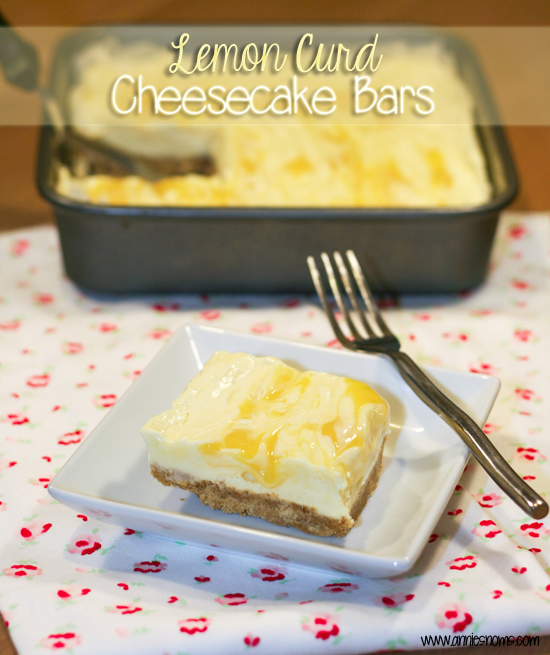 Since it's the first day of Spring (no matter what the weather is trying to fool us into thinking) I thought I'd make you some lovely, fresh and zingy cheesecake bars.
These are so refreshing it's unbelievable! My other half absolutely adored them and I definitely have to make them again.
I've only, in the last few months, realised just how delicious lemon curd is. You might remember these Lemon Curd Filled Doughnuts I made last year. This time I've used shop bought lemon curd so you can whip these up quickly, to be honest I love lemon curd now so it could be shop bought or homemade, it's just fabulous!
A lot like my Mum, I don't like those horrible fake biscuit bases you sometimes get in shop bought things. I honestly don't know what they're made of, but they taste horrible. I'm sure there are actual biscuits in there, but I don't know what else they do to it. Homemade biscuit bases, with proper, freshly crushed digestive biscuits mixed with a little melted butter are just the best. End of.
These bars have the perfect biscuit to cheesecake ratio for me, if you like a slightly thinner base, only use 175g crushed digestives. I like the fact it's 1/3 biscuit, 2/3 cheesecake.
I've doubled up the lemon curd in these too – there's lemon curd mixed in with the cheesecake base and then generous dollops of lemon curd swirled through the top to give you intense bursts of lemon curd and to make them look pretty!
I really hope you enjoy these as much as we did and lets all pray that we get some Spring like weather because I am certainly getting bored of being wrapped up like an Eskimo all the time…
Lemon Curd Cheesecake Bars
Easy no-bake cheesecake bars with fresh lemon curd swirled through.
Ingredients
250

g

crushed digestive biscuits

100

g

unsalted butter,

melted

300

g

full fat cream cheese,

I used Philly

150

g

icing sugar

100

ml

double cream

6

tbsp

lemon curd,

plus extra to swirl in the top
Instructions
Grease and line an 8 x 8 inch square pan. Place your crushed digestives into a medium sized bowl and pour the melted butter on top. Mix with a wooden spoon or spatula until all the digestive crumbs are coated with butter.

Tip the biscuit mix into the cake pan and push into all corners of the pan. Level off with a spatula or your hands, both work well.

Place the biscuit base in the fridge for at least 30 minutes.

Once the base is chilled, place the cream cheese and icing sugar into a large bowl or the bowl of your stand mixer. Beat until light and fluffy, about 2 minutes on med-high speed.

Add in the double cream and mix on a med-high speed until smooth and thick.

Add in the 6tbsp of lemon curd and mix until well combined. Pour over the biscuit base and smooth over until level.

Place a few dollops of lemon curd on top of the cheesecake and then, using a skewer, or similar, drag the lemon curd through the cheesecake making glorious swirls 🙂

Place in the fridge to set for at least 3 hours.

Once chilled and set, slice into 9 or 12 bars depending on how big you want them.

Bars will keep in an airtight container in the fridge for 3 days.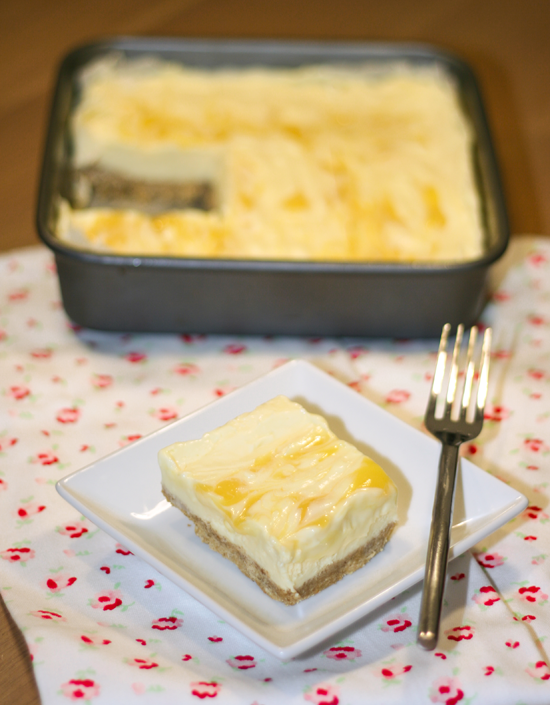 Enjoy 🙂
I link up at these great Link Parties!