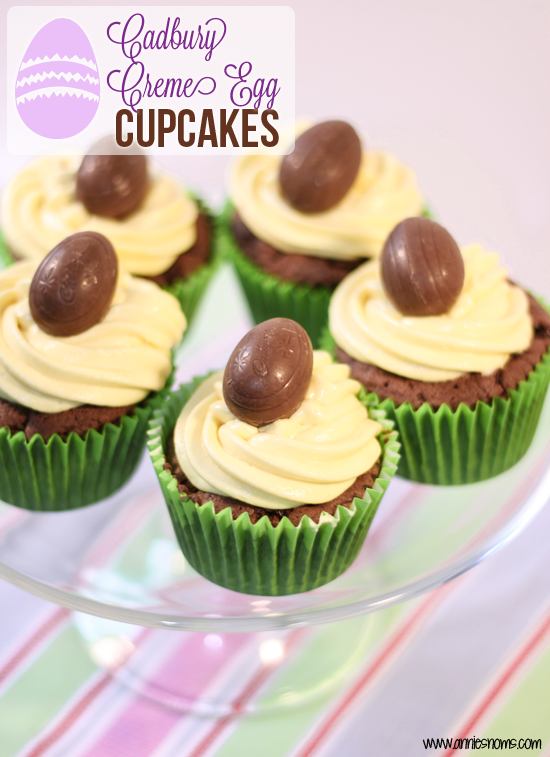 Happy Good Friday everyone!
I'm super happy today because…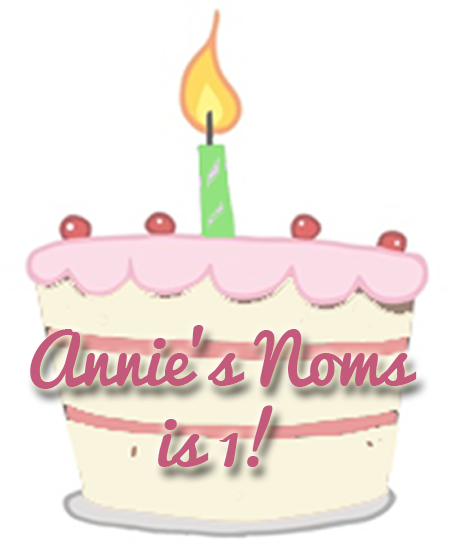 Can you believe it?!
It feels like only yesterday I decided to press that "Publish" button for the first time! But it was really a year ago!
I want to dedicate this post to all of my lovely readers! Without you I would't be here sharing all my recipes, so thank you so much for all of your support over this last year!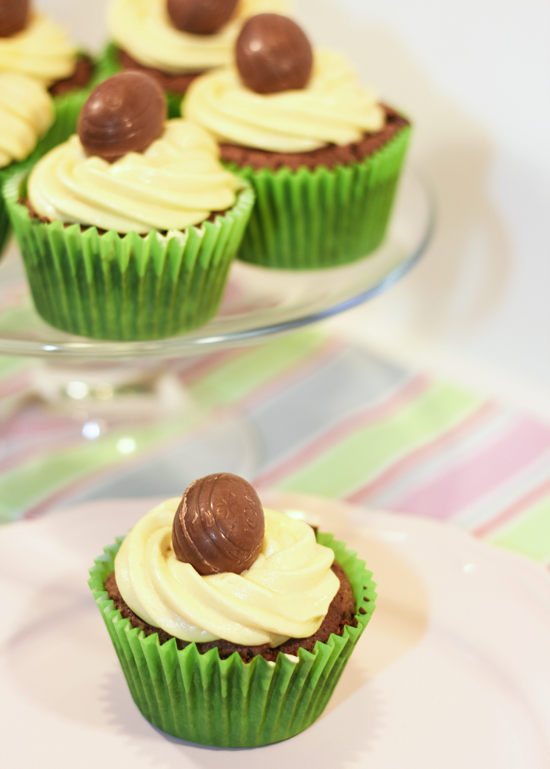 So, instead of making birthday cupcakes for the blog as I'm sure some of you would think that was a bit OTT, I made Easter cupcakes instead! I mean who can resist that ooey-gooey creme egg filling?!
I know I certainly can't! How do you eat yours?! Haha, I bite the top off and then scoop out all of the filling before polishing off the rest of the chocolate egg!
I've seen a few recipes with Cadbury Creme eggs and I was going to follow suit and put a whole creme egg inside each cupcake.
However, when it came to making them, I suddenly had the urge to smash the creme eggs up and then fold them into the batter! It means that in every bite you get a gorgeous burst of creme egg 🙂
I was also planning on doing a chocolate frosting on these, but once I tried the cooked cupcakes, I decided that a vanilla buttercream was a much better idea, because although I adore chocolate, I'm fairly sure that a chocolate frosting would have drawn attention away from the creme egg and given a chocolate overload! (If there is such a thing!!)
Cadbury Creme Egg Cupcakes
Rich chocolate cupcakes, with crushed Creme Eggs inside, topped with Vanilla buttercream and Mini Creme Eggs, just perfect for Easter!
Ingredients
1

cup

plain flour

1/4

cup

cocoa powder

1/4

tsp

baking powder

1

stick (113g) butter,

at room temp

3/4

cup

caster sugar

1

egg

1

egg yolk

1

tsp

vanilla extract

1/2

cup

buttermilk

2

oz

dark chocolate,

melted

12

full size Creme eggs,

smashed into chunks

Ingredients for the frosting:

3

sticks (340g) unsalted butter,

at room temp

4 1/2

cups

icing sugar

2-3

tbsp

milk

2 1/2

tsp

vanilla extract

Yellow food colouring,

optional

12

mini Creme eggs to garnish,

optional
Instructions
Preheat the oven to 180 degrees C and line a cupcake tin.

Sift the flour, cocoa powder and baking powder together in a medium sized bowl and leave to one side.

Place the butter and sugar into a large bowl or the bowl of your stand mixer and beat until light and fluffy, about 2 minutes on med-high speed.

Add in the egg, egg yolk, vanilla and buttermilk.

Mix until well combined, about 1 minute on med-high speed. (It may curdle at this point, but that doesn't matter, it will come together).

Unwrap your lovely Creme eggs.

Place the creme eggs into a medium sized bowl and smash them 🙂 Most satisfying feeling ever?! I use the end of a rolling pin.

Add the flour mix to the egg mixture and mix until well combined and smooth.

Add in the melted chocolate and mix until well combined.

Tip in the smashed Creme eggs and fold in until evenly distributed.

Split the batter between the cupcake liners, 3/4 full and place in the oven for 20-25 minutes until risen and an inserted skewer comes out clean - you'll probably have to angle the skewer a couple of times to make sure you don't poke a bit of creme egg!

Leave to cool in the cupcake tin for 5 minutes before transferring to a wire rack to cool completely.

Once cooled, it's time to frost these babies! Place the butter into a large bowl and sift the icing sugar in.

Begin to mix on a low speed (to stop the icing sugar cloud!) until it begins to combine, then turn the speed up to med-high and beat until light and fluffy. Add in the vanilla, some yellow food colouring (the amount required depends on whether you have liquid or gel) and 1tbsp of milk.

Mix until smooth, add in another tbsp of milk and mix. If required, add in the third tbsp of milk.

Fill a piping bag 1/2 full and then pipe the frosting onto each cupcake. If you're not piping the frosting on, you may want to halve the frosting recipe.

Garnish with a mini creme egg and you're done!

Cupcake will keep in an airtight container in the fridge for 3 days.
Notes
Recipe for the cupcakes from Baking: From My Home To Yours by Dorie Greenspan Recipe for the frosting by Annie
Enjoy 🙂
I link up at these great Link Parties!