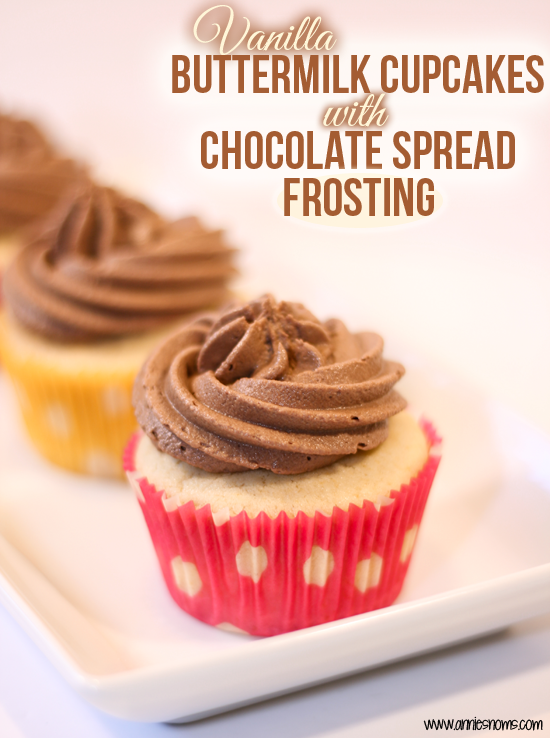 I'm back! It felt so weird not blogging last week, I'm really not good with taking breaks! I seem to thrive on always being busy, but my body needed the rest.
Pretty sure I was ill because I'd been pushing myself way too far and then we broke up for Easter, so I slowed down and my body was like "nope, that's it, you need a rest."
Typical, I like having stuff to do! Although I've taken my friends advice and not spent the whole Easter holidays slogging over Uni work. I think I had got it into my head that everything was due in as soon as we got back, but it isn't.
We still have about 6 weeks left, so I've done all of my CAD drawings for the big project and I've designed my space which is what my tutor wanted, but I thought to myself, it would be silly to take a finished project in as he would only change stuff. At this stage I can still move things around inside the space, so I'm feeling great, rested and positive.
It's also my birthday on Friday and I made my birthday cake over the weekend as we went over to my parents yesterday for lunch. I made my famous carrot cake in my topsy turvy cake pans and then covered it in light green fondant, because green is just the best colour in the world! Recipe to come on Friday!
Anyway on Easter Sunday (and this is probably the reason I was even more ill last week!) it was the first round of the British Touring Car Championship and I had to take cakes of course! It was absolutely freezing, it warmed up in the morning slightly and then clouded over and we even had some snow!!
I was well prepared! My other half was laughing at me because I took 7 tops, 4 bottoms, 2 hats, 3 pairs of gloves, 3 pairs of socks and 3 blankets!! However, when we went last year it was cold and raining and I thought we'd taken enough, but we hadn't and I went blue as I was so cold!
I tried to pace myself, I had 3 layers on the top and bottom when I first got there and as the morning progressed I put a couple more tops on. I didn't want to put everything on before lunch as then I'd have nothing else and be freezing all afternoon haha! We managed to stay till 4pm, but then even with all the layers and blankets we were cold to the core so left.
It was a brilliant day out though and I'm so happy the motorsport season has started! Even if I could barely walk because I had so many layers on! I must have looked ridiculous, I couldn't bend my legs, I looked like I'd put on about 5 stone, going to the loo was definitely a whole lot of effort!
You try taking 4 pairs of trousers off in a tiny cubicle when you can't feel your fingers or bend your arms as you have 7 tops on…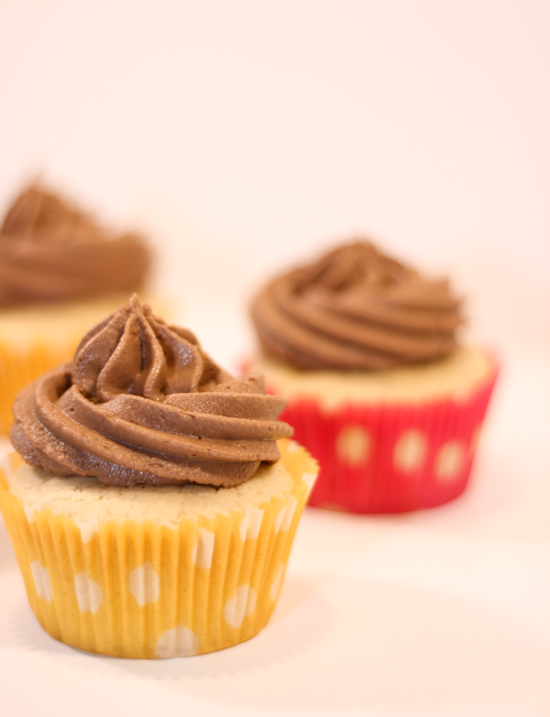 Anyway the cakes were amazing. I made a lemon and white chocolate loaf cake, which I'll be posting on Wednesday and these babies.
I'd seen loads of frosting recipes with nutella in. I hadn't thought to use chocolate spread before, I normally use melted chocolate or cocoa (or both if I'm feeling decadent…) but I decided I had to give it a try, but obviously with nut free chocolate spread otherwise I would have spent Easter Sunday in A&E;!
When I first made the buttercream and added the chocolate spread in I was a little underwhelmed, it didn't really taste as good as I was expecting. It was missing something, the icing sugar was overpowering and it didn't taste like chocolate spread!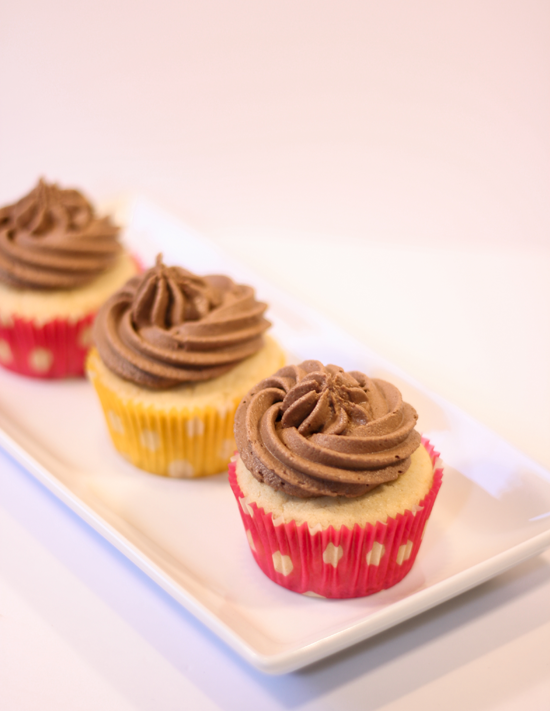 So I added a pinch of salt and a little cocoa and it was perfect 🙂 I would encourage you to make the frosting with nutella as well as normal chocolate spread, but for my purposes I needed it sans nuts!
I also think I've found my new favourite vanilla cupcake recipe. They have the perfect crumb and they're lovely and light. The vanilla really comes through as well. Everyone loved these cupcakes!!
Vanilla Buttermilk Cupcakes with Chocolate Spread Frosting
Ingredients
1 1/2

cups

cake flour

(if you can't find cake flour - we don't get it in the UK - then measure out a cup of flour and then put 2tbsp back into the bag and replace with 2tbsp cornflour for the 1/2 cup measure the flour out and then take 1tbsp of flour out and replace with cornflour)

2

tsp

baking powder

1

stick (113g) butter,

at room temp

1

cup

caster sugar

Seeds of 1 vanilla pod or 2tsp vanilla extract

2

eggs

1/2

cup

plus 2tbsp buttermilk,

well shaken

Ingredients for the frosting:

2 1/2

sticks (280g) unsalted butter,

at room temperature

2 1/2

cups

sifted icing sugar

1/4

cup

cocoa powder

3/4

cup

chocolate spread

2

tsp

vanilla extract

Pinch of salt

1

tbsp

milk
Instructions
Preheat oven to 180 degrees C and line 2 cupcake trays, you'll only need 2 liners in the second cupcake tray.

Sift the dry ingredients together into a medium sized bowl. If you are using plain flour with cornflour to make your own cake flour then you should sift the flours together at least twice. Leave to one side.

Place the butter and sugar into a large bowl or the bowl of your stand mixer and beat until light and fluffy, about 2 minutes on med-high speed.

Add in the eggs and either the vanilla seeds or 2tsp vanilla.

Mix until light and smooth, about 1 minute on med-high speed.

Add in the buttermilk and mix, at this stage it may curdle, but don't worry it will be fine when you add in the flour.

Add in the dry ingredients and mix until well combined and smooth, about 1 minute on med-high speed.

Divide the batter between the cupcake cases, about 3/4 full.

Place in the oven for 20-25 minutes until risen, very lightly golden and an inserted skewer comes out clean.

Leave to cool in the tray for 5 minutes before transferring to a wire rack to cool completely.

Once cooled, it's time to frost! This recipe make enough to pipe the cupcakes generously. If you are spooning the frosting on, you'll want to halve the recipe.

Place the butter, icing sugar, cocoa powder and chocolate spread into a large bowl. Starting on a low speed (to avoid the dreaded icing sugar cloud) begin to mix the frosting together. As it started to combine, turn up the speed to med-high and beat until light and fluffy. Add in the vanilla and pinch of salt and mix until well combined. If required, add in 1tbsp of milk and mix until well combined. (You may need more milk, but don't go too runny, you want quite a stiff icing to hold the shape of your piping tip, but it needs to be loose enough to pipe)

Fill a piping bag halfway and frost as desired. If not piping, spoon frosting on and smooth.

Cupcakes will keep in an airtight container in the fridge for 3 days.
Notes
Recipe for the cupcakes adapted from Sky High by Alisa Huntsman Recipe for the frosting by Annie
Enjoy 🙂
I link up at these great Link Parties!