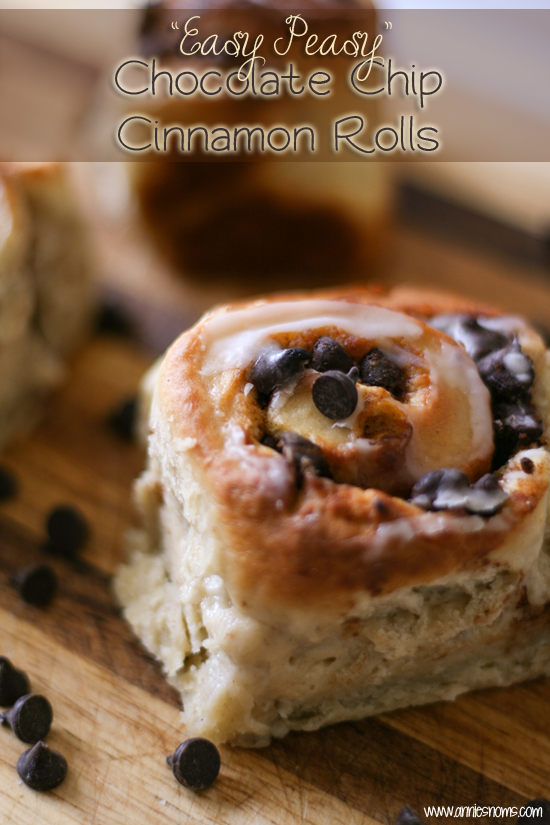 I can't believe it's almost the end of April already! That means it's time for The Secret Recipe Club again! This month I was assigned Devon's blog Deli-Cute-Essen.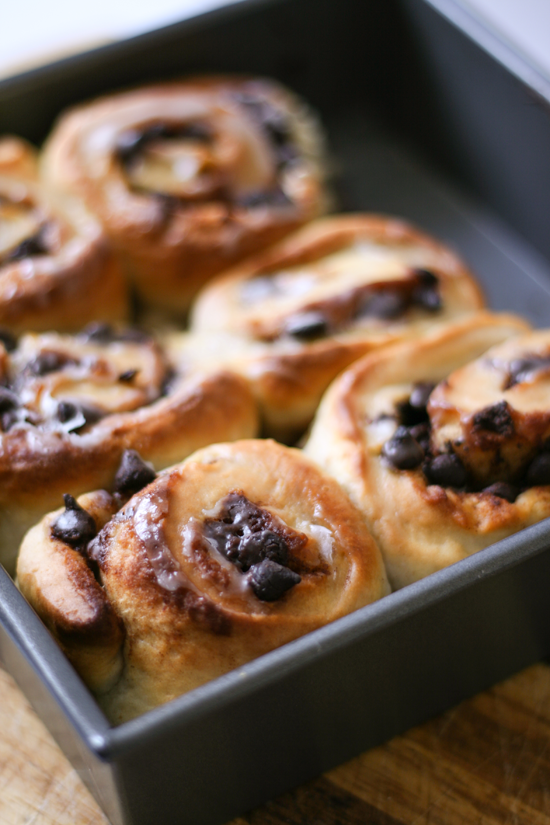 A lot of the recipes I found were Vegan which is great. I'm not personally vegan though, so for these rolls I used regular butter and buttermilk.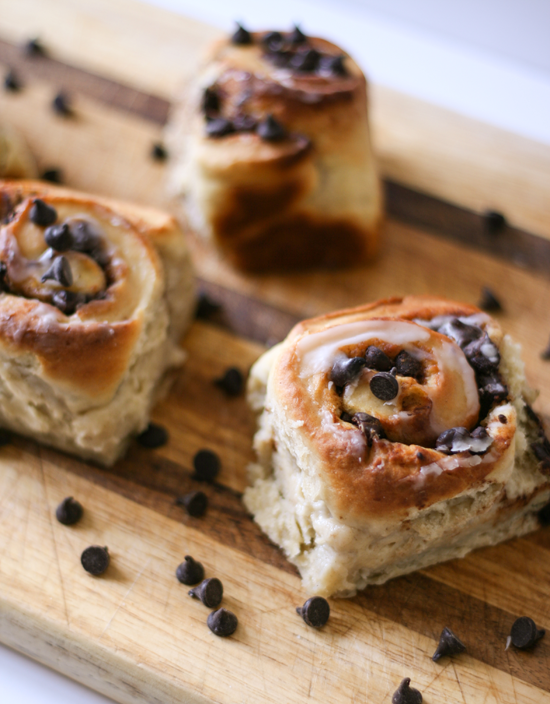 It took me ages to decide what to make! Devon has some really great recipes! I finally settled on these Yeast Free Cinnamon Rolls as I've been wanting to make cinnamon rolls for months, but I didn't have time to wait for the dough to prove!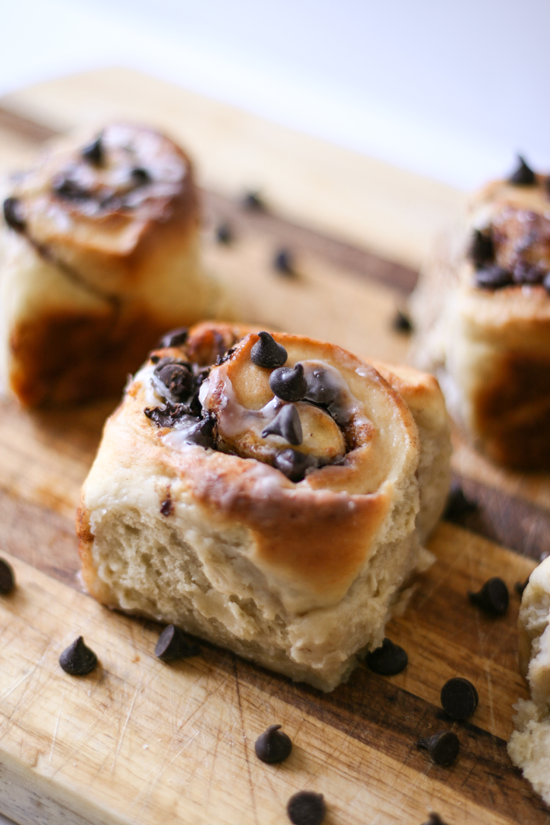 These rolls were so easy to make, from bowl to oven in less than 30 minutes. And they tasted amazing. I added some chocolate chips, 'cos I mean, who doesn't like chocolate for breakfast, huh?! The dark chocolate cut through the sweet cinnamon filling just perfectly! I reduced the amount of cinnamon as, whilst I like cinnamon, I don't like it to overpower things and my boyfriend really isn't keen. Although he loved these!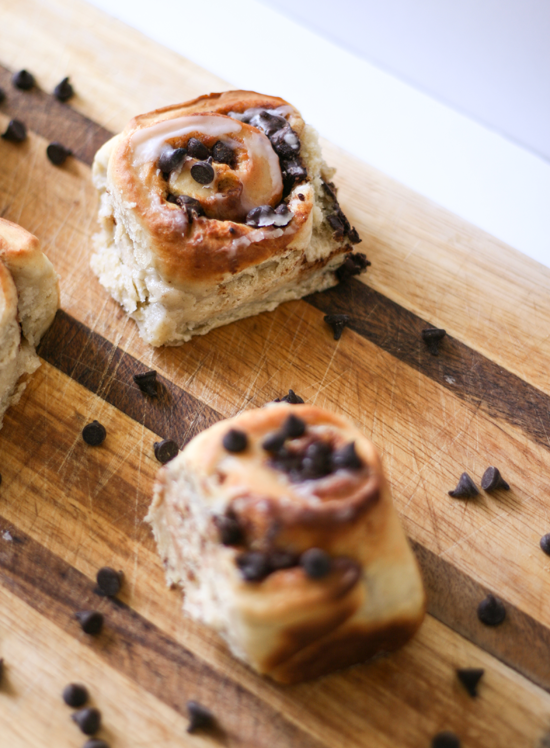 So here's the recipe and I really hope you enjoy them as much as we did! I'll definitely be making them again and also, now that I've realised how delicious cinnamon rolls are, I'll be making the yeasted version too!
Easy Peasy Chocolate Chip Cinnamon Rolls
Ingredients
Ingredients for the dough:

2 3/4

cups

plain flour

1/4

cup

caster sugar

1 1/4

tsp

baking powder

1/2

tsp

bicarbonate of soda

1 1/4

cups

buttermilk,

well shaken

6

tbsp

melted butter/marg

Ingredients for the filling:

2

tbsp

melted butter/marg

2

tbsp

caster sugar

2

tsp

ground cinnamon

1/2 - 3/4

cup

dark chocolate chips

Ingredients for the glaze:

1/2

cup

icing sugar mixed with a small amount of water;

mixed until a smooth, thick, but runny glaze is reached.
Instructions
Preheat the oven to 220 degrees C/425F and grease and 8 x 8 inch square pan.

Place the flour, sugar, baking powder and bicarb into a large bowl or the bowl of your stand mixer.

Add in the buttermilk and melted butter.

Using the dough hook attachment, mix on a low-med speed until a soft dough forms. Alternatively you can use a wooden spoon and then knead the dough by hand. Continue to knead for 3 minutes.

Lightly flour your worktop (or use a silicone pastry mat like I have - best invention ever!) and tip your dough out.

Ensure the dough is soft and elastic by kneading slightly by hand if required. Roll the dough out into a 12 x 9 inch rectangle about 1/2 and inch thick.

In a small bowl, place the 2tbsp melted butter, sugar and cinnamon and mix until combined. Using a pastry brush, brush the cinnamon filling all over the dough rectangle.

Sprinkle your chocolate chips all over the dough. I used closed to 3/4 cup.

Carefully grab either end of the longest length and begin to roll away from you. Keep rolling until you have a 12 inch log.

Cut the log into 8 even pieces. I cut mine a bit thick, you probably want them to be about 1 and 3/4 inches thick.

Place in the oven for 15-17 minutes until risen, golden. Try and poke with a knife/skewer to see if the middle of the rolls are cooked, if not turn the oven down to 200 degrees C/400F and cook for a few minutes extra, probably best to stay in the kitchen so you can keep checking them.

When you bring the rolls out of the oven, make the glaze. Place the icing sugar into a small bowl and add a small amount of water. Mix until a glaze is formed, you want it thick enough to cling to the rolls, but not so thick you can't pour it.

Pour all over the rolls, whilst still hot. After glazing, leave to cool completely in the tin.

Once cooled, tuck in and find out how amazing these rolls taste!!

Will keep in an airtight container, at room temperature, for up to 4 days.
Notes
Recipe adapted from Deli-Cute-Essen - http://deli-cute-essen.blogspot.co.uk/2012/01/yeast-free-vegan-cinnamon-buns.html
Enjoy 🙂


I link up at these great Link Parties!