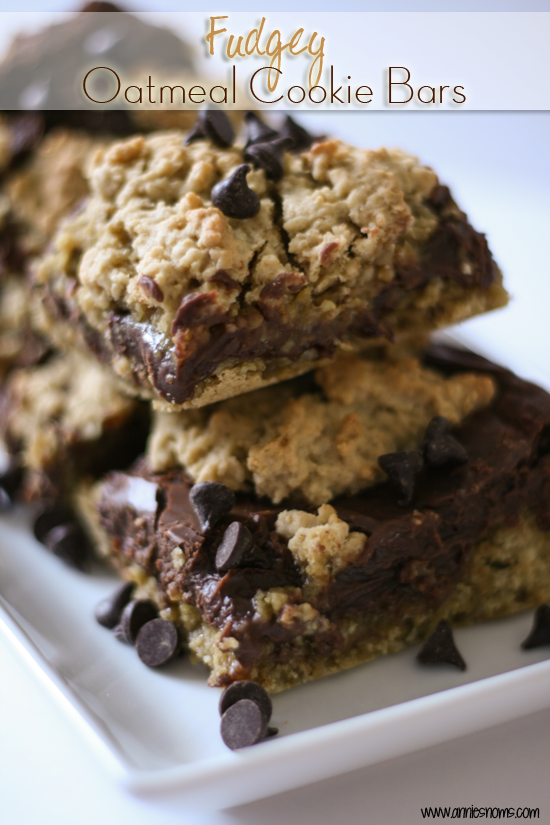 So how was everyone's weekend?
I spent 7 hours in a car and now I can barely walk as my back and hips are screaming at me every time I try. I had to keep getting out of the car to stretch as my back was in constant spasm. It was agony.
And today, it feels bruised, sore, stiff and I also have sharp shooting pains in my back.
Oh yea, I also have another kidney infection. I had a great weekend! Not.
Anyway, I saw these cookie bars on Table For Two Blog and knew immediately that I had to make them.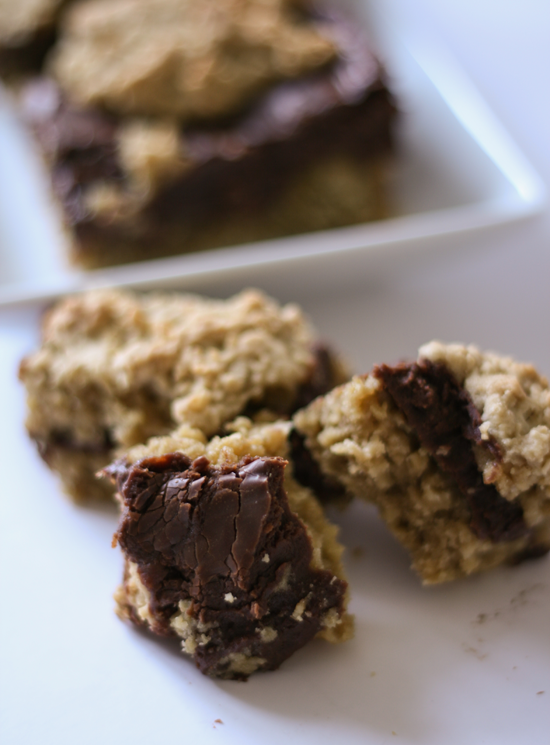 They looked so amazingly fudgey and delicious. And they really were! I couldn't stop eating them! The fudgey centre was addictive!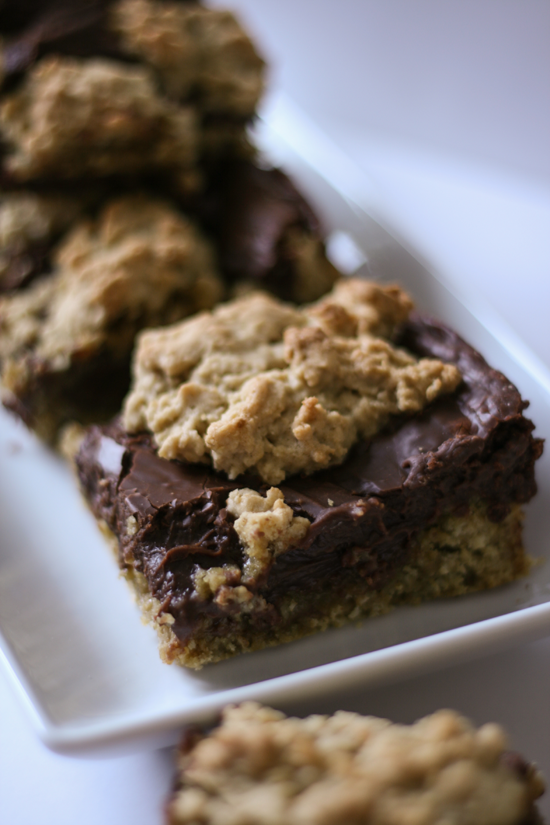 Look at that centre! The oatmeal cookie wraps the fudgey centre perfectly, it is soft and sweet.
And I don't know about you, but since the cookie dough is full of oats I'm certain it balances out all the chocolate… Haha.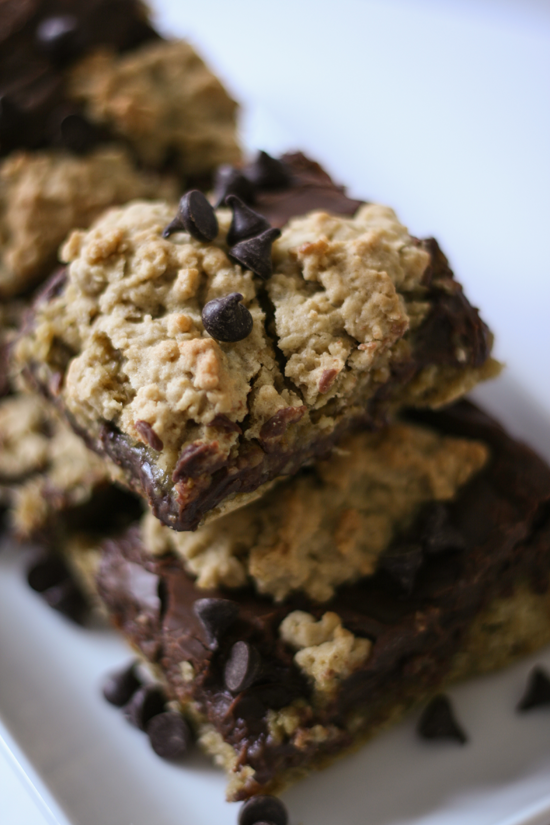 You should definitely make these! If you love oatmeal cookies and chocolate, then they are absolute winners!
Fudgey Oatmeal Cookie Bars
Ingredients
Ingredients for the cookie dough:

2 1/2

cups

plain flour

1

tsp

bicarbonate of soda

3

cups

oats

2

sticks (226g) butter,

at room temp

2

cups

light brown sugar

2

eggs

2

tsp

vanilla extract

1/3

cup

milk,

I used skim

Ingredients for the filling:

14

oz

(397g) tin of condensed milk

1/3

cup

unsalted butter

1

tsp

vanilla extract

2

cups

milk chocolate chips/chunks
Instructions
Preheat the oven to 180 degrees C/350F and grease and line a 13 x 9 inch brownie pan.

Place the flour and bicarb into a medium sized bowl and mix together briefly. Leave to one side.

Place the butter and sugar into a large bowl or the bowl of your stand mixer and beat until light and fluffy, about 2 minutes on med-high speed.

Add in the eggs, vanilla extract and milk.

Mix until well combined and smooth, about 1 minute on med-high speed.

Add in the flour and mix until combined. Add in the oats and fold in on a low speed until well incorporated and a soft dough forms.

Place the condensed milk, butter, vanilla extract and milk chocolate into a medium sized saucepan and place over a low/med heat. Stir continuously until the everything is melted and combined. The filling will be thick and glossy,

Place 2/3 of the cookie dough into the brownie pan and flatten with a spatula or your hand.

Pour the filling all over the cookie dough base and smooth over with a spatula/wooden spoon.

Place the remaining dough in blobs all over the chocolate filling. It probably won't cover the chocolate filling, but that's fine the dough will spread a bit during cooking.

Place in the oven for 25 mins until very lightly golden and an inserted skewer comes out clean. If the top looks too brown, but the bars aren't cooked through cover with foil for the remaining cooking time.

Leave the bars to cool completely in the tin before trying to remove, if you try and remove them whilst still warm they will fall apart. (They'll still taste good though...)

Once completely cool, remove from pan and slice into 24 bars. Bars will keep in an airtight container at room temperature for up to 4 days.
Notes
Recipe adapted from Table For Two Blog - http://www.tablefortwoblog.com/2013/04/11/oatmeal-chocolate-cookie-bars/
Enjoy 🙂


I link up at these great Link Parties!