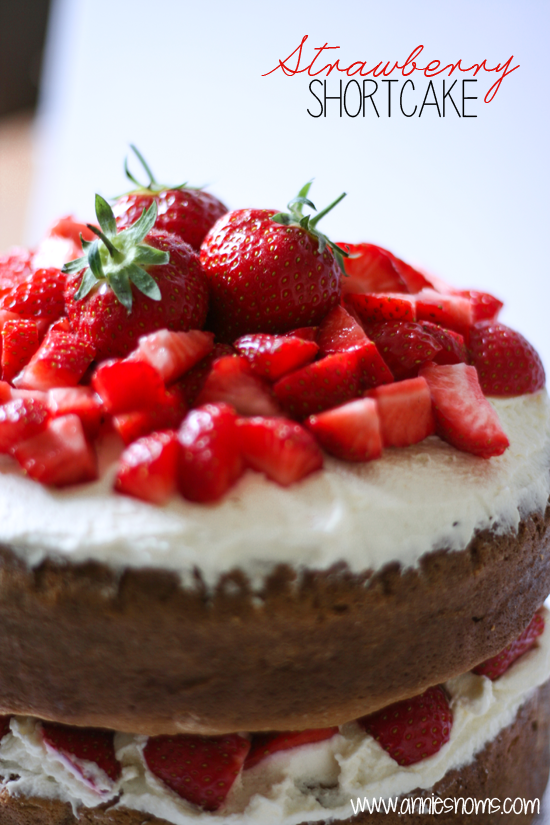 I'm backkkkkkkkkkk!!
I have one report left to write and then Uni is finished for the Summer. Had my major project hand in last week which was what I was spending all of my time on and then I busted my knee and have been stuck on the sofa after a trip to A&E; 🙁
I bashed my knee last week and knew it was bad. I fractured it 4 years ago and it feels exactly the same, but I was still so busy and helping Uni with the end of year show that I refused to go until Tuesday evening when the pain got so bad I could barely walk.
I do have to admit that on Tuesday I tried to run on the cross trainer as my knee was feeling stiff. I only did it slowly to see if I could… and well guess what? I couldn't.
There was massive pop and that was that. Crutches for me again…
It's not shattered and there's no major fracture, but hairline fractures (what I had 4 years ago) don't show up on x-rays so I now have to have an MRI. I'm so clumsy…
I'm so pissed that I've been banned from running though!! Now I just feel lazy, but I know I have to rest. I didn't rest properly until yesterday as on Weds evening it was the Uni show so I was in helping.
In fact that's where this Strawberry Shortcake comes in…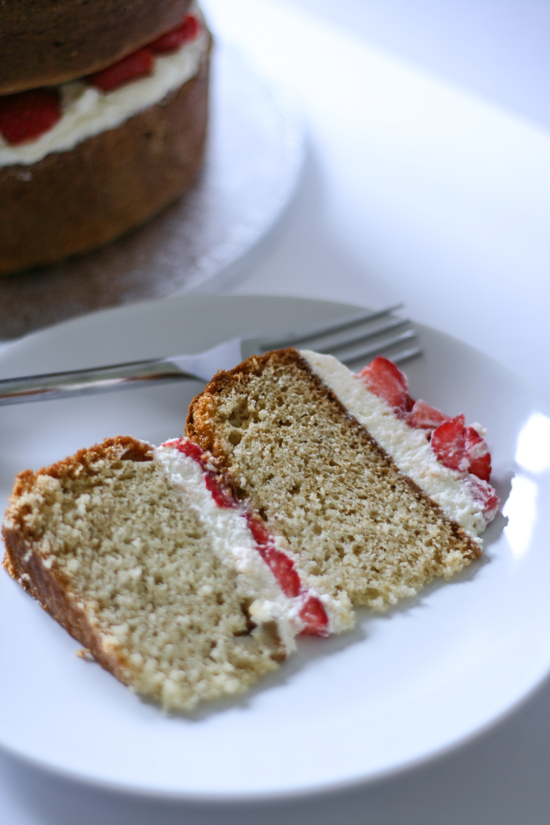 I made it for my group and any Year 3s who were around, it wasn't on display or anything, but kept in the back room where we were hanging out in between taking food around to guests.
The Yr 3s all paid £6 for someone to do the food and when it arrived it was awful. We felt so bad for them as they got 3 platters of canapés which didn't look all that great and one platter of fruit which was so heavy the foil platter bowed in the middle making it almost impossible to carry!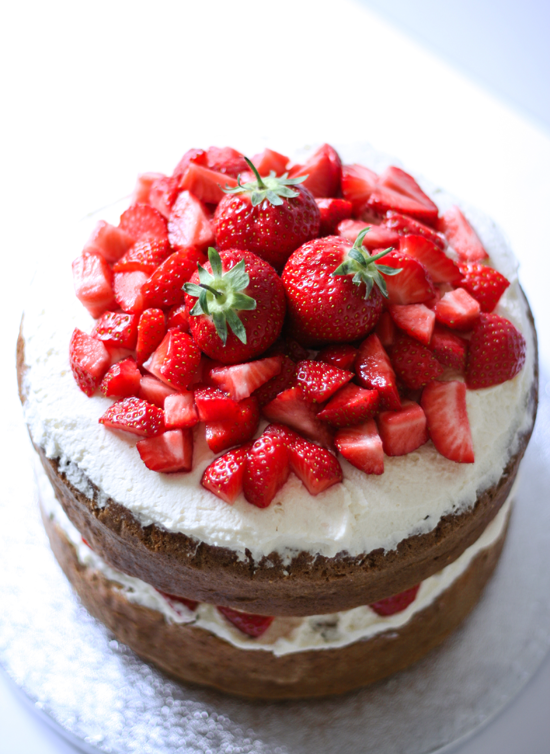 We had nothing to decant them onto so we could take them round, so it ended up being one person carrying a huge platter and then someone else shadowing them with napkins as they couldn't manage both!!
Then there was the drinks….
Our design studio is a bit further out than main campus and there was one drinks tent. It was near the main building and they weren't letting us bring back bottles, so we kept having to take it in turns to carry as many as possible because the elderly couldn't walk all that way to get drinks and all the other visitors shouldn't have to, they were visiting us, so we should have drinks for them!!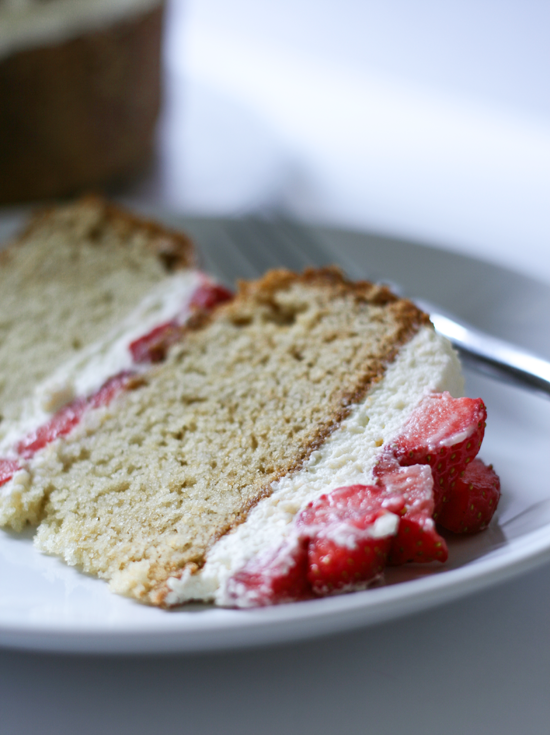 In the end, one of our tutors went and had a word with them and they finally let us bring bottles back!!
I only did one run to the tent because of my knee. One tutor told my to go home and another was like "Should you be doing this job?" Buttttt as you all know I'm stubborn and I like helping. My friends were great and didn't make me keep walking to the drinks tent, but I was there to help so I took that seriously and did all I could.
Anyway by 7pm we'd run out of food and still had 2 hours left!! So then we grabbed crisps that the Yr 3s had to snack on themselves and some rocky road bars someone had made and then we split up my cake!!
It was lucky I made this cake so tall as we could just take the top off and ended up with double the amount of slices!!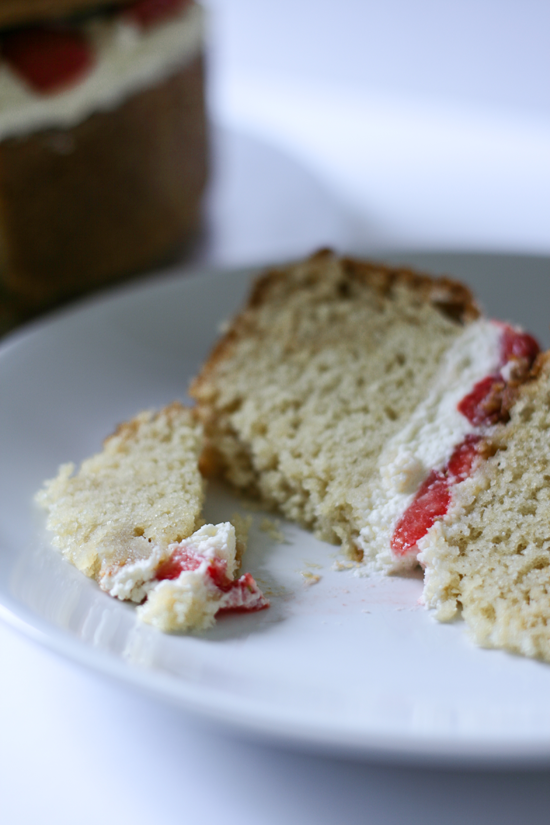 I then rushed back home to raid the house for crisps and anything else I could find LOL!! But by the time I got back most people had gone so we just sat there and ate it instead 🙂
This cake went down really well though! By the time I got back from raiding my house it was gone bar 2 slices!
What makes it even better is that I wrote the recipe myself. I love this cake and think I'll be using it as my base vanilla recipe now. It's gorgeously vanill-ery (Is that even a word?!…. It is now) and has the perfect crumb.
Then I filled it with vanilla whipped cream and stacked up loads of fresh diced strawberries. It was heaven in a bite. Think I may have just found what cake I'm making for my Dad's birthday!
It makes good, thick layer which is what I love. I'm sorry, but when a cake recipe says it makes two 8 inch layers and then you look at how much batter you have and know it's going to be thin, it's just crap. What's the point?! I like thick cakes! Although next time I will make this as a 9 inch cake as it was so tall it almost fell over after I'd sliced it, but even at 9 inches this would still be a good sized cake!
Ahhhh, it's good to be back!! Best give you this recipe then and get working on next weeks posts!
Strawberry Shortcake
Ingredients
Ingredients for the cake:

2 1/2

cups

plain flour

2

tsp

baking powder

1

tsp

bicarbonate of soda

1

stick (113g) butter,

at room temp,

2

cups

caster sugar

1

tbsp

vanilla extract

2

eggs

1

cup

buttermilk

Ingredients for the whipped cream filling:

1 1/4

cups

double cream

1/4

cup

caster sugar

2

tsp

vanilla extract

2

cups

diced,

fresh strawberries and 3 whole strawberries to garnish (optional)
Instructions
Preheat the oven to 180 degrees C/350F and grease and line two 8/9" cake tins.

Place the flour, baking powder and bicarb into a medium sized bowl and set aside.

Place the butter and sugar into a large bowl or the bowl of your stand mixer and beat until light and fluffy, about 2 minutes on med-high speed.

Add in the eggs and vanilla extract.

Mix on medium speed until well combined and smooth. Add in the buttermilk and mix until well incorporated. The batter may look a bit split at this stage, but this is fine.

Add in the flour mix and mix on med-high speed until well incorporated, about 1 minute.

Divide the batter between the 2 cake tins and place in the oven for 25-30 minutes and then turn the oven down to 160C for the final 10-15 minutes. Cakes are done when risen, golden on top and an inserted skewer in the centre comes out clean.

Leave the cakes to cool in the cake tins for an hour before transferring to a wire rack to cool completely.

Once cooled, make the filling. Place the double cream, sugar and vanilla extract into a medium sized bowl and beat until thick, you want soft peak. The cream will look smooth and will hold its shape on a spoon for around 5 seconds before falling back into the bowl.

Place one of the cakes on a plate and then spread half of the whipped cream on top of it. Sprinkle 1 cup of diced strawberries on top and spread them out.

Place a small amount of cream right in the centre on top of the strawberries and then place the second layer on top, bottom side up.

Spread the remaining cream on the top of the cake and sprinkle 1 cup of strawberries on top. Spread them out and then, if you'd like, place 3 whole strawberries in the centre to garnish.

Cake will keep well wrapped in the fridge for 2 days.
Notes
Recipe by Annie *This cake yields very thick layers. This is the first time I've made this cake, so next time I will make a 9 inch cake as I like thick layers, but I found these slightly too thick. Adjust baking time, by 5-10 minutes for 9 inch layer cakes.
Enjoy 🙂


I link up at these great Link Parties!