Hi, my name is Annie and I'm addicted to cookies.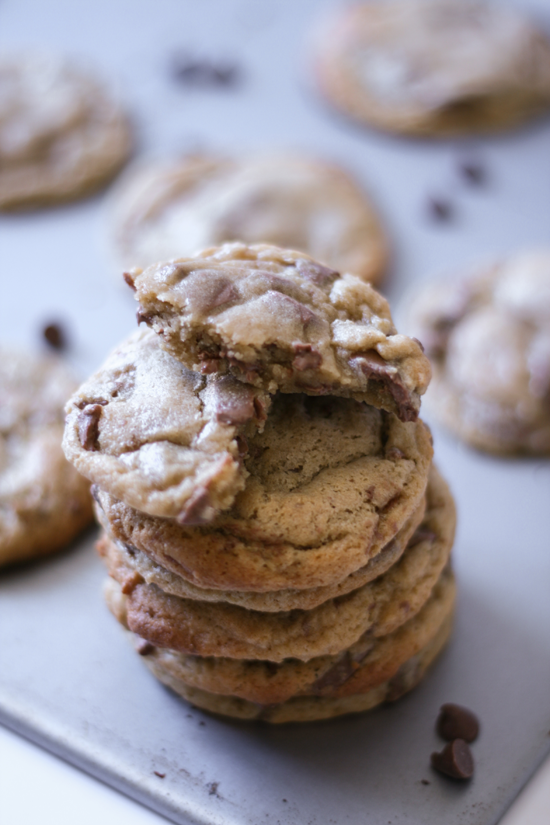 Soft, thick, thin, chewy – you name it I love it.
Although thick and soft with a tiny, tiny amount of crunch around the edge is my favourite.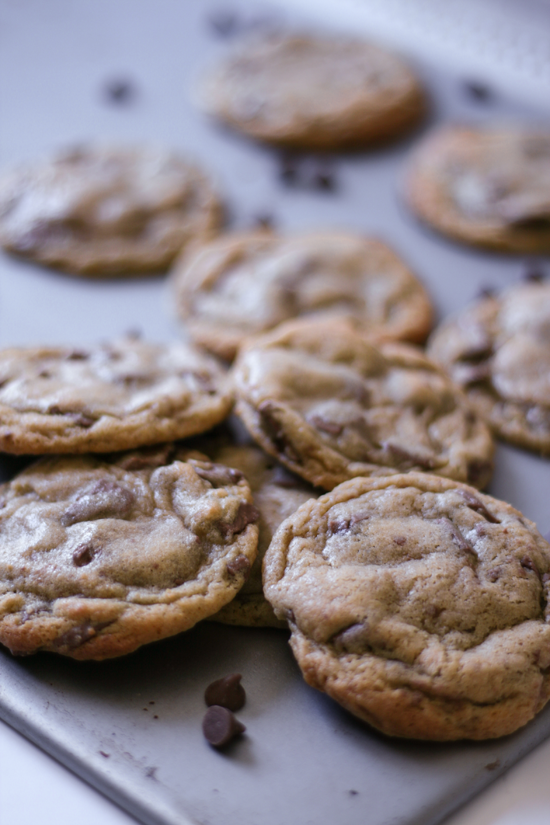 I am that person who walks down the candy aisle in the supermarket looking at what I can stick into cookies. My ethos is "if it tastes good alone, it will taste amazing in a cookie".
Cookie dough is amazing and so are chocolate bars, so it's win-win, yes?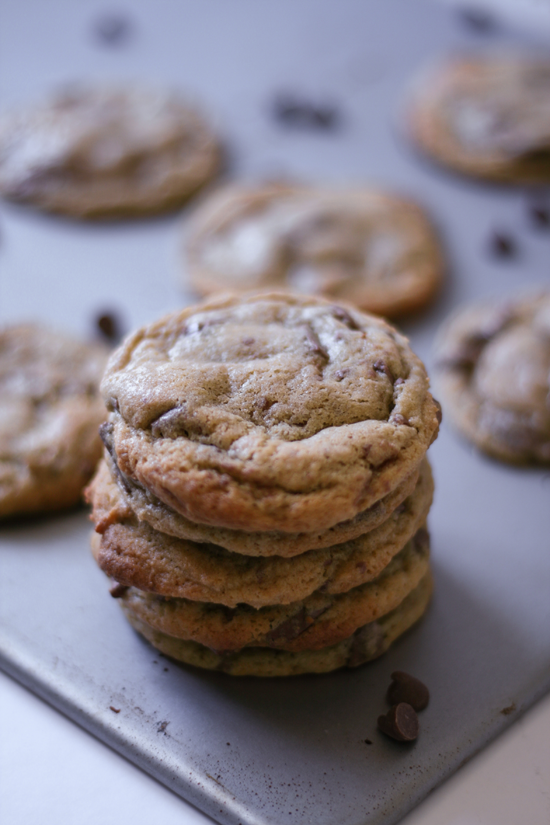 Enter these Malt Chocolate Chip Cookies!
Boy, these were good. malt powder is underrated… it should be used all the time, I mean I drink it all the time and am I the only one who, when I put the last spoon in my cup, keep a little bit on the spoon to eat?
Ok, maybe I am, but malt powder is delicious.
Anyway, you should make these cookies, they are stuffed full of chocolate and have the perfect amount of malt powder, it's not too overbearing, but you can taste it. Heaven…
Malt Chocolate Chip Cookies
Ingredients
1

cup

plain flour

1/2

cup

bread flour

2

tsp

cornflour

3/4

cup

malt powder,

I used Horlicks

1

tsp

bicarbonate of soda

2

cups

milk chocolate chips

1 1/2

sticks (170g) butter,

at room temp

1/2

cup

caster sugar

1/2

cup

light brown sugar

2

eggs
Instructions
No need to preheat the oven yet, this dough needs to chill.

Place the flours, malt powder, bicarb and milk chocolate chips into a medium sized bowl and stir together until combined. Leave to one side.

Place the butter and sugars into a large bowl or the bowl of your stand mixer and beat until light and fluffy, about 2 minutes on med-high speed.

Add in the eggs.

Mix until well incorporated and smooth, about 1 minute on med- high speed.

Add in the flour mix and mix on low speed until a dough forms.

Tip the dough into a medium sized bowl, the bowl you measured the flour in is fine.

Cover the bowl in clingfilm and place in the fridge for at least 6 hours, if possible overnight.

Once chilled, preheat the oven to 180 degrees C/350F and line 2-3 baking trays.

Using a 1.5tbsp or 2tbsp (I used a 2tbsp one) cookie scoop, place balls of dough 2 and 1/2 inches apart on your baking trays. Flatten the dough ball ever so slightly, just so they don't roll off the trays when being transported to the oven (that would be tragic, obviously).

Place in the oven for 8-9 minutes for 1.5tbsp cookies and 10-12 minutes for 2tbsp cookies. Cookies are done when lightly browned around the edges and still soft and underdone in the middle.

Leave to cool on the baking trays for at least 10 minutes before transferring to a wire rack to cool completely.

Once cooled, cookies will keep in an airtight container for up to 5 days.
Enjoy 🙂


I link up at these great Link Parties!