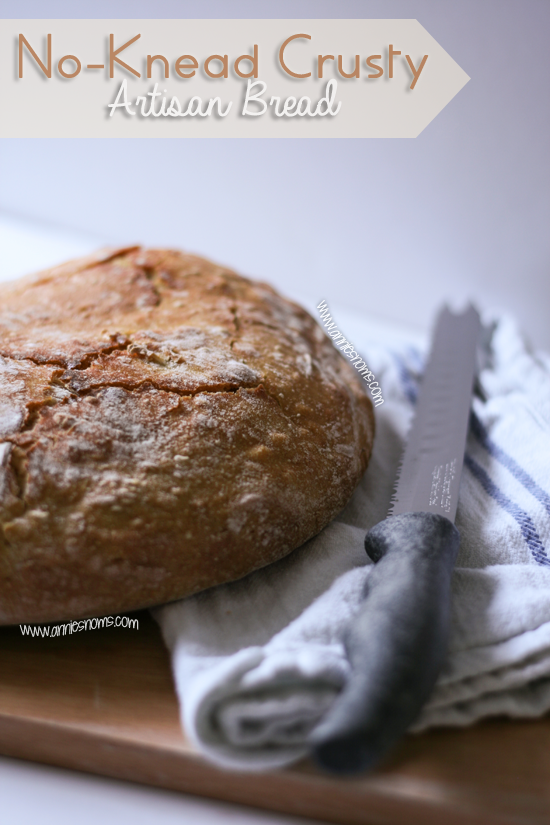 After some yummy cookie recipes, I have a savoury recipe to share with you today, I thought we could all do with some more carbs obviously…
Before we get to this bread I'd just like to thank everyone for all of their input and help after I asked about watermarks etc in this post.
The wavy watermark was the clear winner, so that's what I'll be doing from now on. I'll get my other half to re-enable right click tonight!
Now, this bread…
I love bread, if I have a bowl of soup and bread to dip in, I honestly eat 1/4 of a loaf. I just love big, thick slices of bread!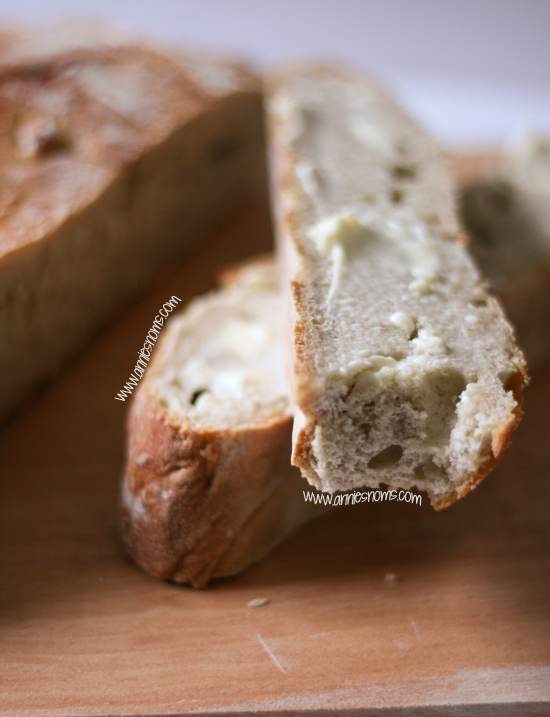 I also love making bread, I just love the process of making the dough and then kneading it, so I was a bit intrigued about this no-knead bread. I wondered how it would live up to my normal loaf.
I won't be making this no-knead artisan bread all the time, I still love a normal white loaf, but this is a great if you don't have time to knead a loaf of bread, but still want a fresh, homemade loaf.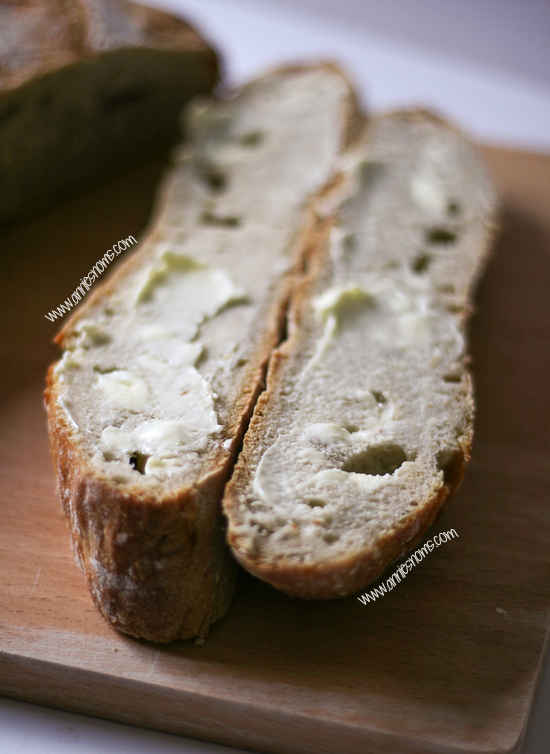 It was gorgeously crunchy on the outside and soft in the middle, the perfect loaf of bread in my opinion!
It's so easy to make! And your house is still filled with the absolutely divine smell of freshly baked bread… Ahhhhhhhhhhhh so good!!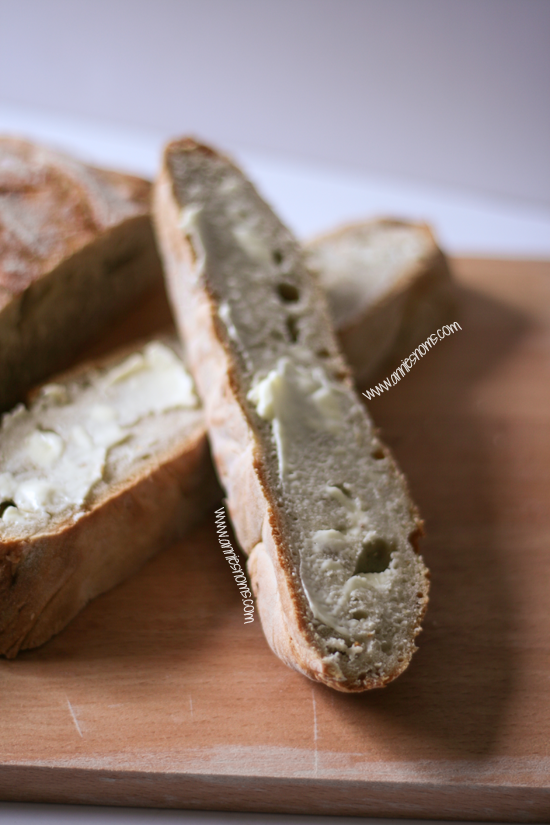 So now onto the recipe. You basically put all of the ingredients into a large bowl mix them until they come together into a loose dough, cover the bowl up and leave it overnight! Simple! You'll need a large cast iron pot with a lid. I used a 5 litre cast iron enamelled casserole pot.
No-Knead Crusty Artisan Bread
Ingredients
3

cups

plain flour

1

tsp

salt

(original recipe called for 2-3tsp; we aren't too keen on salt though)

1/2

tsp

yeast

1 1/2

cups

warm water
Instructions
Place all ingredients into a large bowl and mix with a wooden spoon, until a loose, scraggly dough forms.

Cover the bowl with cling film and leave at room temperature for 8-24 hours. (I left mine for 24 hours). The dough will be all bubbly.

Preheat the oven to 230 degrees C/450F. Once the oven is up to temperature, place the cast iron pot into the oven for 30 minutes.

Shape the dough into a round loaf with floured hands. After the pot has been heated for 30 minutes, remove from the oven and place on a heatproof surface. Place the shaped loaf into the pot and place the lid on it. (If your cast iron pot isn't enamelled, place a piece of greaseproof paper in bottom of the pot)

Place into the oven for 30 minutes, then remove the lid and bake for a further 7-15 minutes until golden brown and slightly crackled on top. Keep an eye on it, my loaf only needed 9 minutes without the lid, it will depend on your oven.

Once the loaf is baked, (it will sound hollow when you knock on it) remove from the oven and remove from the pot. Place the loaf on a wire rack to cool completely.

Loaf will keep, tightly wrapped, at room temperature for 3 days.
Notes
Recipe from The Comfort Of Cooking - http://www.thecomfortofcooking.com/2013/04/no-knead-crusty-artisan-bread.html
Enjoy 🙂


I link up at these great Link Parties!