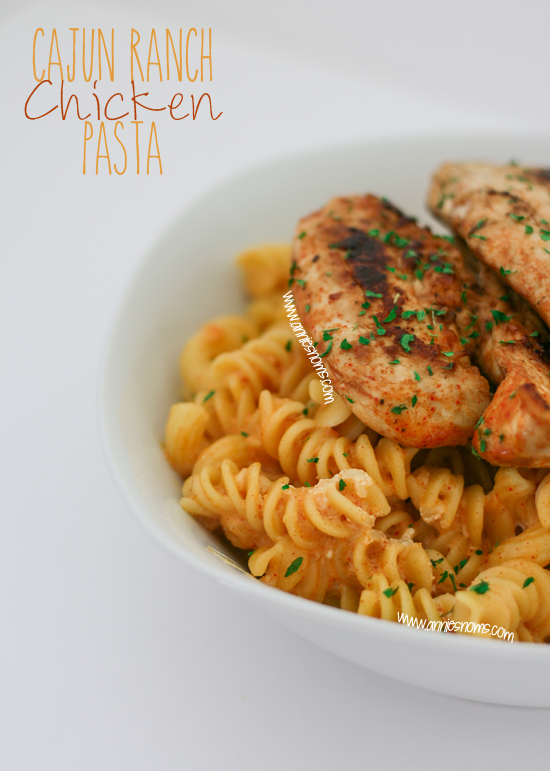 It's Secret Recipe Club time again! Where is 2013 going?! I love doing the Secret Recipe club, but every month when I post, it really gives me a stark reminder that another month has flown by. Jeeeeeez, time needs to slow the heck down!
This month I was assigned Julie's blog "White Lights on Wednesday". I went straight to the "About" page and sat there laughing as I realised I do so many things the same as Julie!
You are so not alone girl! I am obsessed with raw dough and batter as well, it's any wonder I make anything half the time as I sit there eating it. All my documents are completely organised into folders and sub folders – no looking around for a picture for ages on my PC! And bread!? My absolute FAVE – If I am asked to cut bread I have to say to my other half "my slices or yours?" because my slice is about 3 inches thick…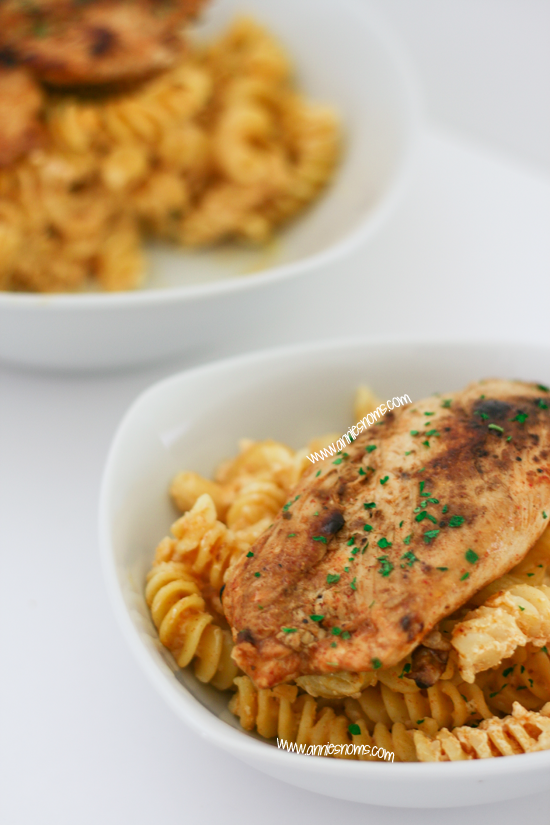 After having a good look through loads of recipes including: Mocha Cupcake Milkshake, Biscuits and Gravy (one of my favourite things in the WHOLE world) and Chicken Cordon Bleu, I finally decided to make Julie's Cajun Ranch Chicken Pasta.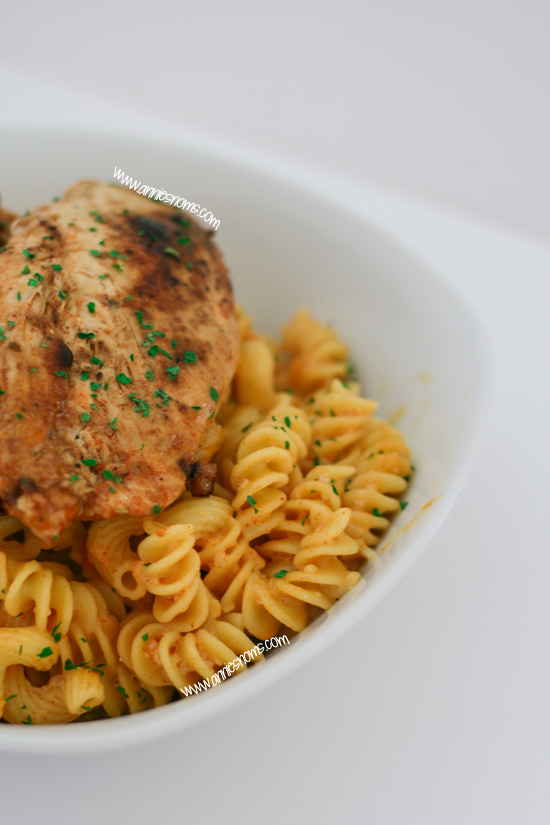 This was absolutely delicious! I toned down the spices a bit for me as I'm a complete wuss, but my other half had his with all the spice and we loved it! The chicken was lovely and tender and packed full of flavour and there was just enough cheese in the sauce to really add to the overall flavour. Ohhhhhhhhh I'm craving this again as I'm writing this post!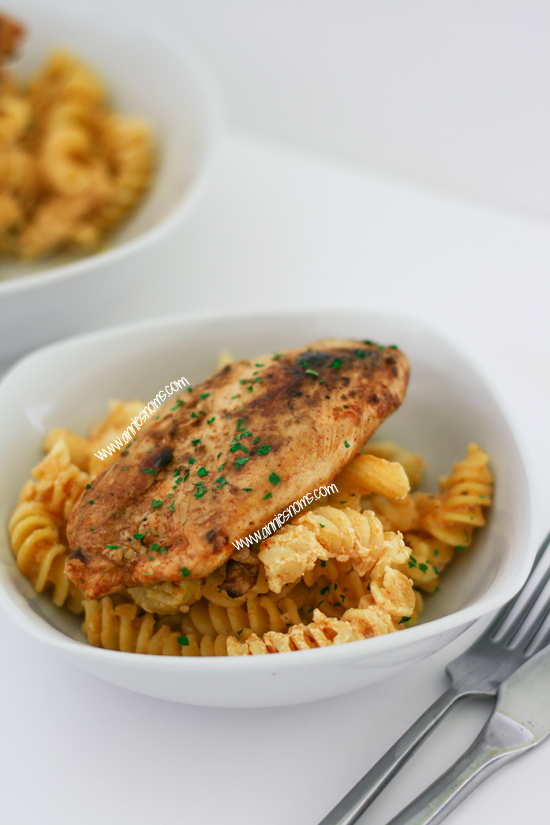 You may be put off by the long list of ingredients, but trust me most of the ingredients are just put straight into a bowl and mixed into a glorious marinade for the chicken. Then you just place the chicken in a ziploc bag, place it in the fridge for a couple of hours and you're ready to go!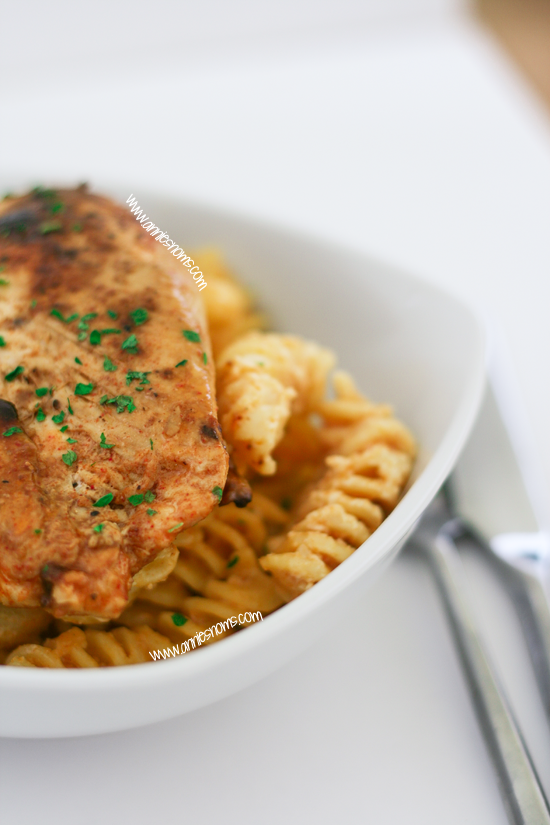 Make this today! Seriously it's amazing and you need it in your life!
Secret Recipe Club – Cajun Ranch Chicken Pasta
Ingredients
Ingredients for the marinade:

1

chicken breast,

sliced in half as if you were butter-flying it, but cut it fully

1/4

cup

olive oil

1/4

cup

ranch dressing

1 1/2

tbsp

Worcestershire Sauce

1

tsp

paprika

1/4

tsp

cayenne pepper,

I used a pinch on mine - I'm a wuss!!

Salt and pepper to taste

1/2

tsp

lemon juice

1/2

tsp

white vinegar

1/2

tbsp

white sugar

Ingredients for the pasta:

1/2

lb

pasta

2

tbsp

butter

1

clove

garlic,

minced

Pinch cayenne pepper

1/2

tsp

paprika

Salt and pepper to taste

1/2

cup

single cream

1/2

cup

milk

1/4

cup

freshly grated Parmesan cheese

Parsley to garnish,

optional
Instructions
Place the oil, ranch dressing, Worcestershire sauce, paprika, cayenne pepper, salt, pepper (you can add more later if needed), vinegar, lemon juice and sugar into a small bowl and which together until smooth.

Ensure the seasoning is correct and if not, add a little more salt/pepper,

Place your chicken breast thins into a large ziploc bag and pour the marinade into the bag. Give it a little squidge around to ensure the chicken is covered and pop it into the fridge for 2 hours.

Once the chicken has been left to marinade, place a large saucepan of salted water on to boil and cook the pasta to packet instructions.

Whilst the pasta is cooking, warm up your skillet on a low-med heat. Place the chicken halves in the skillet and cook for around 8-10 minutes, or until cooked through and browned.

Whilst the chicken is cooking, place the butter into a medium sized saucepan on a medium heat and melt. Add in the minced garlic and spices and whisk until combined.

Add in the cream and milk and whisk until well combined. Add in the grated cheese and continue to whisk until smooth and thickened, about 5 minutes.

Drain the cooked pasta and place it back into your large saucepan. Pour over the sauce and toss together until the pasta is coated. Serve immediately in bowls with a chicken half each and some parsley to garnish, if desired.
Notes
Recipe adapted from White Lights on Wednesday - http://www.whitelightsonwednesday.com/2013/01/cajun-ranch-chicken-pasta/ * This recipe is easily doubled to serve 4.
Enjoy 🙂


I link up at these great Link Parties!