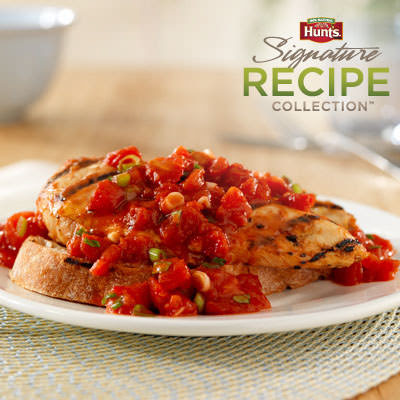 Author Bio: This is a guest post by Meredith K. on behalf of Hunt's®. Get more grilling ideas and delicious tomato sauce recipes at www.hunts.com. 
There's no doubt about it: grilling is one of the greatest parts of summer. It's hard to imagine anything nicer than lounging in the sunshine with family and friends while biting into a juicy burger hot off the grill.
While burgers and hot dogs are undeniably delicious, don't limit yourself to only foods that come on a bun this summer! There's a huge variety of options when it comes to grilling, from classics like steak and kebabs to slightly more innovative creations such as grilled fruit and grilled pizza. Don't be afraid to make your grill one of your go-to kitchen tools this summer for all kinds of meals, not just your low-key burger nights!
This recipe for grilled bruschetta chicken hits the perfect balance between casual grill fare and a classy, guest-worthy dinner. The combination of chicken, bread and tomatoes mimics a bruschetta appetizer, only this version is dinner-sized and contains a lot more good-for-you protein! Think of it as an open-face chicken burger if you're feeling casual or an Italian chicken entrée if you're aiming for something a little fancier.
Fresh herbs and tomatoes bring out the best of summer flavors while marinated chicken and crusty Italian bread add some substance. Delicious, Lean and full of fresh flavors, it's the kind of meal that will fill you up but won't leave you feeling uncomfortably weighed down. The bread functions like the noodles might in your favorite easy lasagna recipe; use it to sop up the juices from the chicken and bruschetta topping (they're the best part of all tomato recipes!).
Serve this with a big green salad for a light and tasty summer dinner. Enjoy!
Hunt's® Bruschetta Chicken Grill
Prep Time: 25 min
Total Time: 50 min
Serves: 4
Ingredients:
> 1/2 cup balsamic vinaigrette dressing, divided
> 1/4 cup Hunt's® Tomato Paste, divided
> 4 boneless, skinless chicken breasts
> 1 can Hunt's® Diced Tomatoes, drained
> 1/4 cup sliced green onions
> 2tbsp chopped fresh basil
> 1 clove garlic, finely chopped
> 4 thick slices Italian bread
> Parmesan cheese, optional
Stir together 1/4 cup dressing and 2 tablespoons tomato paste in a small dish. Pour over chicken in a small glass dish; cover. Refrigerate for at least 30 minutes and up to 8 hours. Meanwhile, stir together drained tomatoes, the remaining 1/4 cup dressing, the remaining 2 tablespoons tomato paste, onions, basil and garlic.
Refrigerate until ready to use.
Preheat the grill to medium. Remove chicken from the marinade and discard the marinade. Grill chicken 10-12 minutes or until no longer pink in the centres (a meat thermometer should read 165°F), turning once. Just before the chicken is done, grill bread 2 minutes on each side or until toasted. To serve, place bread on serving plates and top with chicken and tomato mixture. Sprinkle Parmesan cheese on top, if desired.