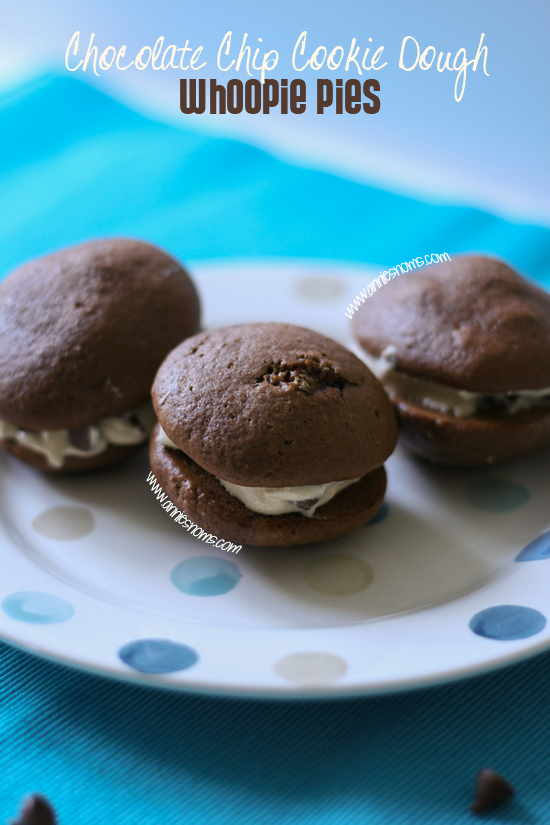 2 quick things before I get into today's post:
1) Google Reader is being retired today, I hear, so if you still want to follow all of my updates (which I really hope you do!) then you can follow my blog on Bloglovin'.

2) If you follow my blog on Facebook then you may not have been getting all of my recipe posts, even though you've liked my page! Luckily Facebook is now giving us bloggers a helping hand and if you hover over the "liked" icon then you can click to have all my posts show up in your news feed!
Anyways, now we have that out of the way we can talk about mini choppers.
There's a bit of a family joke that my Mum always manages to break washing machines. Seriously, some don't even last a year!
Well, it seems I'm fast becoming the one who breaks mini choppers…
We had a perfectly good one which worked and then one day the bit connecting it to the hand blender snapped off…. I could still just about make it work if I pressed it in the right way, but it was a bit temperamental!
We decided to buy a new one, there was a Cuisinart one on sale so we bought it. I thought it was great at first, sounded more powerful and it was just a mini chopper, not a hand blender with attachments, so, I thought, maybe it would be better as it's only supposed to do one thing.
I was wrong. It struggles with carrots and on Saturday it wouldn't even chop digestive biscuits! I have to admit I have used it to make my frozen banana milkshakes so maybe it didn't like that…
Now it doesn't work at all, it makes a noise like it wants to spin, but it doesn't. Poo.
I'm lazy, I have a big food processor and blender, but if I'm just making one milkshake, with one banana I can't be bothered to get it out so I go for the mini one.
If anyone knows of any powerful mini choppers which are really durable, it would be great if you could tell me, I'm desperate!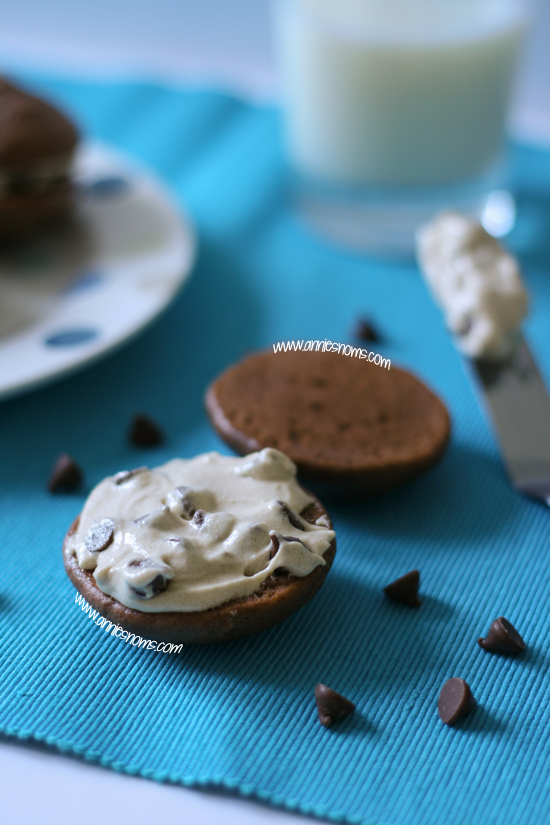 I've seen loads of recipes for Whoopie Pies, but until recently hadn't ever made them. I wanted to see what all the fuss was about!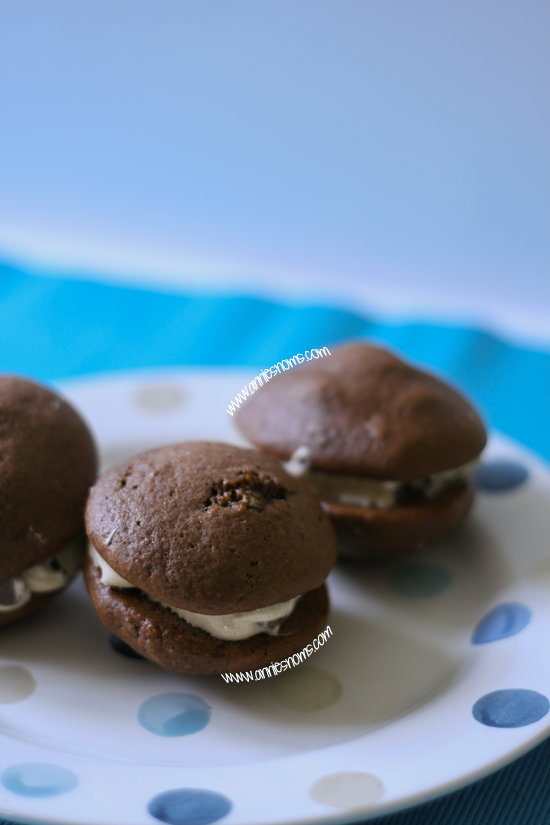 For my first attempt, I'm pretty darn impressed, I thought I'd end up with some hideously misshapen blobs which wouldn't fit together, so I was pleasantly surprised when I managed to find a match for every one of them 😉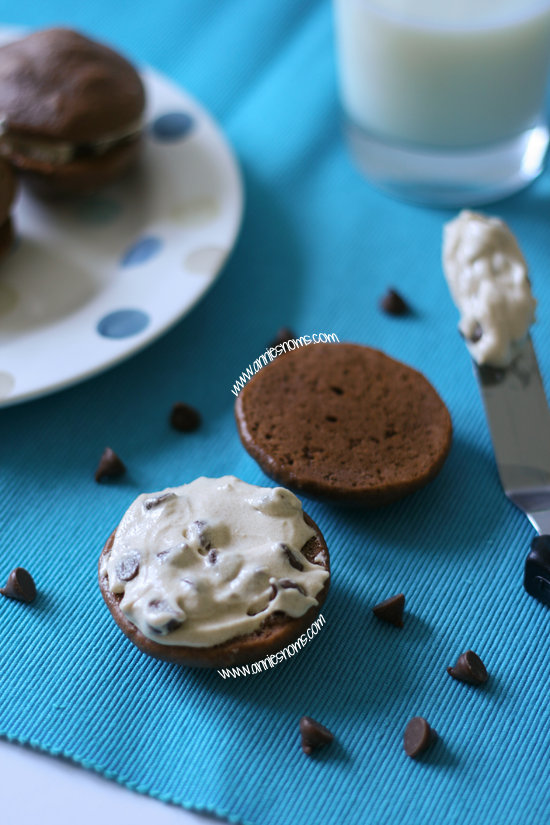 These were nice, they had just enough cocoa powder, so they weren't too intense and the filling was to die for. My boyfriend said it tasted like ice cream!
Now that I've made successful whoopie pies I want to experiment with new flavours, although I still can't stop making cookies haha!!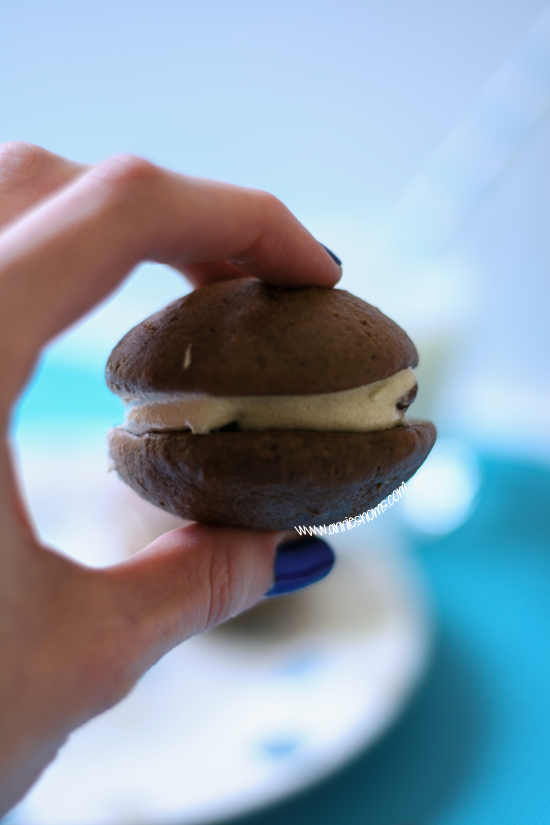 I adapted the recipe from The Cookie Dough Lover's Cookbook by Lindsay Landis
. I'd forgotten just how much I LOVE her cookbook! Reading through it again reminded me of things I've already made and all the things I still want to make!
These are soft, with a glorious filling and bound to satisfy anyone's sweet cravings!
Chocolate Chip Cookie Dough Whoopie Pies
Ingredients
Ingredients for the whoopie pies:

1 1/4

cup

plain flour

2

tbsp

cocoa powder

1/2

tsp

bicarbonate of soda

1/4

cup

caster sugar

1/4

cup

light brown sugar

1/3 - 1/2

cup

milk,

I needed closer to 1/2 cup

3

tbsp

vegetable oil

1

egg

1

tsp

vanilla extract

Ingredients for the filling:

1/2

stick (56g) unsalted butter

at room temp

1/4

cup

light brown sugar

3

tbsp

plain flour

3.5

oz

Marshmallow Creme;

I used fluff - this was 1/2 a jar for me

1/2

tsp

vanilla extract

1/3

cup

milk chocolate chips
Instructions
Preheat the oven to 180 degrees C/350F and line 2 baking trays. Note: To ensure I had evenly baked whoopie pies, I baked them in batches as my oven can be a bit funny if I have a tray down the bottom as well, if you have a good oven (LOL, I really must get a new one!) then you'll be able to bake both trays together!

Sift the flour, cocoa, bicarb and sugars into a medium sized bowl and stir until combined. Leave to one side.

Place the milk, (1/3 cup to begin with, add more later, if required) oil, egg and vanilla extract into a jug and beat with a fork until combined.

Pour into the dry ingredients and mix gently until you have a thick batter, it should hold it's shape enough that your whoopie pies won't spread out all over the trays. Don't be tempted to over mix, once the batter is together, stop otherwise they will have an odd consistency.

Place level tablespoons of batter onto your baking trays, 2 inches apart.

Place in the oven for 10-12 minutes (it was 10 for me) until risen, springy to the touch and an inserted skewer comes out clean.

Leave to cool on the trays for at least 10 minutes, before transferring to a wire rack to cool completely.

Once cooled, it's time to make the filling! Place the butter and sugar into a medium bowl and beat until light and fluffy, about 2 mins on med-high speed.

Add the flour in and fold in gently.

Add in the vanilla extract and marshmallow creme. Stir until combined and smooth.

Add in the chocolate chips and stir until evenly distributed.

Take one half of your whoopie pie and place a heaped tablespoon of filling on it, then place the other half of your pie on and squish together very slightly.

Repeat until you have 12 sandwiches. Whoopie pies will keep in an airtight container at room temperature for 2 days, or in the fridge for 4 days. Bring to room temperature before serving.
Notes
Recipe adapted from The Cookie Dough Lover's Cookbook by Lindsay Landis
Enjoy 🙂


I link up at these great Link Parties!