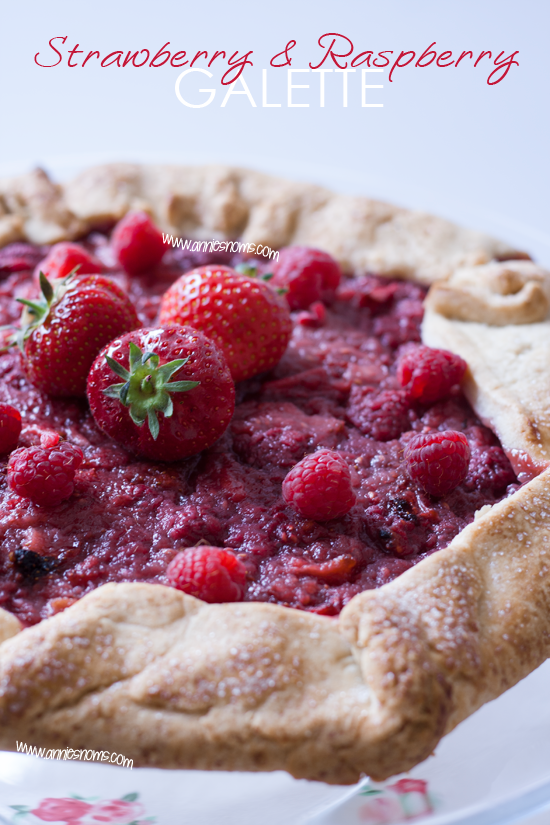 OK, OK this is my last berry recipe. I really am going to have to let go of Summer. If you want another great berry recipe then check out my recipe over at Reasons to Skip the Housework.
This is a great way to use up berries which are over ripe, my strawberries were just a little too soft to serve up on their own, but they were perfect in this galette.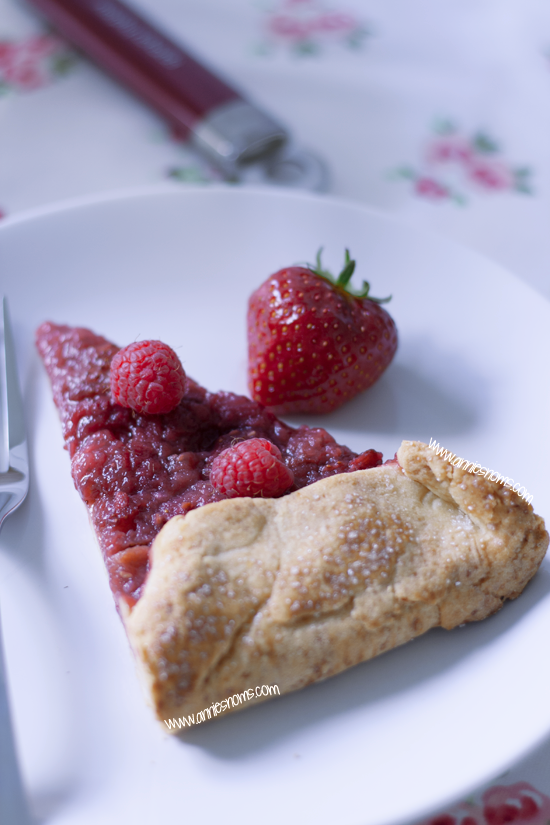 It's also a super easy way to show off your homemade pastry skills because it's a free-form pie, it doesn't have to look perfect! In fact, it looks best being rustic!
I love homemade pastry, but I totally get how annoying it can be sometimes. Trying to get it perfect and into a pie plate can sometimes mean you overwork the pastry resulting in lacklustre results, which is just totally poo when you've put all that hard work in!
Well, good news! This pastry requires very little work! It comes together in seconds in a food processor and then you just have to roll it out once! Which means people will think you're super awesome at homemade pastry 😀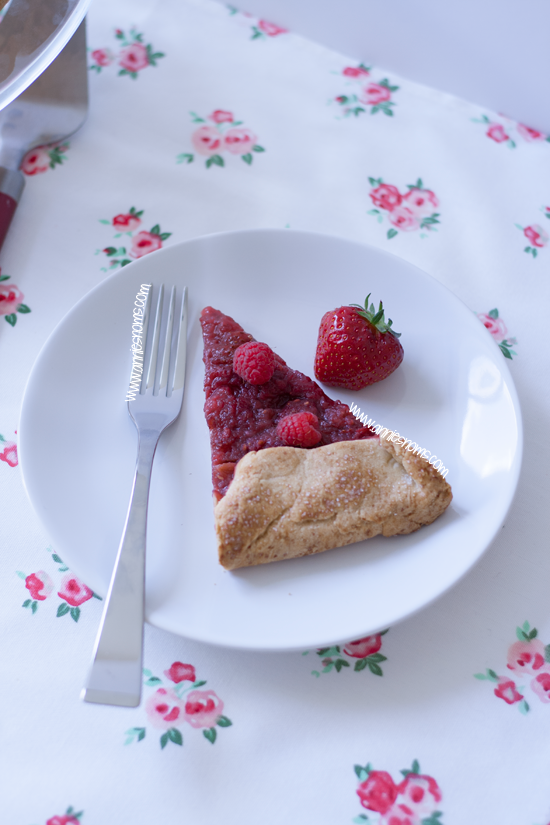 The filling is just to die for! Strawberries and raspberries really go well together, you get that sweetness from the strawberries and slightly tart flavour from the raspberries. In the recipe I've added a note about the sugar added to the filling.
If your berries are over ripe then you'll need less sugar, which I why I advise to add the sugar tablespoon at a time, tasting in between additions, so you get the taste exactly right for you.
And you could use any berries you have in the house! (Just switch up the 2tsp of jam to one of the fruits you're using) I like writing recipes which are super versatile, ain't nobody got time for 20 different ingredients and not being able to change anything…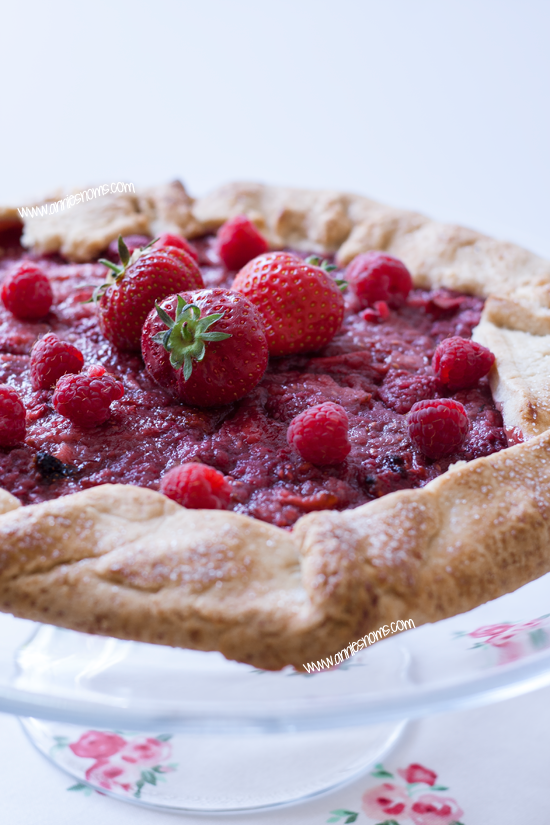 The filling is like the easiest thing in the world to make! You just chop up your strawberries, place everything into a bowl and mix until combined and that's it, you're DONE!
Then all you have to do is spoon it onto the pastry, fold up the edge and place in the oven until golden and the glorious filling is all bubbly. Simples.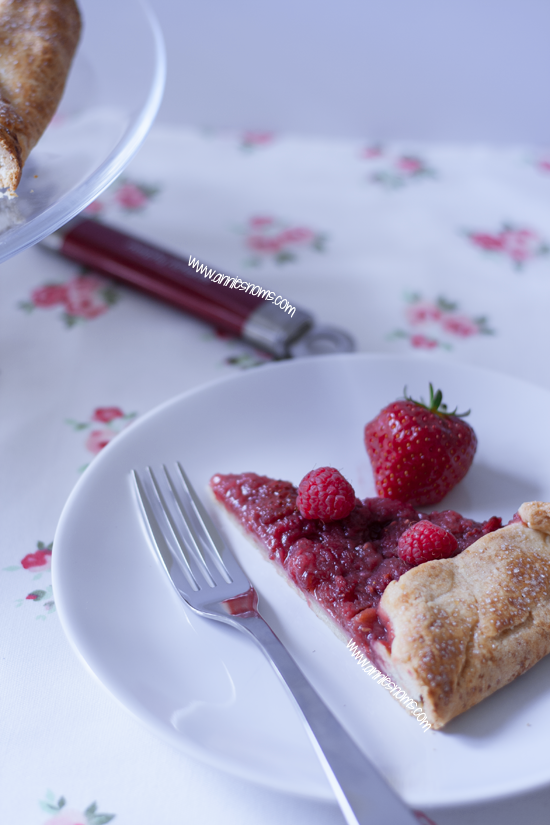 I got started on my Autumn baking the other day and I see a lot of apples, pears, cinnamon and pumpkin in my future 😉
So use up any berries you have left and make this galette!
Next week I'll be back with lots of Autumnal flavours and maybe some cookies… 😛
Have a fab weekend!
Strawberry and Raspberry Galette
A free form homemade pastry filled with sweet strawberries and raspberries. The perfect way to use over ripe berries!
Ingredients
For the pastry:

2

cups

plain flour,

plus extra for dusting

3

tbsp

caster sugar

1/4

tsp

salt

1 1/2

sticks (170g) unsalted butter,

cold and cut into cubes

3-4

tbsp

ice cold water

For the filling:

3

tbsp

breadcrumbs,

divided

2

cups

diced strawberries*

it's great if they're a little over ripe and soft!

1

cup

heaping raspberries*

1/4

cup

caster sugar**

(see note)

2

tsp

raspberry jam

1

tsp

vanilla extract

Water,

to brush over the dough

Granulated sugar,

to sprinkle over the pastry, optional
Instructions
To make the pastry:

Place the flour, sugar, salt and butter into your food processor and pulse until it looks like coarse breadcrumbs. A few bigger lumps of butter is fine.

Add in the water 1tbsp at a time, pulsing in between until pastry just comes together in a crumbly dough.

Flour your worktop and tip the dough out onto it. Just bring it together into a ball, you don't want to overwork the pastry. Flatten the dough into a disk, wrap in cling film and then refrigerate for 30 minutes.

Roll the chilled dough out with a floured rolling pin until you have a 13 inch round which is about 1/8 inch thick.

Place the circle of dough onto a lined baking tray and refrigerate for 30 mins-1 hour.

To make the filling:

Preheat the oven to 200C/400F.

Place the strawberries, raspberries, jam, vanilla and 2tbsp of the breadcrumbs into a medium sized bowl and stir. Add in the sugar tablespoon at a time until sweet enough.

To assemble:

Remove the chilled dough from the fridge and trace a 9 inch circle in the middle of the pastry round.

Sprinkle the remaining 1tbsp of breadcrumbs into the traced circle.

Spoon the filling into the middle of the pastry and then spread out to fill the 9inch circle.

Lift the edges of the dough and fold over the filling, so the edges of the filling are covered, but the centre is exposed. I pleated my dough so it looked prettier than just folding it over, to do this take 3 inches of the edge and fold over, then get the next 3 inches and fold over the filling, creating a fold over the previous edge.

Brush the edges with water and sprinkle with granulated sugar.

Place in the oven for 35-40 minutes until the filling is bubbling and the pastry is golden brown.

Leave to cool on the tray completely, before transferring to a plate.

Galette will keep in the fridge, well covered for 3 days.
Notes
Recipe by Annie *You may want some extra berries to decorate. **Depending on how sweet your berries are, you may need less or more sugar to sweeten. Taste after adding each tbsp - you can always add more in, but you can't take it out!