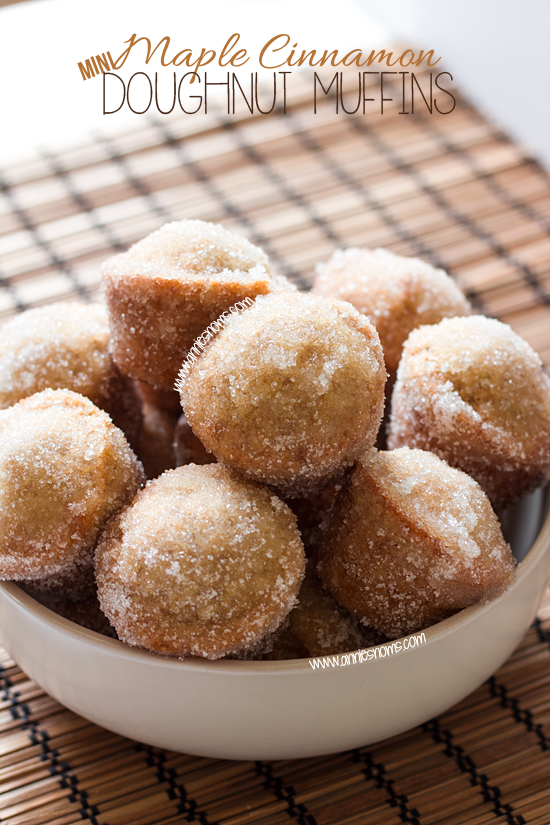 Ugh. I am NOT happy with these pictures at all.
For some reason my Lightroom is playing up. I've never had any problems before, but today it decided that every time I selected an image to develop it would turn them a hideous green colour…
Yuk 🙁
So then I had to fiddle about for ages trying to set the white balance back up again as the original images actually looked pretty decent and only needed minimal editing. Ever feel like you overwork an image? Yea, me too. I ended up playing around so much I couldn't get something I was remotely happy with.
I'm so angry! I was so excited to share this recipe and now my pictures are letting me down.
So excusing my ugly photos, I give you Mini Doughnut Muffins.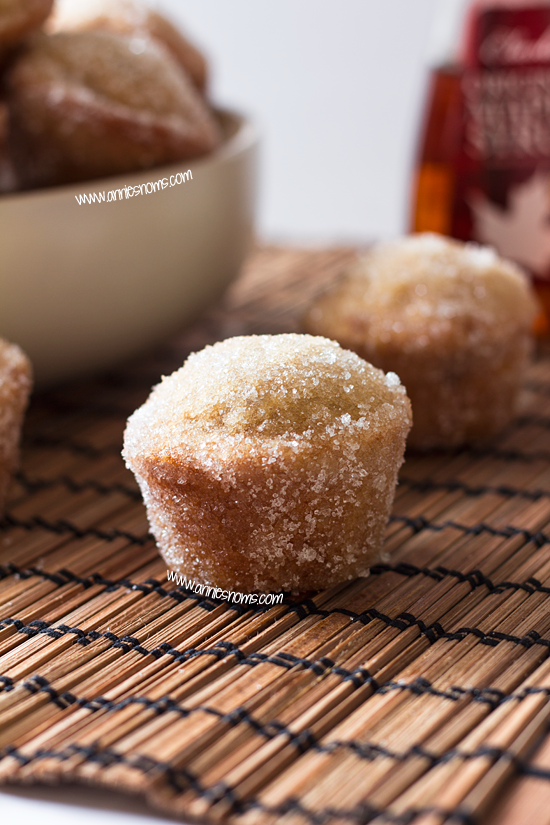 Mini, so you can eat 5 and a perfect marriage between maple syrup and cinnamon.
They're also so easy to make you could probably do it with your eyes closed…
Ok, maybe not. I'm not advising that at all, but you don't need a mixer 🙂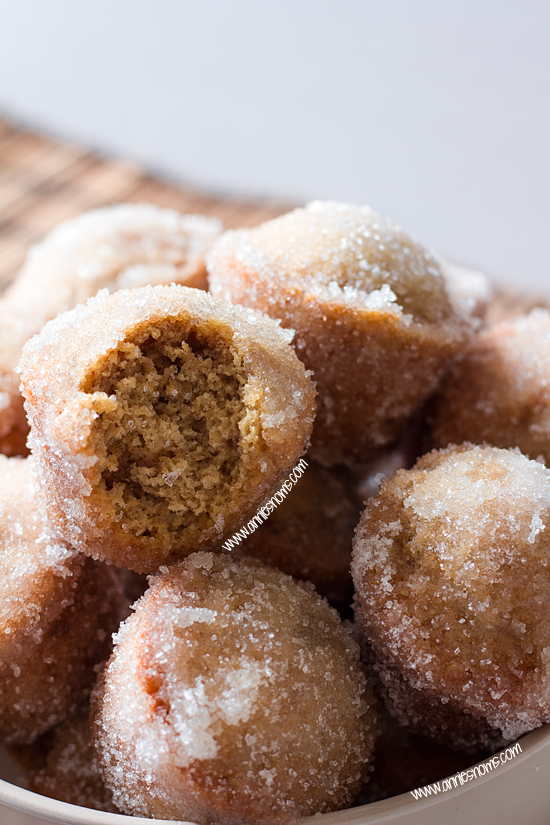 I took my base muffin recipe which you can also find a variation of here and played around with the flavours and with the addition of maple syrup.
Instead of buttermilk and oil, I used skim milk and maple syrup. Make sure to use good maple syrup, it really makes a difference!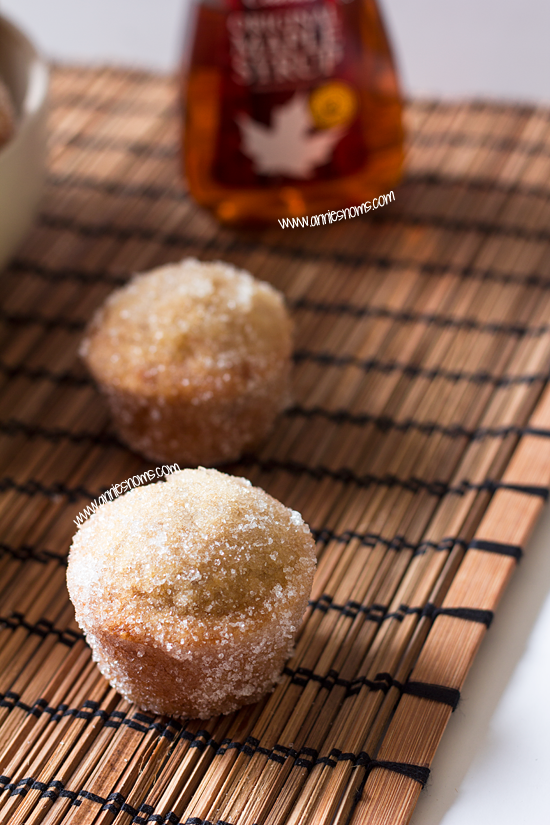 I added 3/4tsp ground cinnamon and found this to be the perfect amount for us, but we're not great lovers of cinnamon, so you could up it to 1tsp if you prefer 🙂
Finished off with melted butter and a coating of sugar, these turned out perfectly. You get that crunch when you bite in of the sugar and then the soft muffin.
And then the flavours hit. Wowwwwww, just amazing. Autumn in one bite!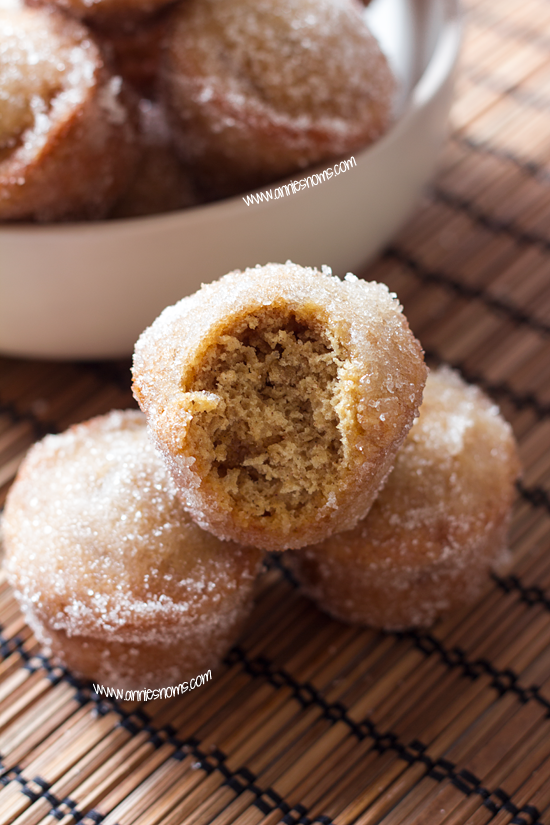 I could actually eat 10 of these right now. But then I'd have problems doing up my jeans, so maybe not…
Anyways, if you're looking for something quick, flavourful and extra yummy, these mini muffins are for you! (I won't tell if you eat 5 before they're cool ;))
Maple Cinnamon Mini Doughnut Muffins
Moist Mini Doughnut Muffins with the perfect combination of maple syrup and cinnamon rolled in sugar to finish them off - perfect for a quick little snack!
Ingredients
For the Doughnut Mini Muffins:

2

cups

plain flour

3/4

cup

light brown sugar

3/4

tsp

ground cinnamon

1

tsp

baking powder

1/2

tsp

bicarbonate of soda

1

egg

1/4

cup

good quality maple syrup

1/2

cup

milk

1

tsp

vanilla extract

1/2

stick (56g) unsalted butter,

melted and slightly cooled

For the sugar coating:

1/2

stick (56g) butter,

melted

1/2

cup

granulated sugar
Instructions
Preheat the oven to 180C/350F and grease a 24 hole mini muffin tin. (I use Wilton Bake Easy spray to grease).

Place the flour, light brown sugar, ground cinnamon, baking powder and bicarb into a large bowl and stir until combined.

Place the egg, maple syrup, milk, vanilla extract and melted butter into a jug and beat lightly with a fork.

Pour the wet ingredients into the dry and stir until combined. Don't be tempted to over mix, otherwise you'll end up with rubbery muffins!

Fill the muffin holes 3/4 full and then place in the oven for 10-15 minutes (mine took 14 minutes), until risen, golden and an inserted skewer into the centre comes out clean.

Leave to cool in the tin for 10 minutes before transferring to a wire rack to cool completely.

Once cooled, place the 1/2 stick of butter into a shallow bowl and melt. Place the granulated sugar into another shallow bowl.

Dip each muffin into the melted butter and then roll in the granulated sugar. Then stuff your face!! (They're mini, so you can eat 5, right?)

Muffins will keep in an airtight container at room temperature for 3 days.
Notes
Recipe by Annie of Annie's Noms