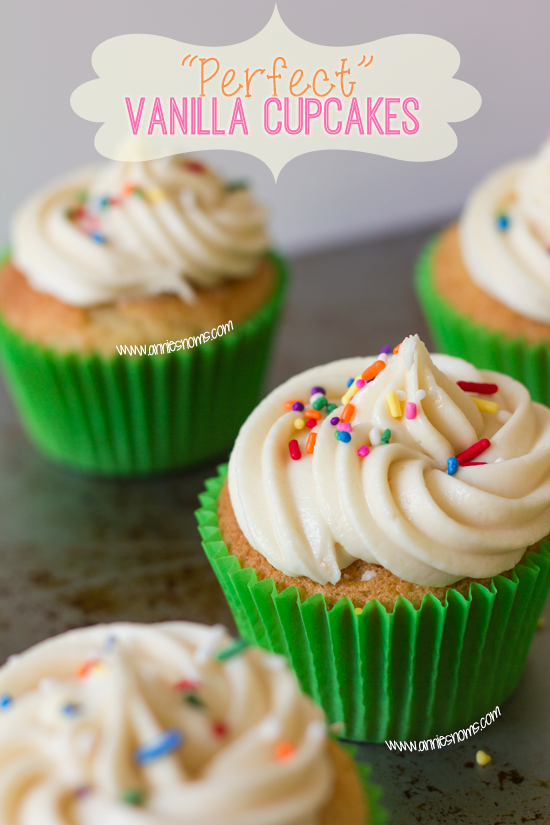 Hey everyone!
So today, I thought I'd switch things up a bit. I'm introducing a new series called "Back to Basics" which I hope will give you a set of good base recipes which will inspire you to get creative and write your own recipes!
I'm still fairly new to writing recipes, but what I have learnt is that it's important to get your bases right. You can't just pluck ingredients from thin air and hope they work, as much as I sometimes wish we could haha!
After much developing, and many cupcakes not pretty or perfect enough to blog, I've written my perfect vanilla cupcake base. (I also have my base chocolate recipe – coming in a few weeks!)
I know there are loads of cupcake recipes out there labelled as perfect and this could be seen as "just another cupcake recipe" but for me, these really are perfect!
This recipe gives you the perfect crumb (which I'm obsessed with), moist, light and fluffy cupcakes, perfectly flavoured with vanilla and finished off with light as air vanilla frosting.
They really are heavenly!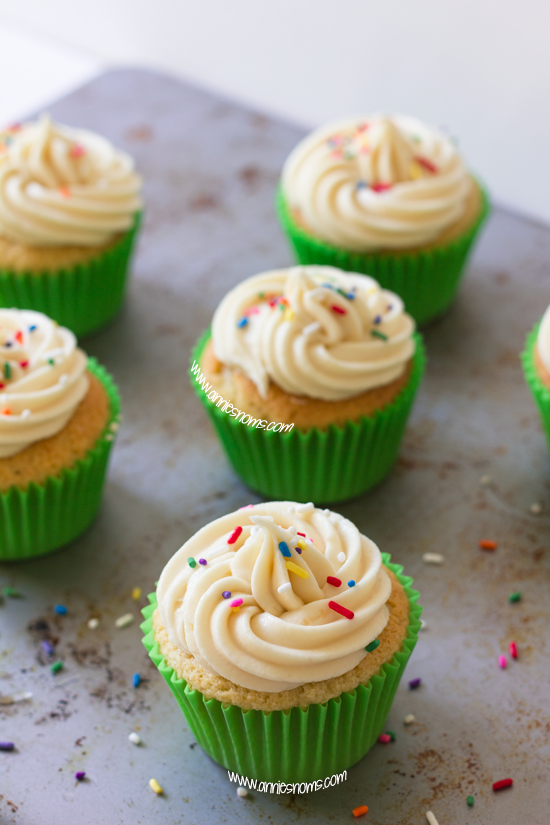 I made these for my OH to take to work on his birthday and he came home with none left saying everyone had said they were amazing, I should sell them and some even said they were the best vanilla cupcakes they'd ever had! High praise indeed!
I was very flattered and quite shocked! Also kinda embarrassed, I'm really awkward about compliments… Usually I give my baked goods to friends and family and I'm always told stuff is good, but because it's friends, I sometimes worry they only say stuff is nice so as not to hurt my feelings! :/ So it was nice to be told my cupcakes were good by some strangers!!
So how do we make the perfect Vanilla Cupcake?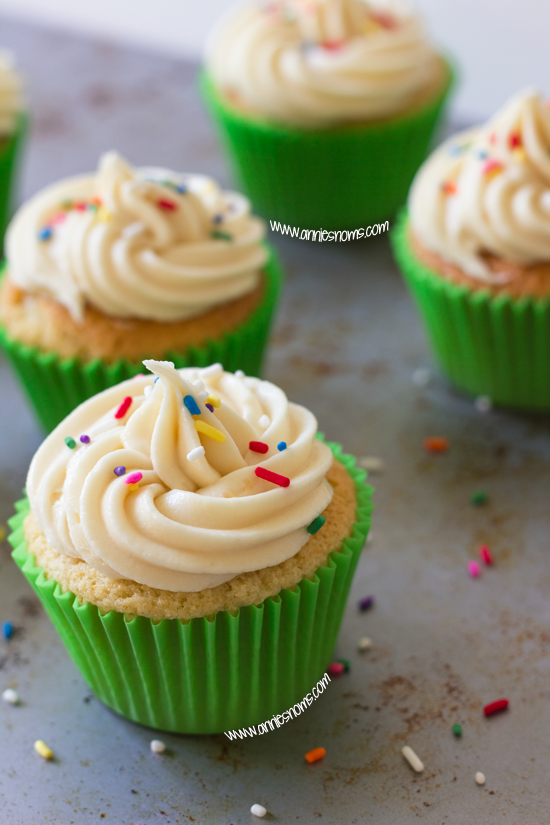 First you take room temperature margarine or butter and some caster sugar. Usually I would advocate the use of real butter, but for cupcakes I always use margarine as it gives a softer, more moist cupcake.
Beat them up reallllllllly good so they're as light as air!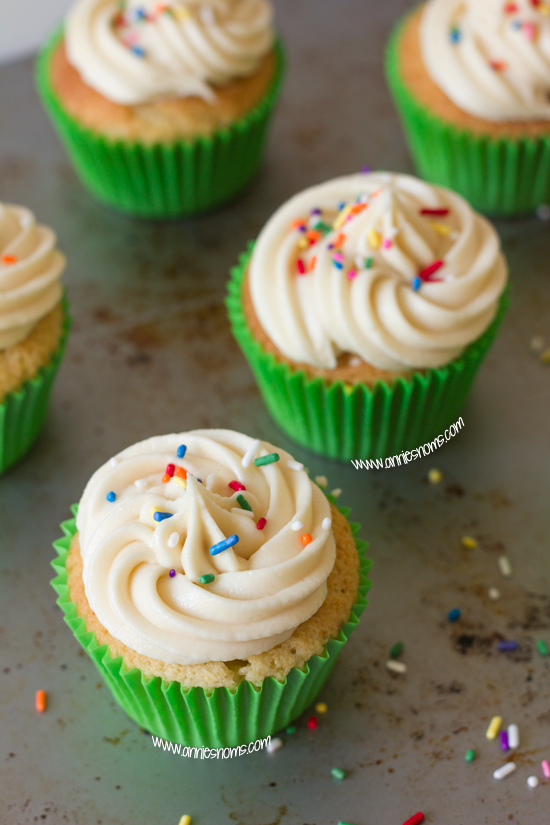 Add in the eggs and good vanilla, mix them up a bit, add in the flour and milk, mix until smooth et voilà! The perfect cupcake batter.
Baking time and temperature are important too. I bake my cupcakes at 180C/350F and I do not open the oven until they have been in there for 20 minutes. Before then you risk ending up with sunken cupcakes and that's not cool 🙁
And my biggest tip: remove the cupcakes from the cupcake tin pretty much as soon as they come out of the oven, yes they're are bloody hot, but I always find, if I leave my cupcakes in the tin, the grease makes the liners soggy and then they peel away from the cupcakes, major sad face 🙁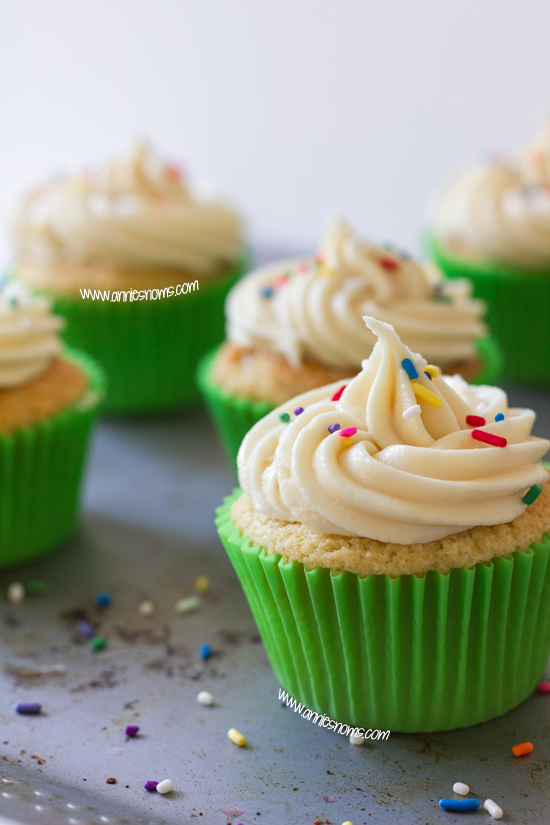 Finish them off with my light and fluffy vanilla buttercream and a few sprinkles and you're good to go!
Hope you love these as much as we do! 😀
Perfect Vanilla Cupcakes
My base recipe for cupcakes, moist, tender, very vanilla cupcakes, with THE perfect crumb!
Ingredients
For the cupcakes:

1

stick (113g) butter/marg*

1

cup

(200g) caster sugar

2

large eggs

1

tbsp

vanilla extract

1 1/2

cups

(210g) plain flour

2

tsp

baking powder

1/2

cup

(120ml) milk,

I use Skim

For the frosting:

2

sticks (226g) unsalted butter,

at room temperature

2 1/2

cups

(300g) icing sugar,

sifted

1

tbsp

vanilla extract

2-3

tbsp

milk

Sprinkles to decorate,

optional
Instructions
Preheat the oven to 180C/350F and line a 12 hole cupcake tin.

Place the butter and sugar into a large bowl, or the bowl of your stand mixer an beat until light and fluffy, about 2 mins on med-high speed.

Add in the eggs and vanilla extract, scraping sides as necessary and mix until well combined, smooth and light, around 1 min on med-high speed.

Add in the flour, baking powder and milk and mix until well incorporated and smooth.

Fill the cupcake liners 3/4 full - for me this is a heaping 2tbsp cookie scoops worth.

Place in the oven for 20-25 minutes (mine took 22) until risen, golden and an inserted skewer into the centre comes out clean.

Remove from the tin as soon as possible and transfer to a wire rack to cool completely*.

Once cooled, it's time to make the frosting! Place the icing sugar and butter into a large bowl and beat until light and really fluffy, 2-3 mins on high speed.

Add in the vanilla and beat until incorporated, then add the milk 1tbsp at a time, if required. I only needed 1tbsp of milk.

Either spoon the frosting onto the cupcakes, or half fill a piping bag and pipe a swirl on each. Finish off with some sprinkles if you want.

Cupcakes will keep in an airtight container, in the fridge, for 4 days.
Notes
*This is the one time I would advocate using margarine instead of butter. Margarine makes the cupcakes more moist. *If you don't remove the cupcakes from the tin quickly, I always find the liners peel as the grease from the tin makes them wet and soggy. Recipe by Annie of Annie's Noms