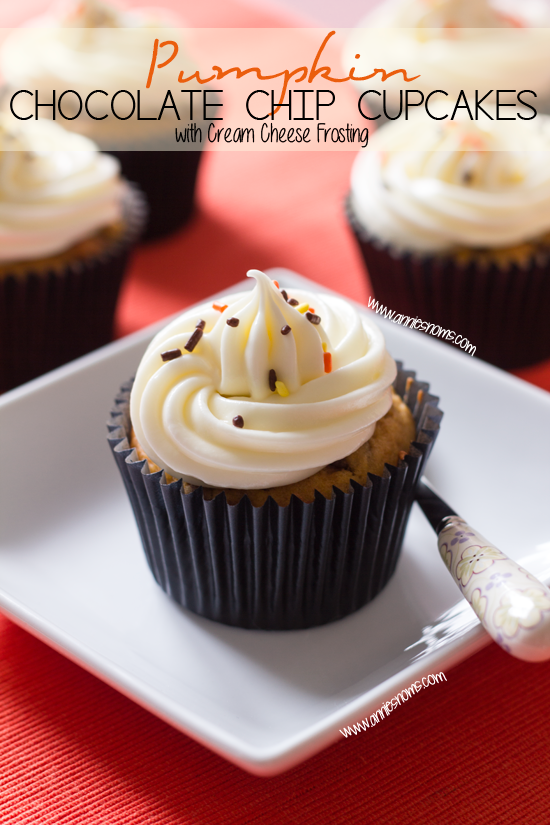 So…. I used Pumpkin for the first time a couple of weeks ago and these were the result.
Soft, flavourful, and lightly spiced chocolate chip cupcakes.
There's something you should know about me. Every year I hollow out a Pumpkin and spend hours picking out all of the seeds so I can oven roast them and then dig in. I adore pumpkin seeds, but the flesh? Not so much. That ends up in the bin…
Butttttt after finding the one supermarket in the UK which stocks Pumpkin Purée I was determined to get baking with it to try and change my mind on it.
I don't think I could just eat it with a spoon, but it definitely adds an extra something and I was really surprised by how much I loved these cupcakes.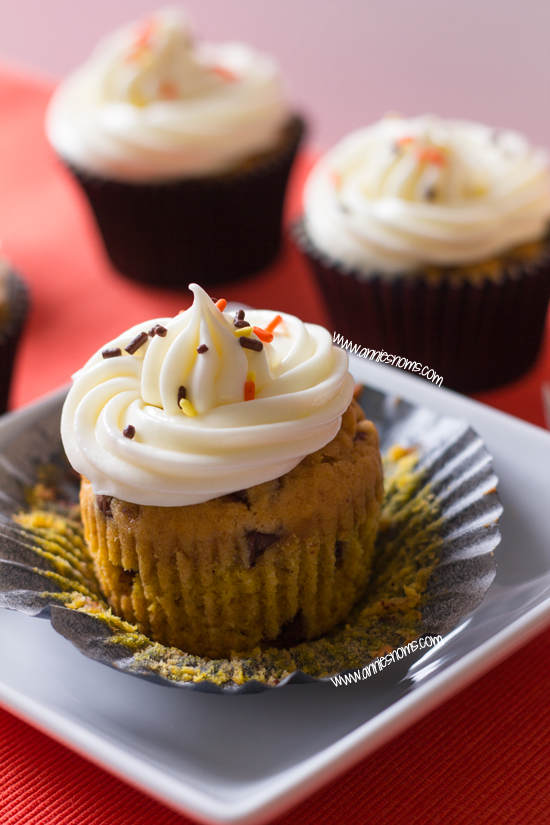 I've seen sooooooooooo many Pumpkin recipes recently, on Instagram, Pinterest.. everywhere. So I wanted to see what all the fuss was about!
My boyfriend was like, "No, I doubt I'll like them, I don't like pumpkin", but I was like "I don't either, but I love these cupcakes" – then he tried one… and then ate 3 more in quick succession.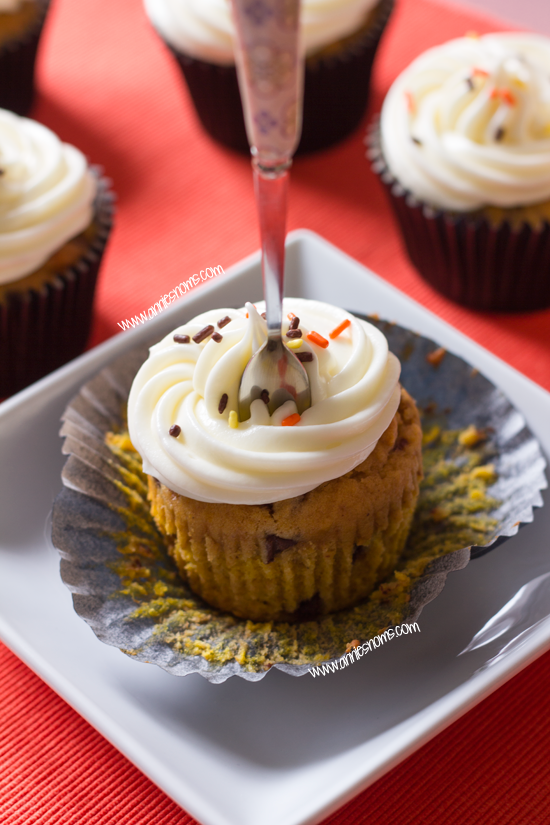 Following on from my Perfect Vanilla Cupcakes, I thought I'd show you how you can switch things up and end up with these beauties…
I took my base recipe and adjusted it to make it perfect for these cupcakes. There's a little less sugar, but it's light brown sugar which adds an extra note, I just love light brown sugar!
Instead of milk, I've used the Pumpkin purée and I've added spices and chocolate chips.
Simples 🙂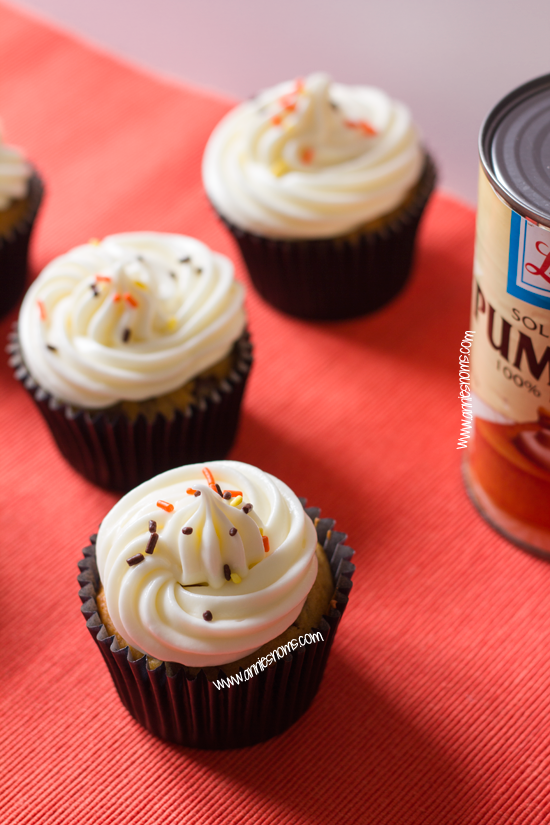 It's official, I'm a pumpkin convert (in baking, at least) and keep your eyes peeled for some other pumpkin recipes coming up over then next month or so!
You need these in your life, topped off with the light and fluffy cream cheese frosting, these are just perfection.
Whoops… man down.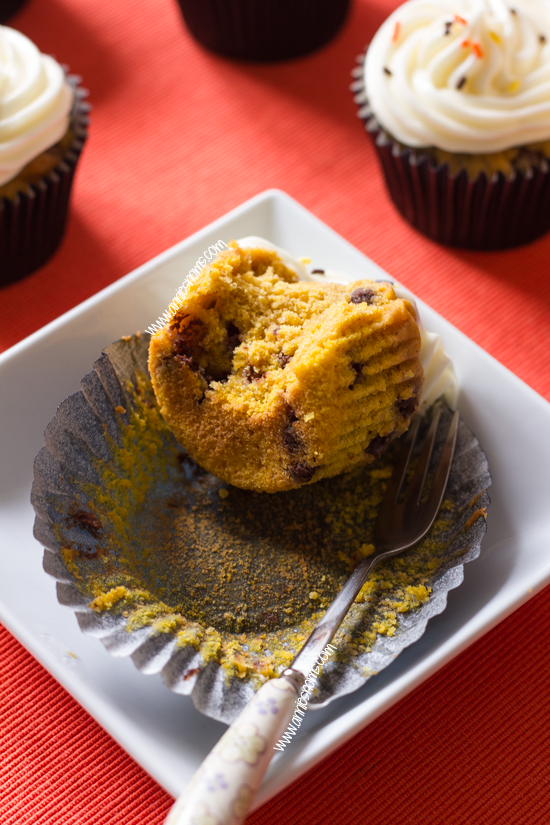 Pumpkin Chocolate Chip Cupcakes with Cream Cheese Frosting
Lightly spiced Pumpkin cupcakes packed with chocolate chips and finished off with light and creamy cream cheese frosting.
Ingredients
For the cupcakes:

1

stick (113g) butter/marg*

3/4

cup

(150g) light brown sugar

2

eggs

1

tsp

vanilla extract

1 1/2

cups

(210g) plain flour

2

tsp

baking powder

1/8

tsp

ground nutmeg**

1/4

tsp

ground ginger

1/4

tsp

ground cinnamon

1

cup

(175g) milk chocolate chips

3/4

cup

(180g) Pumpkin Purée

For the frosting:

1/2

stick (56g) unsalted butter,

at room temperature

1/2

cup

(130g) full fat cream cheese,

at room temperature

2 1/4

cups

(270g) icing sugar,

sifted

Sprinkles to decorate

optional
Instructions
For the cupcakes:

Preheat the oven to 180C/350F and line a 12 hole cupcake tin.

Place the butter and sugar into a large bowl or the bowl of your stand mixer and beat until light and fluffy, about 2 minutes on med-high speed.

Add in the eggs and vanilla, scraping down the sides when necessary and mix until smooth and well incorporated, 1 minute on med-high speed.

Place the flour, baking powder, spices and chocolate chips into a medium sized bowl and stir to combine, make sure all the chocolate chips are coated in flour, otherwise they may sink during baking.

Add the flour mix to the wet mix and mix on medium speed until smooth and well combined.

Add in the pumpkin purée and mix on medium until combined and smooth, about 1 minute.

Divide the batter between the liners, they should be 3/4 full, which was a heaping 2tbsp ice cream scoop for me.

Place in the oven for 20-25 minutes until risen, golden and an inserted skewer into the centre comes out clean.

Remove from the cupcake tin as quickly as possible and transfer to a wire rack to cool completely.

Once cooled make the frosting:

Place the butter and cream cheese into a large bowl and beat until light and fluffy, about 2 minutes on med-high speed.

Add in the sifted icing sugar and, starting on low, mix until the mixture starts coming together, then turn the speed up and beat until light and smooth.

Either spoon the frosting onto the cupcakes or half fill a piping bag and pipe a swirl on each cupcake.

Garnish with sprinkles, if desired.

Cupcakes will keep in an airtight container, in the fridge for up to 5 days.
Notes
*Normally, I would advise the use of butter, but in this recipe margarine results in a more moist cupcake. **Up to 1/4tsp nutmeg, this is down to personal preference, I'm not mad keen on nutmeg and made it with less, but I made them again with 1/4tsp and my boyfriend loved them.