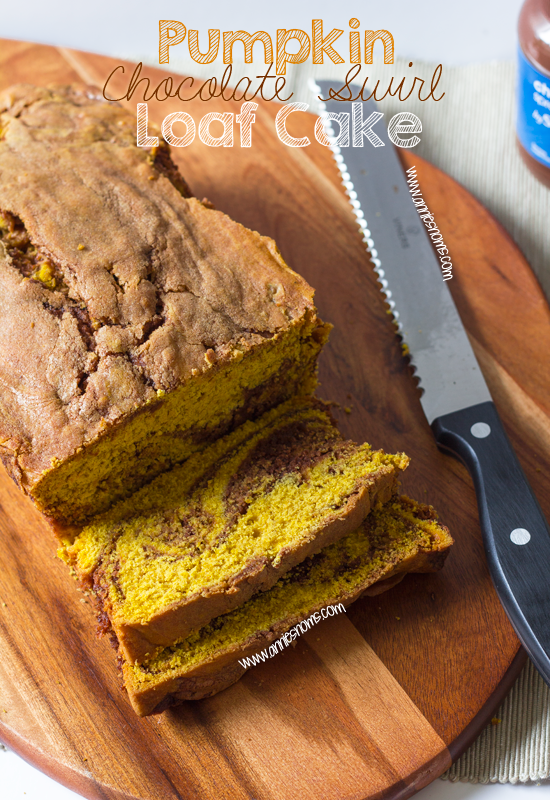 Blimey, it's been so crazy here recently!
Research for all my Uni stuff, writing my cookbook, writing recipes, photographing recipes…. the list goes on!
I did give myself this past weekend off though. I worked so, so hard all week and decided I really needed to give myself a break. It was really nice, just chilling and watching TV.
We went out for a meal on Saturday which was yummy! Miller & Carter – so my OH had steak and I had my favourite barbecue chicken!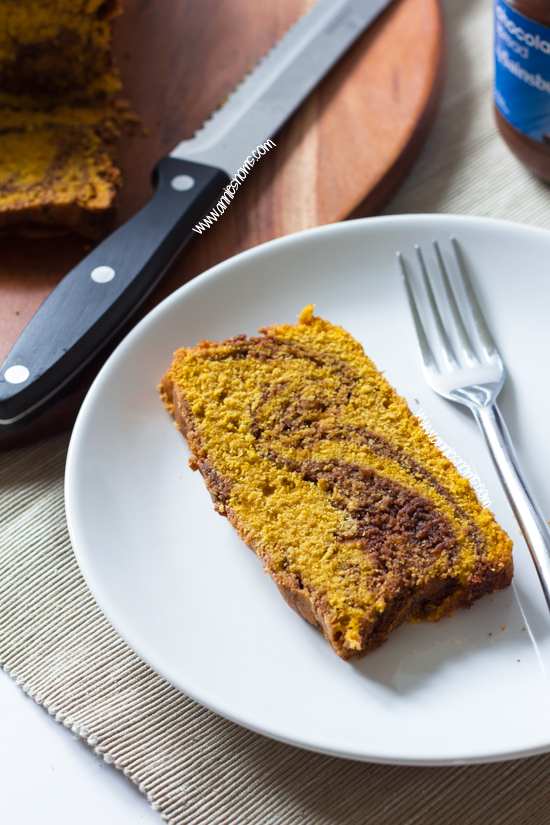 I took delivery of some more pumpkin the other day! I still have so many recipes I want to make!! It's pretty hard to find over here, but I managed to find it on Amazon and it wasn't too expensive, so that's great!
One of the recipes I was desperate to write and make was this loaf cake.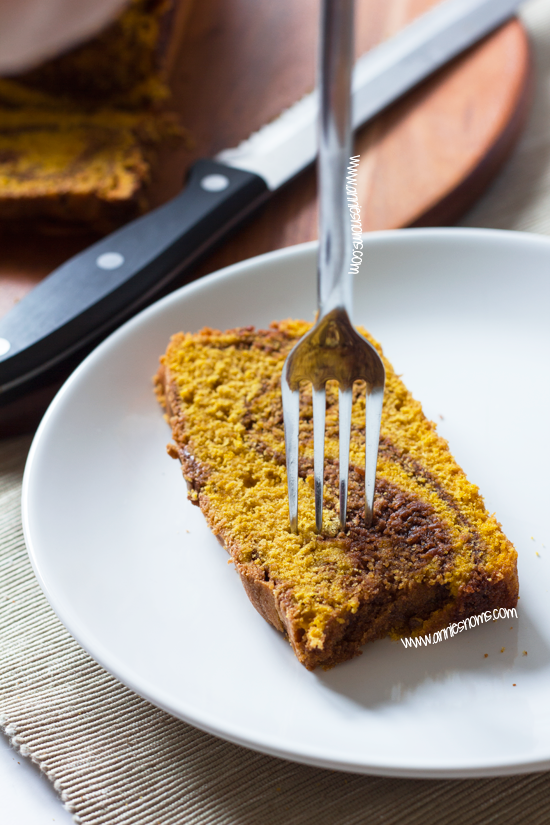 You make one batter, then divide it and add chocolate spread (or nutella – I'm allergic to nuts) then you swirl the two batters together and bake it all up – bliss.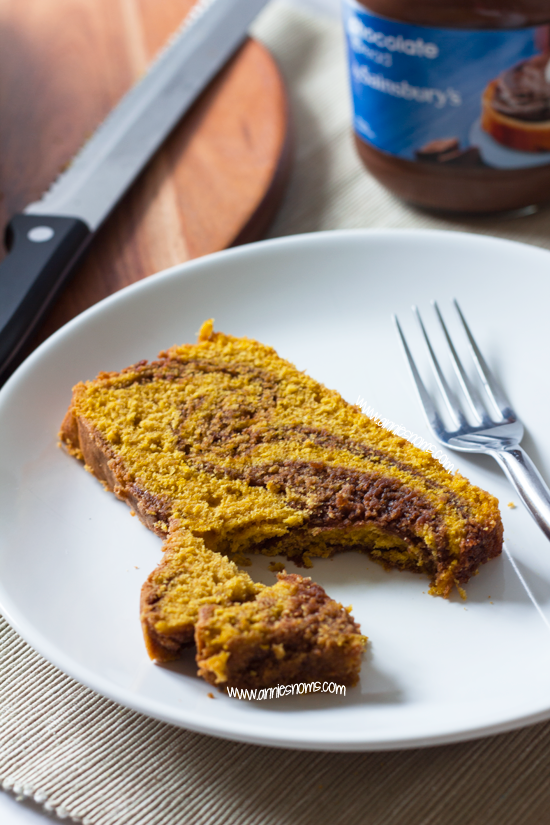 This was soooo good, I could have eaten the whole thing, all the time I was photographing it, I was picking at the crumbs and then I just had to eat the slice I cut to photograph…
My skinny jeans aren't thanking me, but oh well, it was divine!
You get the lightly spiced pumpkin cake and then a hit of chocolate. I use Sainsbury's chocolate spread and it's glorious! I've tried many others, including Cadbury's, but I keep going back to Sainsbury's own chocolate spread. It's really rich and worked perfectly in this loaf. But use whichever one is your favourite!
Seriously, go make this. I've just polished off the last slice and am feeling the need to go make it again!
If I call it a "quick bread" does that mean we can eat it for breakfast?
Pumpkin Chocolate Swirl Loaf Cake
A moist and spiced loaf cake swirled with a spiced chocolate spread batter - absolute bliss!
Ingredients
1

stick (113g) butter,

at room temperature

1

cup

light brown sugar

3

eggs

1

tsp

vanilla extract

3/4

cup

Pumpkin Purée,

not pie filling

2 1/2

cups

cake flour*

1 1/2

tsp

baking powder

1/4

tsp

ground cinnamon

1/4

tsp

ground ginger

1/8

tsp

ground cloves

Pinch ground nutmeg

1/2

cup

Chocolate Spread/Nutella
Instructions
Preheat the oven to 160C/325F and grease and line a 2lb loaf tin.

Place the butter and sugar into a large bowl or the bowl of your stand mixer and beat until light and fluffy, about 2 minutes on med-high speed.

Add in the eggs and vanilla extract and mix until well incorporated. Add in the pumpkin purée, flour, baking powder and spices and mix until light and smooth, about 1 minute on med-high speed.

Take 3/4 cup of batter and place into a medium sized bowl. Place 1/2 cup chocolate spread into the medium bowl and mix with a spoon/spatula until well combined.

Spoon 1/3 of the pumpkin batter into the loaf pan and level off, spoon some chocolate batter on top, then mix slightly until swirled. Repeat with the pumpkin batter and chocolate batter until the loaf pan is filled.

Place in the oven for 65-75 minutes until risen, it springs back and an inserted skewer into the centre comes out clean.

Leave to cool in the pan for at least 1 hour before transferring to a wire rack to cool completely.

Once cooled, slice and store in an airtight container, at room temperature for 4 days.
Notes
*To make cake flour measure out plain flour and then take 2tbsp per 1 cup and replace with cornflour. Sift twice to ensure it's well mixed.