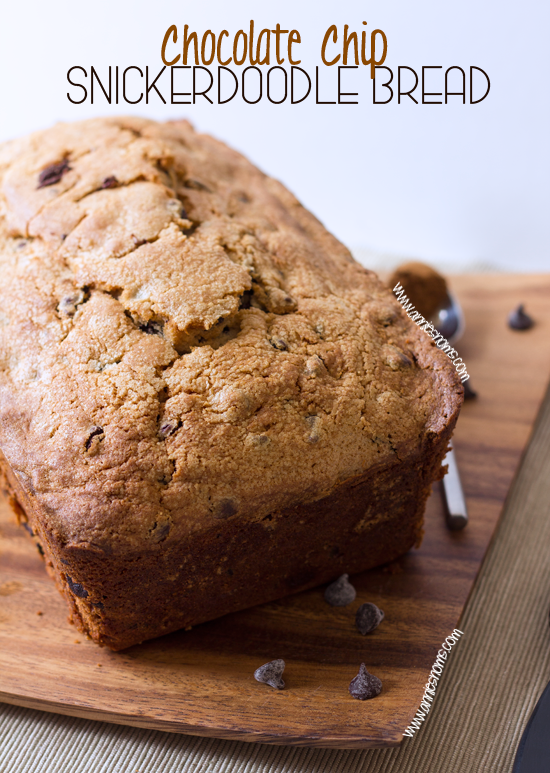 Welcome to this month's Secret Recipe Club! This marks my first month back at Uni and it has been CRAZY! I'm living and breathing research at the moment and I literally have no time for anything else.
I know I've been majorly sucking at new recipes and I really am so sorry, but I am drained and have no energy to do anything else other than eat and sleep 🙁
Uni are as badly organised as ever which is driving me mad, chopping and changing every week just to pile on more stress. I now feel like the initial research I did was just a waste of time and it really irritates me. I cannot wait until 19th May 2014 – my last hand in. Then I'll be freeeee! 😀
I actually have a countdown app on my phone and I keep checking it…
Anyway, this month I was assigned Erin's blog Making Memories With Your Kids. I loved learning about why Erin started her blog and how dedicated she is to her children, it's so lovely to see, when life is so busy these days and so many kids miss out on bonding time with their parents.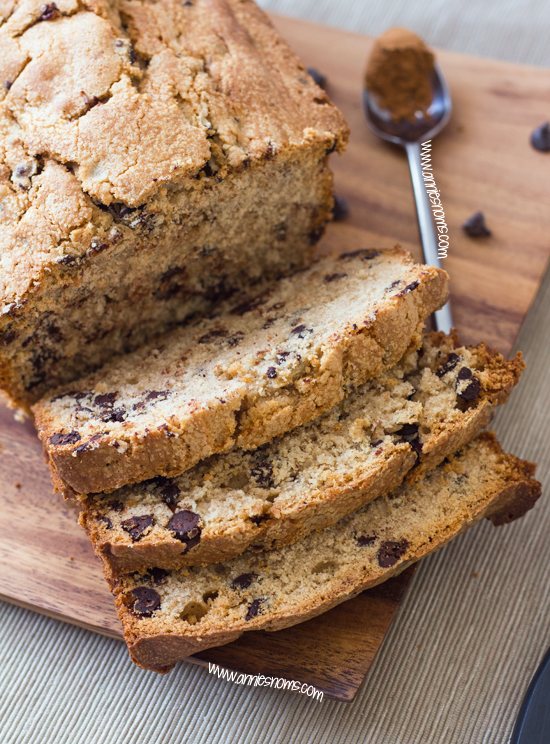 I wanted to make something autumnal. I figured I only just blogged a pumpkin recipe, so I wanted something with cinnamon. I looked at this Cinnamon Crumb Coffee Cake and was so tempted to make it, but then I saw these Salted Caramel Mini Cheesecakes and was like AHHHHHHHHH too many things to choose from!?!?!?!?
That's a good thing obviously! Reading through Erin's blog made me soooo hungry!
Anyways, after much deliberation I decided on this Snickerdoodle Bread because I realised I've never made anything remotely Snickerdoodle-y (yes that's a word now) and it was the perfect opportunity to try it out.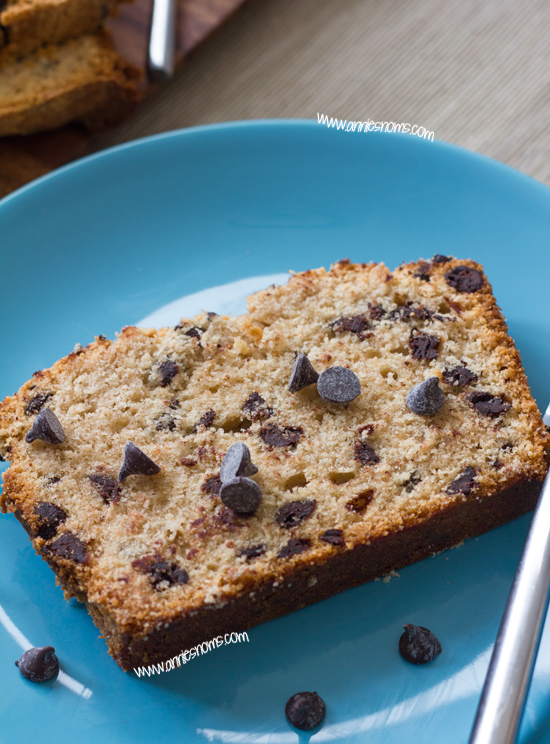 Boy, I'm so glad I did! We don't get cinnamon chips here, so I upped the cinnamon in the batter and added chocolate chips, but it was divine. Seriously, you have to go make this!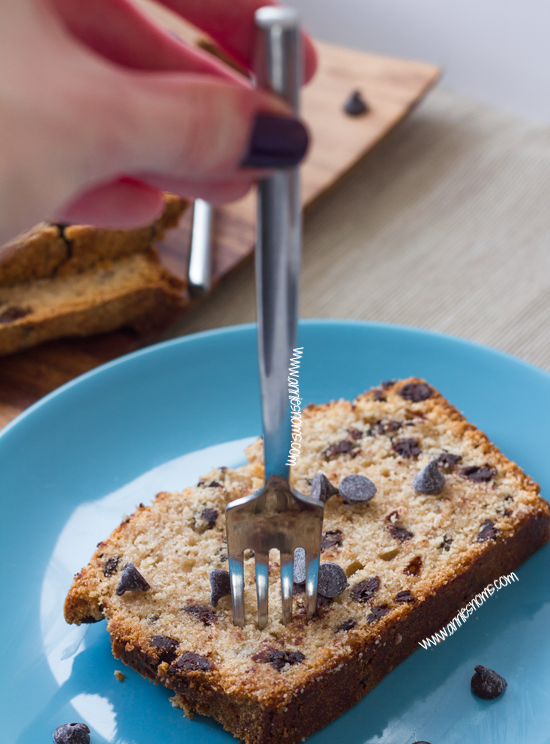 I don't care that it's full of chocolate, I ate this for breakfast… and then I snacked on some more mid morning… yea, my jeans felt a bit tight afterwards. Whoops, best get my butt on the cross trainer.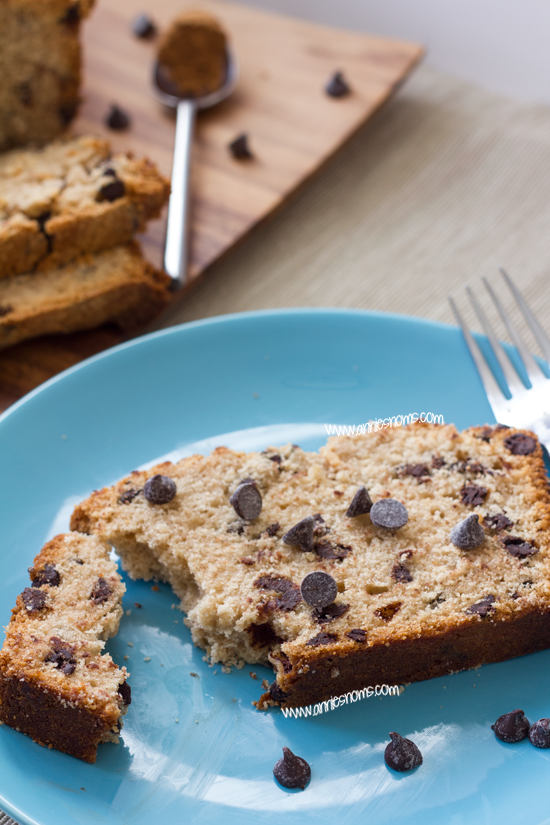 I loved the addition of sour cream to keep things light and moist and it was so easy to whip up I managed to fit it in when I was having my lunch break from Uni work!
I'm a Snickerdoodle convert. I'm definitely going to be making some cookies soon and anything else I can think to make. I'm taking full advantage of the fact it's Autumn and am going to go cinnamon crazy 🙂
Chocolate Chip Snickerdoodle Bread
An easy quick bread, with a hit of cinnamon and plenty of chocolate chips! Perfect for an autumn snack!
Ingredients
3

cups

plain flour

2

tsp

baking powder

1

tbsp

ground cinnamon

1 1/2

cups

dark chocolate chips

2

sticks (226g) butter,

at room temperature

1

cup

light brown sugar

1

cup

caster sugar

4

eggs

2

tsp

vanilla extract

1

cup

sour cream
Instructions
Preheat the oven to 180C/350F and grease and line a 2lb loaf tin.

Place the flour, baking powder, ground cinnamon and chocolate chips into a large bowl and stir together until the chocolate chips are coated in flour.

Place the butter and sugars into a large bowl or the bowl of your stand mixer and beat until light and fluffy, about 2 minutes on med-high speed.

Add in the eggs and vanilla extract and mix until well incorporated, about 1 minute on med-high speed.

Add in the flour mix and sour cream and mix on low until just combined, then turn the speed up to medium for 30 seconds to ensure everything is well mixed and smooth.

Pour the batter into your prepared loaf tin and level off with a spatula/wooden spoon.

Place in the oven for 60-75 minutes, until risen, golden and an inserted skewer into the centre comes out clean**.

Leave to cool in the tin for at least 1 hour before trying to remove. Transfer to a wire rack to cool completely.

Once cooled, slice into 10-12 pieces and store in an airtight container, at room temperature for 4 days.
Notes
*Be careful when you insert the skewer to actually get the cake, not a melted chocolate chip!! *I baked mine at 180C/350F for 45 minutes and then turned the oven down to 160C/325F for the last 20 or so minutes, you don't have to do this, but I've always found my loaf cakes/quick breads to be more successful this way. Recipe adapted from Making Memories with your kids: http://makingmemorieswithyourkids.com/2013/07/snickerdoodle-bread/
And this is what happens when you try and get a fork to balance and stand up by itself… 😀
Food Blogger Problems…