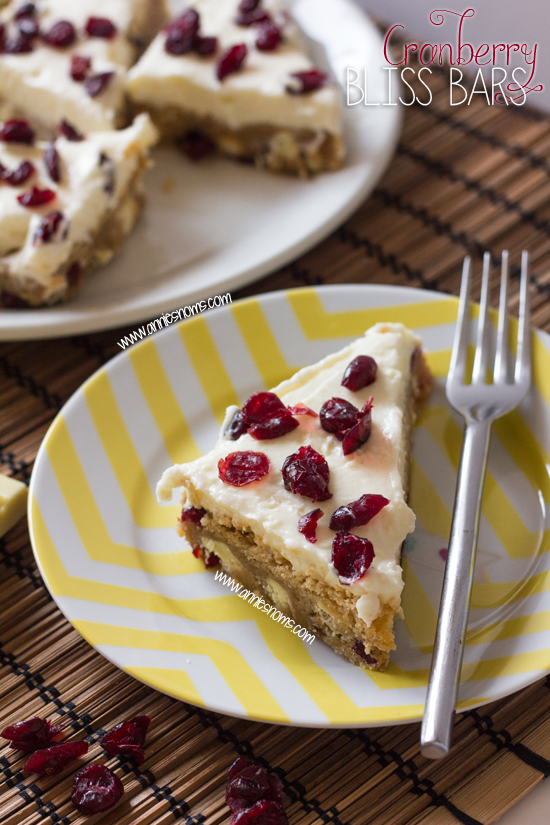 How is January almost over already??? I was walking through a shop the other day and they still had some old Christmas stuff on clearance. I actually did a double take and was like "Seriously, it feels like Christmas was agessssssssss ago!"
Anyways, it's Secret Recipe Club time again! 🙂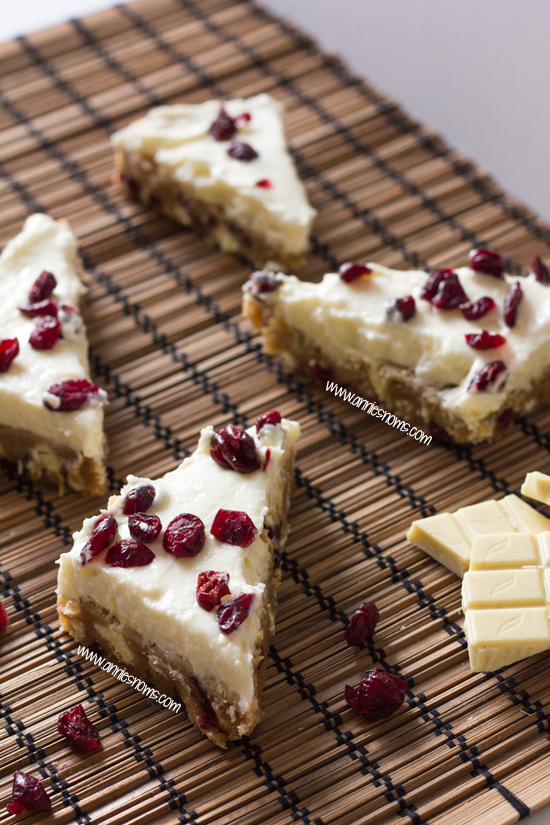 This month, I was assigned Karen's blog, Cinnamon Freud. I found Karen's about me page fascinating!
I'm also currently studying and love to cook from scratch as much as I can. Time restraints, mean although I cook from scratch every day, I don't blog all my dinners, but, like Karen, the whole cooking/baking interest just sort of hit me one Summer.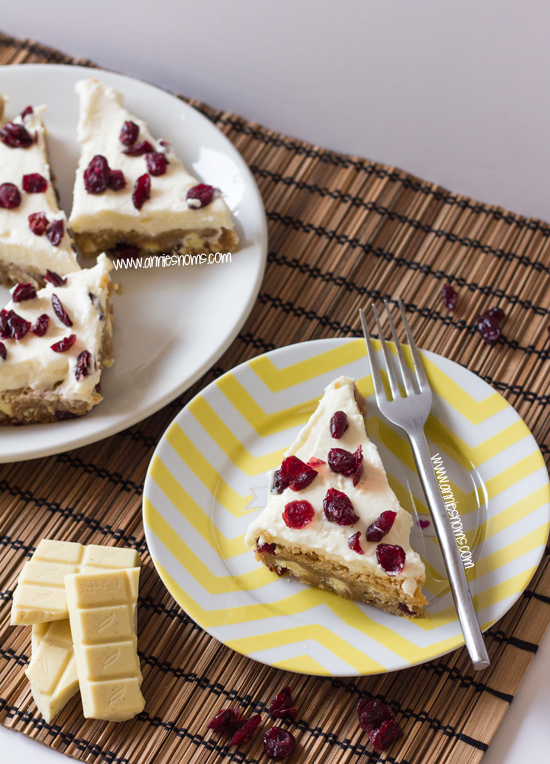 I had such a hard time picking out this recipe! There were so many great recipes to make and I've still got a few I'm going to make just for us in the near future! I ummed and erred between Black and White Bars, Baked Chicken Parmesan and Italian Meatball Burgers before finally deciding on these Cranberry Bliss Bars.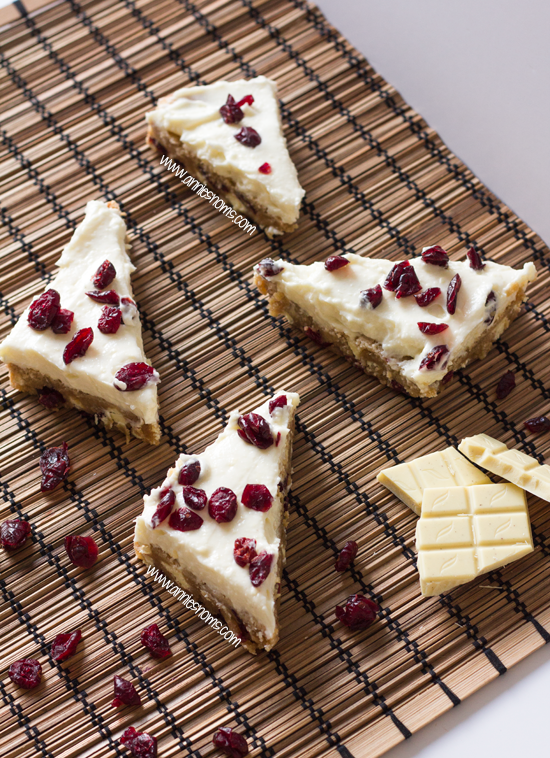 I am SOOOOO glad I made these bars. They are just fabulous! Chewy and filled with cranberries and white chocolate chunks and then topped with this amazing cream cheese frosting.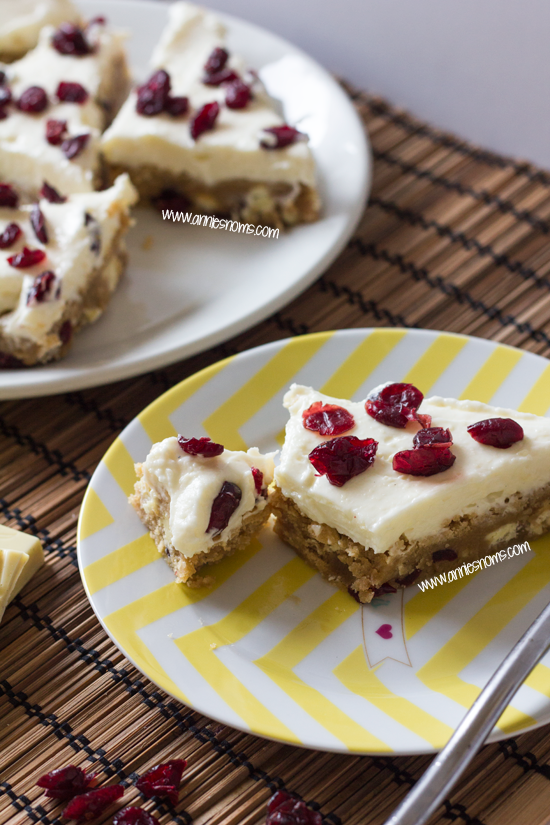 I admit, as they came out of the oven, before they'd even cooled a tiny bit, I got out a spoon and had a taste…. then maybe ate a corner… oops.
Seriously, you guys have to make these! My OH had to hide them so I wouldn't eat the whole pan before photographing them haha!!
I love cranberries and white chocolate together, but really don't bake with them enough. Now I feel a phase coming on… I may become a bit obsessed. Rest assured, that whilst I might not blog them really quickly, I'll save all the recipes to blog when I finish Uni.
FYI only have about 15 weeks left until my last hand in!! We're about to start our last term, which is where we have to do our major project… I'm feeling calm at the moment, determined not to let it make me ill like last year, but I'm a little worried about just how the heck I'm going to get everything done. Mostly, whenever thoughts like that come in, I just mentally slap myself back into line – "It will be OK, I can do this"
Yea… I'll keep you posted if I stay sane!
Cranberry Bliss Bars
Chewy bars with cranberries and white chocolate chunks, topped with light and fluffy cream cheese frosting.
Ingredients
For the base:

2 1/2

cups

plain flour

1 1/2

tsp

baking powder

1/2

tsp

ground cinnamon

1 1/2

sticks (170g) unsalted butter

1 1/2

cups

light brown sugar

1

tsp

vanilla extract

2

eggs

6

oz

white chocolate chunks

3/4

cup

dried cranberries,

I used Craisins

For the frosting:

12

oz

full fat cream cheese,

at room temp (I used Philly)

2

oz

white chocolate,

melted and cooled slightly

1 1/2

cups

icing sugar,

sifted

1/2

tsp

freshly grated orange zest

1/2

cup

dried cranberries
Instructions
Preheat the oven to 180C/350F and grease and line a 9x11 inch pan. I think mine was 9x12, but it didn't make too much difference.

Place the flour, baking powder and ground cinnamon into a large bowl and briefly stir until combined.

Place the butter into a large heatproof dish and microwave in 30 second bursts until melted. Once melted, add in the light brown sugar and stir until you have a thick paste like consistency.

Leave the melted butter to cool for 5 minutes.

Add the vanilla extract and eggs to the melted butter mixture and stir until combined.

Tip the butter mixture into the flour mix and stir until just combined.

Add in the white chocolate chunks and dried cranberries and stir until they are evenly distributed.

Bake for 19-21 minutes, until the edges are golden brown and it looks slightly puffy.

Leave to cool in the pan completely.

Once cool, it's time to make the frosting! Place the cream cheese and icing sugar into a large bowl and beat on low in your stand mixer or with a hand mixer, once the sugar starts to incorporate you can turn the beater up (nobody wants to be covered in icing sugar!).

Add in the melted chocolate and orange zest. Beat on high until light and fluffy.

Tip onto the cooled bars and spread with a spatula or spoon until smooth and level.

Sprinkle the 1/2 cup of dried cranberries on top, then slice into 12-15 bars. I cut mine into thirds and then into triangles, but you can cut them however you like. Once cut, store in an airtight container, in the fridge for 2 days.
Notes
Recipe from: http://cinnamonfreud.wordpress.com/2012/12/21/cranberry-bliss-bars/