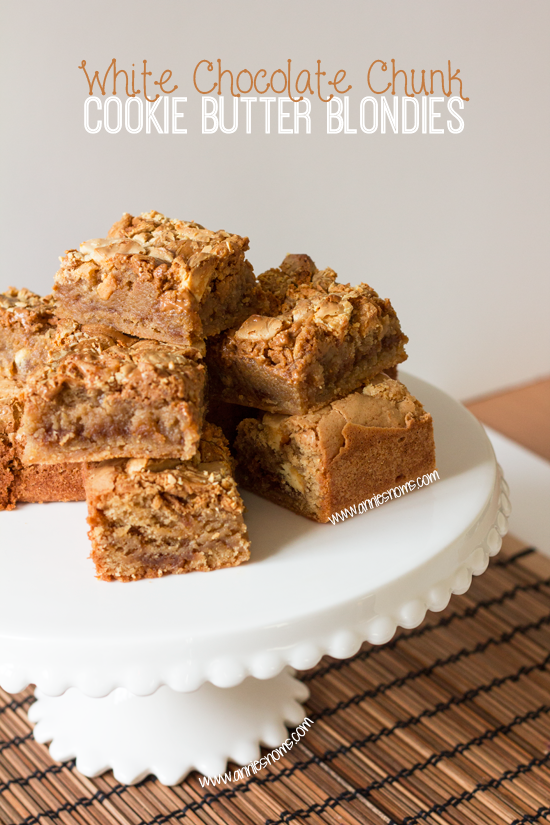 I may be almost 23, but I just cannot get to grips with February. It's just so short, it seems like it's over before it's begun???!!
It's quite scary actually, I can't fathom that it will be March in a few weeks and that will mean I only have 2 months left at Uni.
I mean, that's great because I can't wait to be done, but equally I'm thinking "Whaaaaaaat the hell?! How am I going to get this project done?"
Anyways, it's time for Secret Recipe Club (that came round fast!).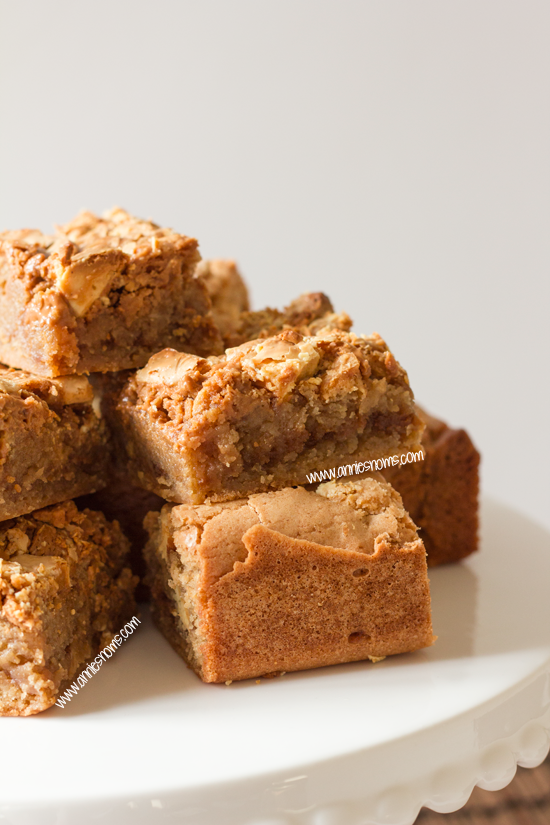 This month I was assigned Sara's blog, Cook with Sara. Sara, like me likes to cook AND eat. So I already knew I was in for lots of deliberating over what to make!
And boy was I right! There are sooo many great recipes on Sara's blog! Soy glazed Salmon anyone? Or maybe Caramel Chocolate Pumpkin Blondies?
Personally I want to make her Asian Meatballs – they sound delicious!!
I settled on these Cookie Butter Blondies with white chocolate chunks. Why?
Because look at these beauties :O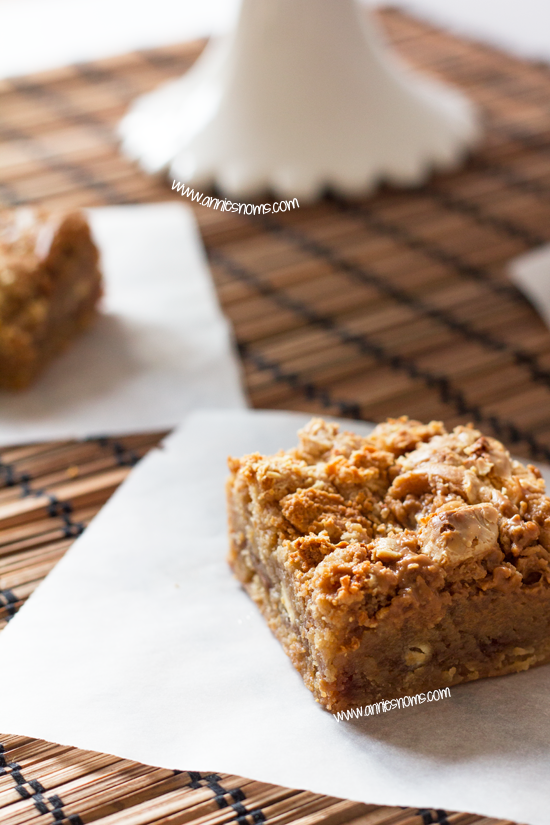 Layers of blondie, cookie butter and white chocolate all baked up into a wonderful sweet treat! As soon as I saw the words "cookie butter" I just knew I had to make them, I just love the stuff. I'm that person who just dips her finger right in the jar… No shame.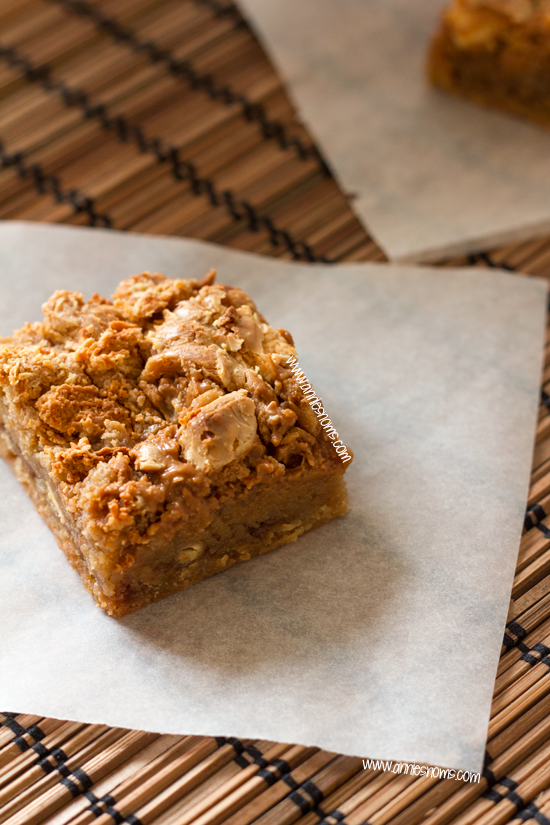 The blondie layers are lovely and chewy, just how blondies should be, and then the cookie butter sits in the middle, slightly swirled into the blondies, but still adding a soft and gooey layer all of its own. And then there's white chocolate to top it all off! Just bliss.
These are not for the faint hearted, they are SWEET! If you're not overly keen on sweet things then maybe these aren't for you, BUT, if you love sweet treats then sink your teeth right into these delicious blondies, you'll love them!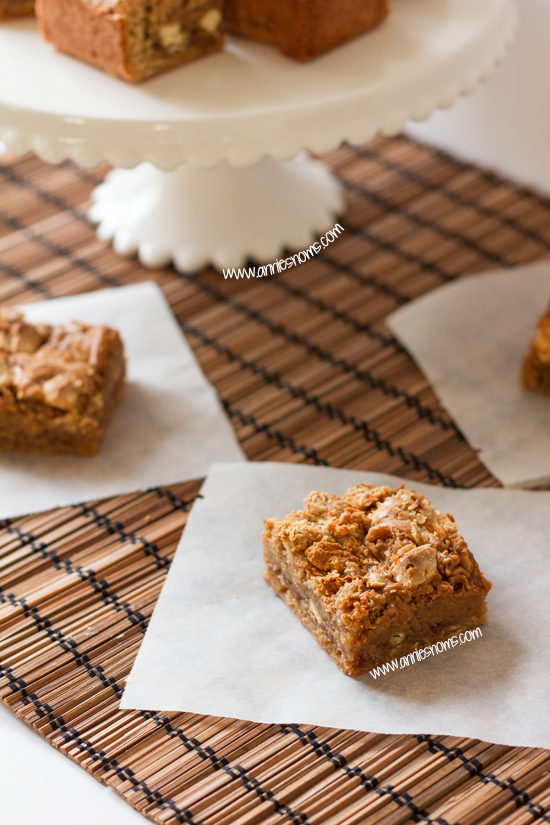 My OH had to take these to work to stop me from devouring the whole pan 🙂
Enjoy!
White Chocolate Chunk Cookie Butter Blondies
Chewy blondies, with layers of cookie butter and white chocolate which add gorgeous sweet flavours and gooey-ness! Anyone with a sweet tooth will just love these sweeter than sweet blondies!!
Ingredients
1 1/2

cups

light brown sugar

1

stick (113g) unsalted butter

2

eggs

2

tsp

vanilla extract

1

tsp

baking powder

1/4

tsp

ground cinnamon

1/4

tsp

ground ginger

2

cups

plain flour

1/2

cup

cookie butter,

I used Biscoff

2/3

cup

white chocolate chunks
Instructions
Preheat oven to 180C/350F and grease and line an 8x8 inch square pan.

Place the butter and brown sugar into a medium sized saucepan and melt over a low heat, stirring occasionally.

Once melted, leave to cool for 5-10 minutes. Once the mixture has cooled a little, tip it into a large bowl and add in the eggs and vanilla.

Stir until well combined and smooth.

Add in the baking powder, cinnamon and ginger and stir until combined.

Add in the flour and fold until just combined.

Spread half of the batter into your greased pan and smooth over.

Place the cookie butter into a small heatproof bowl and microwave for 15-20 seconds. Spoon half of the cookie butter onto the blondie batter and, using a skewer, swirl the cookie butter into the batter.

Sprinkle half of the white chocolate chunks on top of the cookie butter.

Spread the rest of the blondie batter over the white chocolate and then the rest of the cookie butter. Swirl the two together and finish off with a final sprinkle of white chocolate chunks.

Place in the oven for 25-30 minutes* until slightly risen and an inserted skewer into the centre comes out with a few crumbs on. (Be sure to get the blondie batter, rather than the cookie butter when you check!)

Leave to cool in the pan completely.

Once cooled, remove from pan and slice into 12-16 bars. Bars will keep in an airtight container, at room temperature for 4 days.
Notes
*My oven runs a little hot - after 20 minutes, I turned the oven down to 160C/325F so that the edges didn't dry out. Recipe from Cook with Sara - http://cookwithsara.blogspot.co.uk/2013/11/cookie-butter-blondies-with-white.html